Here's The Horrifying Reality Dreamers Could Face If Trump Ends DACA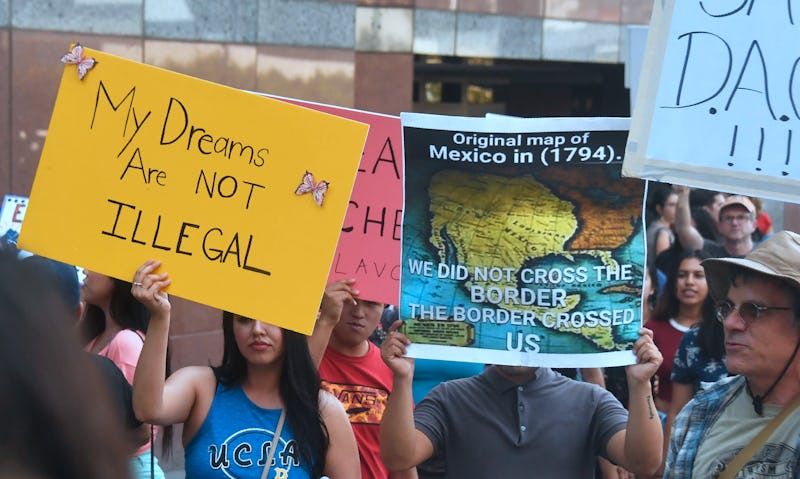 FREDERIC J. BROWN/AFP/Getty Images
The Deferred Action for Childhood Arrivals — or DACA, as the program is better known — protects about 800,000 undocumented immigrants from deportation. All arrived without papers as children under the age of 16, and many of them know no other home than the U.S. Now that President Trump has reportedly decided to end DACA, what will happen to Dreamers during the "six-months delay" as Congress decides whether or not to take up their cause? UPDATE: On Tuesday, Jeff Sessions announced during a press conference that the White House plans to "rescind" DACA.
Exactly when the six months begin is not exactly clear. Trump has not announced the end of DACA yet, it was only through aides who talked to reporters that the plan was publicized. They acknowledged that the president could change his mind.
After being against the program on the campaign trail, Trump promised to have a heart after taking the presidency. Even on Friday, Trump said, "We love the Dreamers. We love everybody." He went on to add that he had a "great feeling for DACA." But, according to the report, it is expected that the White House will announce the official decision on Tuesday to end the program.
That leaves two likely possibilities that Dreamers will face. One would see Congress take up a bill to keep the young immigrants safely in the United States, protected by a similar, but congressionally-backed program (the current DACA was an executive order by President Obama, one reason many Republicans give for their opposition).
That said, House Speaker Paul Ryan urged the president not to rescind the program, and House Minority Leader Nancy Pelosi has said she's more than willing to work with Republicans, even urging Ryan to meet with the Hispanic Caucus. Comprehensive immigration reform hasn't made any progress in recent years, but Dreamers are widely supported and legislation that specifically targets DACA recipients could be more likely to pass.
If it doesn't pass and the six-month deadline passes with no change of heart from Trump, some 800,000 DACA recipients would be subject to deportation. The degree to which ICE would target them is anyone's guess, but the government does have a mailing address for every DACA recipient from their application form.
What's unclear is whether the immigrants' current DACA status would be terminated at the same time, or whether they would be targeted as their two-year permits expire. Some 110,653 permits will expire this year and another 404,909 in 2018. The rest expire in 2019.
The cost of those deportations could also grow prohibitive. The average cost of deportation runs about $10,854. That means it could be more than $8 billion to deport all the DACA recipients. Republicans in Congress won't like that price tag — nor should Trump given that it's money he could be using for his other immigration promises, like the wall.
Ultimately the fate of Dreamers will be in the fate of Trump, Congress, and ICE. In the best case scenario, they would get to continue with DACA or be granted another legal status, perhaps even with a pathway to citizenship. But in the worst case scenario, being returned to what now seems like a foreign country is a very real possibility.
Read more on Trump's decision to end DACA:
The Trump Administration Officially Announces It's Ending DACA
Why Couldn't Obama Make DACA Law? Dreamers Have Had A Rough Ride
This Is Why You May Have Heard DACA Recipients Referred To As Dreamers
7 Ways To Help Dreamers Get The Support They Desperately Need Right Now
How To Call Your Representative About DACA & Ensure Trump Doesn't Get His Way