'GLOW' Changed How Its Female Cast Memebers Think About Their Bodies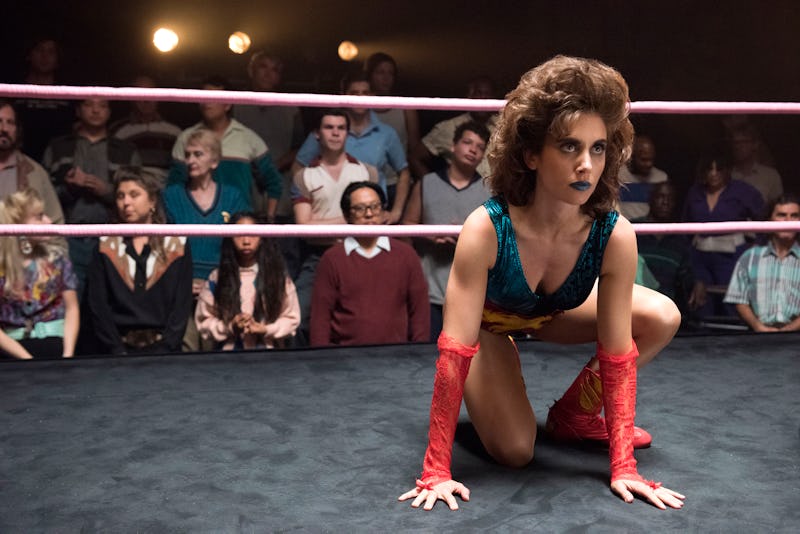 Netflix/Erica Parise
Jenji Kohan's new Netflix series GLOW doesn't just showcase gorgeous ladies of wrestling, it shows off some seriously badass women of wrestling. A remake of the '80s reality show, the new comedy portrays a group of washed-up Hollywood actors and outcasts who find themselves in the wrestling ring for one last shot at fame. Like their characters, wrestling is perhaps the last thing some of the actors thought they'd do for the camera. At the LA premiere, the women of GLOW, on Netflix June 23, tell me how wrestling was some of the hardest, most challenging, inspiring, and exciting work their bodies have endured.
The ensemble cast, boasting a diverse group of females, explains how they each had a totally different experience learning the moves and getting their hands dirty in the process. Rebekka Johnson, who plays Dawn, says each actor actually had to become a wrestler. "You had to do real wrestling moves that they do in WWE. I realized I had no abs before the show, now I think I have one," she says. Most agree they put their bodies through tests they never had before.
"I've never trained for anything like that," says Britt Baron, who plays Justine. "I wasn't an athlete, I was in theater class all my life." Kate Nash who plays Rhonda, agrees, saying, "It was the most physical I've ever been, it's totally changed my life." And although the women say the process was safe, they don't deny some of the work totally freaked them out.
"If you land of your back wrong, you're dead," says Marianna Palka, who plays Reggie. Kimmy Gatewood, who plays Stacey, describes some of the intense effects the work had on their bodies. "It beat the crap out of me, the ropes will give you so many bruises from my shoulder to my butt and inner thighs," she says. Working together, sometimes to tears, not only helped the women embrace their own bodies, but each other. "We were scared to do [the moves]," says Nash. "It was dangerous and we had to protect each other. There was a level of intimacy that was really there."
But the most inspiring takeaway is how the show helped the women prove they're so much more capable than they thought they were before starting. "It's made me really embrace physicality and it opened something up," says Nash. "When you learn to do something you didn't think you could do, you go, 'What else can I do?'" Jackie Tohn, who plays Melrose, says the women were "shocked" at what they achieved. "We first learned how to walk around the ring and slowly but surely, we were jumping off of ropes onto each other," she says. "You look and go, 'If she could do it, I can do it.' You watch each other succeed and it's pretty exceptional."
Baron, for instance, can now flip herself onto her back. "You train and the next week you do moves you couldn't do before it's so exciting and rewarding," she says. "I never thought I'd be able to do that. it's really empowering. It's amazing to prove to myself I can do things I never thought I could do before."
Palka says she feels like Clark Kent in Superman. In a way, each woman is her own superhero by far surpassing her own expectations. "I really enjoyed the physical demands, I felt more coordinated, I felt intuitive," says Sunita Mani, who plays Arthie. Throwing themselves into these challenges without thinking twice led the actors to outcomes they never thought possible. "I would see the wrestling move and just do it and it surprised the heck out of me," says Gatewood.
It truly is remarkable what women's bodies are capable of, especially when their minds are eager and up for the challenge.