Fans Are Debating Whether Or Not 'Grease 2' Is A Good Movie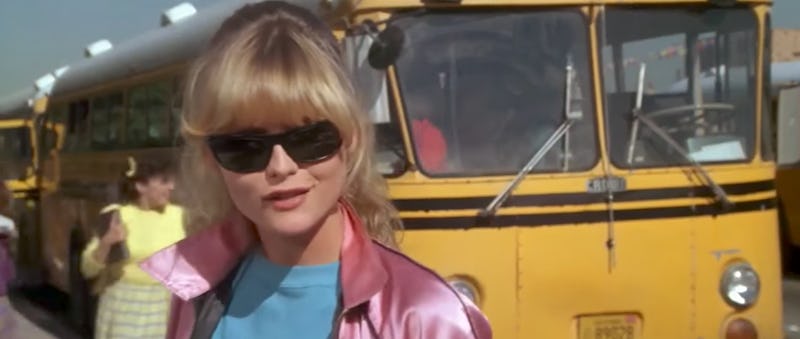 Paramount Pictures
It might be sequel movie that boasts a 32 percent fresh rating on Rotten Tomatoes, but Grease 2 fans are defending it on Twitter for being feminist and underrated (or at least "unfairly maligned") decades later. That's a little surprising, given the way the romance between Michael and Stephanie plays out. It feels like the Pink Lady has less control over her own dating life than she claims to, suggesting the film isn't quite as female-friendly as Twitter thinks, but fans have apparently found a lot to love about the movie. One interesting aspect of the debate is that, at least according to The Big Sick director Michael Showalter, who started the Grease 2 conversation, there could be some sort of generational divide at play, with him advocating for someone to write "a think-piece about the phenomenon of younger generations preferring Grease 2 to the original."
Given that you can't actually see how old anyone on Twitter is, it's nigh impossible to argue whether or not this theory holds water. But Showalter's tweet led to a tidal wave of opinions about why, despite it being panned by many critics back in 1982 (for example film critic Rogert Ebert, who called it "Grease, without the stars, without the energy, without the freshness and without the grease."), it's actually everything.
Actor June Diane Raphael, who you probably know better as Brianna on Grace and Frankie, argued for the importance of the movie in the tweet above. She also stressed in a second tweet that Stephanie "does not pit women against each other to build herself up." It's a fun film, and this is a lovely take on it, which is, for the most part, true. However, the idea of the film as putting ladies 100 percent first seems a little spurious.
Stephanie may claim to be on the hunt for an easy rider style dude, but it's perfectly obvious that, despite herself, after getting to know the Brit, she's attracted to Michael even in his most dweeby incarnation. There's that moment in the canteen where someone behinds her pushes Stephanie into Michael in the lunch queue and you see the sparks pass between them as they briefly lean towards each other, before she remembers herself and recoils. Sure, it's a movie that does its best to place women and female desire at its center — but that ultimately polices her desire for Michael in terms of what's deemed acceptable by the bros at her school.
After all, despite her claim that "I kiss who I want, when I want" why else does their end kiss happen after the T-Birds have offered Michael a leather jacket (symbolizing that they're ready to take him into their group)? Wouldn't it have suggested Pfeiffer's character had more agency if, instead of kissing Michael to spite her ex-boyfriend Johnny Nogerelli (as with their first kiss) or because he had the approval of the school (as at the end of the movie), she just kissed him as his nerdy, British self because she had the hots for him and what she wants is all that mattered? Wouldn't that have been more radical than the ending of the original Grease?
Still, at the end of the day, whatever you feel about the quality or gender politics of the film, it's refreshing to see that even the worst-rated films by critics can have redeeming qualities. The very fact that it's causing all this hubbub 35 years later suggests that, whatever your perspective on which Grease movie was superior, it's well due a re-watch.