How British People Are Protesting Trump's U.K. Visit Will Make You LOL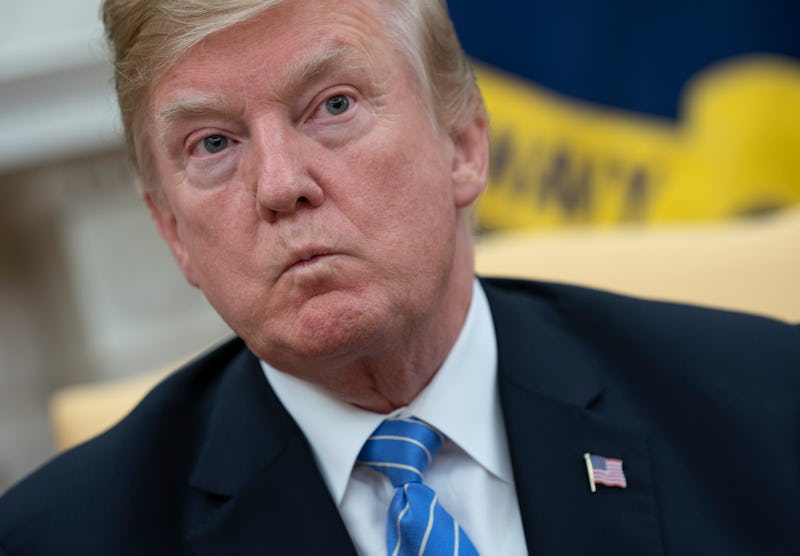 Pool/Getty Images News/Getty Images
From colorful signs to powerful chants, protesters have long known how to relay their opinions in attention-grabbing, sometimes amusing ways. In an instance that could be hilarious to some observers, there's a British campaign involving "American Idiot" to protest Donald Trump during his upcoming visit to the United Kingdom. It looks like the band Green Day's massively popular hit from 2004 encapsulates some British people's present-day feelings about Trump, according to fiery tweets online.
To make matters official, there's a full guide to the campaign on Facebook. Explaining the reason behind seeking to bring "American Idiot" to the top of British charts, the campaign organizers said that they were doing this "because we find it hilarious and reckon thousands more will find it hilarious, too."
And what about those who may not agree with the campaign? "If you don't like [it], then great. Just don't like it then, but we really couldn't care less," the organizers said. "We're doing this anyway."
The Green Day hit was just one of the songs from the band's album title "American Idiot" which was created, according to The Rolling Stone, to take on former President George W. Bush in 2004. In 2016, however, the band dedicated the song to Trump at the MTV Europe Music Awards ceremony. The band's frontman Billy Joe Armstrong said back then, "Our entire country is about to have one big, collective heart attack."
The Facebook page for the campaign offers cheeky answers to hypothetical questions that some people, who may disagree with the campaign, could ask. For instance, in case there were people who thought that the campaign was "idiotic," the organizers said, "That's very shrewd of you. Yes, you're correct. We know that; an idiotic campaign for an idiotic man."
In another example, answering the hypothetical query about how the organizers should focus on local leadership, the organizers said, "You miss the point. We're doing this for the amusement as it will annoy him, but yes, we'll support any good ideas regarding the shower of British idiots who run our own country."
It could be a surprise to some but there are quite a few Americans who also support the British campaign, if you look at the comments below the Facebook post. Even Canadians have expressed solidarity with the United Kingdom campaign. So, it wouldn't be wrong to say that Trump's critics come from diverse backgrounds. Transnational solidarity, if you may.
In case you haven't heard the song, "American Idiot" is a loaded hit. It starts with Armstrong singing, "Don't wanna be an American idiot; don't want a nation under the new media; and can you hear the sound of hysteria?" to him saying, "The subliminal mind-f**k America."
From talking about the "new kind of tension" in the country, where life "isn't meant to be OK" to Armstrong singing that he's not part of a "redneck agenda," and how everyone is singing "along to the age of paranoia," Green Day's "American Idiot" is a song that can be applied to 2004 but also 2018. It's no surprise that the hit has found resonance in the other side of the pond.
But this isn't the only protest meant against Trump. In other recent examples, the mayor of London, Sadiq Khan, approved demonstrators' request to fly a huge-sized balloon that depicts Trump as a disgruntled baby with a diaper on. The balloon is expected to float over Central London. Will Trump avoid the area? According to the American ambassador to the United Kingdom, Woody Johnson, "No, the president is not avoiding anything. The president is merely trying to get as impactful a trip as he can get in a 24-hour period."
And there you have it. You can expect a gigantic baby balloon over London and a 2004 hit against poor leadership. If anything, it seems like the president's trip to the United Kingdom will be replete with all sorts of protests.