"Grocery Store Joe" From 'The Bachelorette' Also Wants You To See More Of Him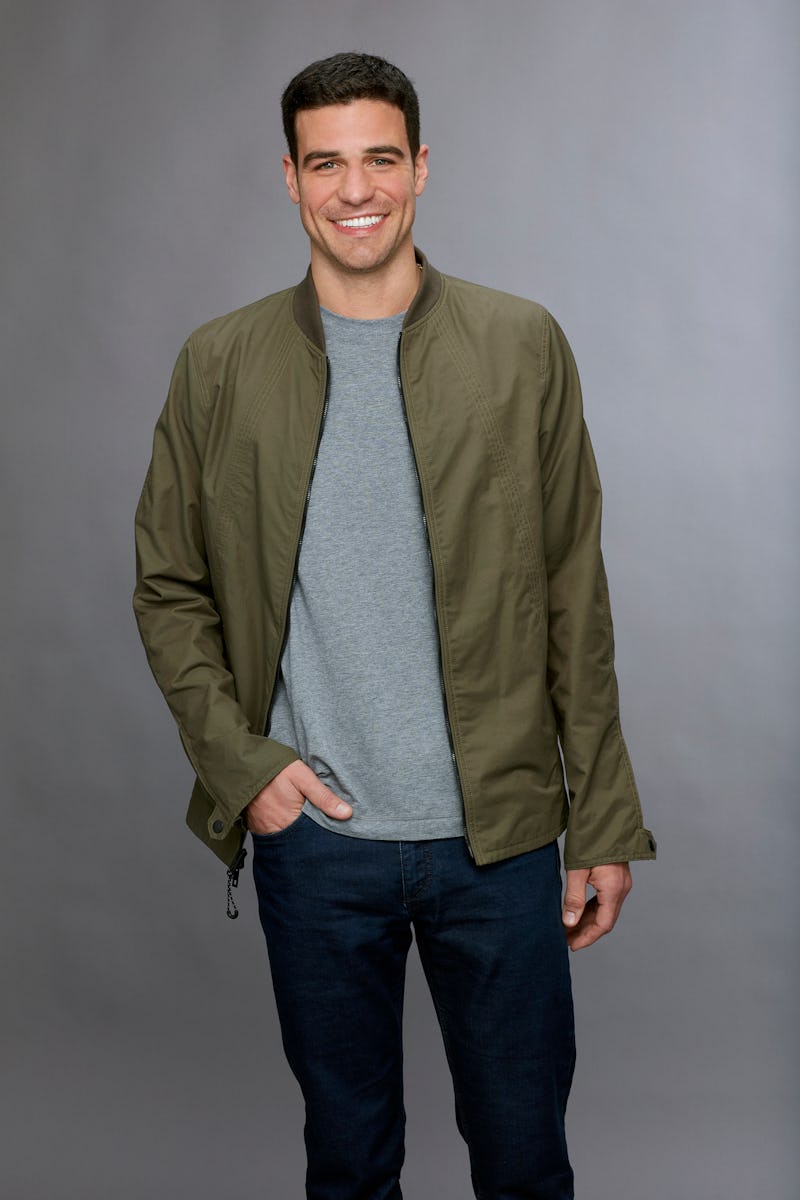 ABC/Craig Sjodin
Fans only saw grocery store owner Joe Amabile on one episode of The Bachelorette — and for plenty of people, parting with the contestant so early wasn't such sweet sorrow. Fortunately, though, "Grocery Store Joe" is already hinting at a Bachelor in Paradise appearance. The 32-year-old grocer told Entertainment Tonight that he's still single after his time competing on The Bachelorette, and he didn't say no to a question about Paradise.
As ET noted, Chris Harrison himself tweeted a teaser about Joe going on Paradise. Responding to a tweet suggesting Joe should be the next Bachelor, Harrison tweeted, "Maybe a quick stop in Paradise first #GroceryStoreJoe." So anything is possible at this point. When ET asked Joe about the tweet, he did confirm that he would go if the offer was made: "I can not confirm on Paradise, but I would go, yes."
Joe also confirmed to the outlet that he's still single, which would make him a perfect candidate for Paradise, or to be the next Bachelor. He told ET,
"I am single … I would like to [settle down]. I just turned 32 in April, I don't want to just continually go out."
Harrison, for his part, also fanned the Paradise rumors on Monday night by tweeting, "I hope they have grocery stores in Paradise!!!"
During the ET interview, Joe also explained why he got so nervous while introducing himself to Becca. He told the outlet,
"I was prepped, but I didn't think I'd get as caught up as I did. I was nervous. It just threw me off my game, and from there I felt like such an idiot! It was hard to open up or make friends; I was so unsure of myself … Becca and I did have a little more conversation … I expected to stay a little longer, but if she didn't feel a connection right away, I would've rather gone home than be there for a couple weeks and then have gone home. So I guess it worked out for the best."
Being nervous about appearing on TV is pretty natural, though, and plenty of fans weren't happy that Becca sent Joe home on the first night. Even though he was only on the show for one episode, plenty of fans fell in love with Joe's Bachelorette introduction video, which showed him at the Chicago grocery store he owns. He made a pun about his job, too, telling the camera, "I deal in produce, but one thing I haven't produced yet is love."
But when Joe got out of the limo to meet Becca, he didn't say much to her before going inside. Joe told Becca his name and said she looked "amazing," but then his nerves got the best of him. "I forgot everything I was going to say to you," he told Becca. She did her best to make him feel at ease, saying "it happens" and complimenting his looks, but he still didn't get a rose at the end of the night.
Since Joe's elimination from The Bachelorette, plenty of fans (in addition to Harrison) have called for Joe to appear on Paradise.
Joe may not have survived Becca's first round of eliminations, but his Bachelor journey may not be over just yet. If fans — and, apparently, Chris Harrison — have anything to say about it, he could appear on the next season of Bachelor in Paradise. Until the next Paradise season's cast is announced, though, fans can keep up with the grocer on Instagram, where he's been sharing plenty of cute photos about his everyday life after returning to Chicago. Whether or not he appears on Paradise, Joe seems to be doing just fine.