Grocery Store Joe Reviewed Fruits On His IG Story, So Why Are You Not Following Him Already?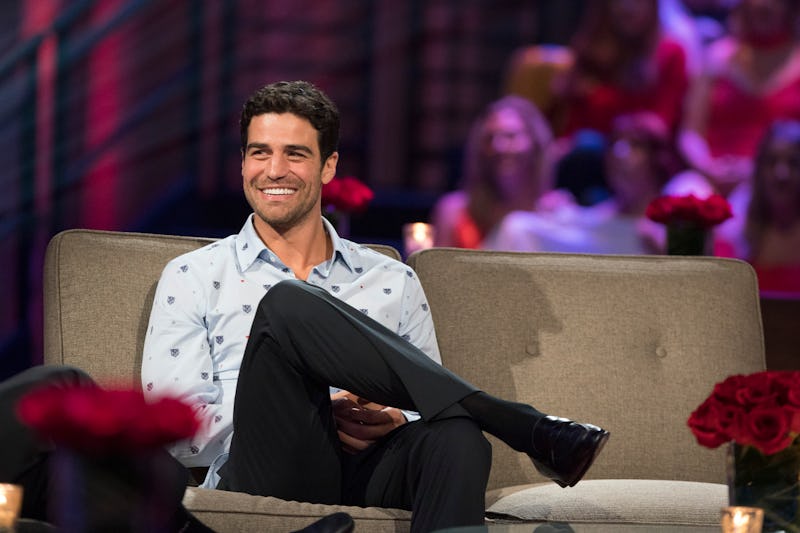 ABC/Paul Hebert
When Becca Kufrin eliminated Joe Amabile during the first episode of The Bachelorette, fans were nothing short of devastated. Viewers were elated to see Joe back on TV during Men Tell All, but that's not enough to tide them over until Bachelor in Paradise. That's why people should follow Grocery Store Joe on Instagram. At this point, it feels like if you've seen one Bachelorette alum's Instagram page, you've seen them all. There's an influx of detox tea, hair vitamins, Bachelor Nation hangouts, and sponsored vacations. Yes, most of the Bachelor contestants' Instagram pages are full of the same content, but not Grocery Store Joe's account.
If you're not following Grocery Store Joe on Instagram, you're really missing out. As of this moment, he's only 47 posts in, but he has some unique content that you will not find from the others. For starters, the Chicago-based grocery store owner lives up to his nickname.
In his recent Instagram Story videos posted on Tuesday, he shared his very honest reviews on some Chicago produce, including mangoes and peaches. Sure, Joe's opinions on the fruit in Chicago do not provide recommendations that would apply to Bachelor fans outside of the geographic area, but he is just so endearing.
But if produce isn't your thing, there's plenty of other premium content on Joe's page. Before The Bachelorette viewers got to "meet" Grocery Store Joe, he admitted that he was not looking forward to the premiere episode in a video that he shared on his page a few months back.
When he was asked, "How are you feeling right now?", Joe couldn't help but answer, "Not good." Little did he know that his short-lived stint on the show was enough to make a remarkable impression on the fans.
Grocery Store Joe even ran into the Bachelorette herself when he was shopping for swimsuits in June. Did he end up buying that suit for Bachelor in Paradise? It is definitely possible.
Aside from running into Becca, Joe keeps other adorable company. This Instagram photo with Joe could serve as evidence that he is good with kids and he has great taste in appetizers.
Unlike some of the other Bachelorette guys, Joe isn't on Instagram flexing and trying to sell products. He's just having fun and enjoying a drink or two. It may not be revolutionary content, but it is just so relatable to many viewers.
His Instagram page is also a great place to figure out where to eat and drink in Chicago. He usually checks into coffee shops, restaurants, bars, and even ice cream parlors when he takes a photo. This gives fans genuine recommendations from a local, if they ever do find themselves in the Windy City.
And of course, he does have some Bachelorette-related content. He is so well-liked by the viewers, so it's unsurprising he has friends from his time on the show. Yeah, he was just there for one night, but he also filmed a season of Bachelor in Paradise with several guys from Becca's season.
The fans of the Bachelor franchise just love seeing the contestants hanging with each other outside of the show. The appeal of that will just never get old to the dedicated viewers. Plus, Joe even got a photo with Jason Tartick sans hair gel, which is a pretty rare sight.
Now that Joe has graced screens for his second episode of reality TV, his fans want more. Bachelor in Paradise Season 5 premieres on Aug. 7, but that just feels like it is so far away (even though it really isn't). The best way to fill that void is by following Grocery Store Joe on Instagram. Plus, if more people follow the grocery store owner, he's likely to post more often — or at least that's what you'd hope.