James Gunn Could Still Be Involved With 'Guardians Of The Galaxy Vol. 3' & Here's How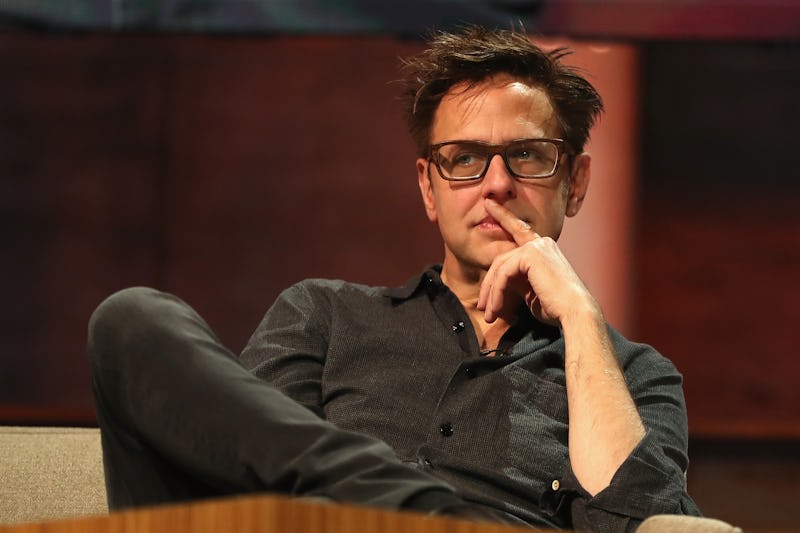 Christian Petersen/Getty Images News/Getty Images
Disney might not fully get rid of James Gunn after all. Following his being fired from directing the next Guardians of the Galaxy movie, there's now talk that James Gunn's Guardians of the Galaxy Vol. 3 script could be used for the upcoming installment of that Marvel saga. Back in July, Walt Disney Studios fired Gunn after his alleged, offensive tweets — including jokes about homophobia and pedophilia — resurfaced late on July 19. "The offensive attitudes and statements discovered on James' Twitter feed are indefensible and inconsistent with our studio's values, and we have severed our business relationship with him," said Walt Disney Sudios Alan Horn in a statement.
In a statement released to Bustle, James Gunn wrote in part:
"My words of nearly a decade ago were, at the time, totally failed and unfortunate efforts to be provocative. I have regretted them for many years since — not just because they were stupid, not at all funny, wildly insensitive, and certainly not provocative like I had hoped, but also because they don't reflect the person I am today or have been for some time."
Gunn went on to say that he understood and accepted Disney's decision. And that seemed to make the end of his relationship with the studio pretty obvious.
But that may not be the last of Gunn's collaborations with Disney. A new report from The Hollywood Reporter suggests that negotiations over Gunn's firing and exit settlement are ongoing. According to sources cited in the piece, this is partly because the writer-director was so entrenched with the first two films and has a valid contract. As posited by THR, these negotiations could lead to the usage of Gunn's Guardians of the Galaxy, Vol. 3 script.
Even though he was contracted to act as writer and director again for Guardians 3, it hadn't truly been greenlit yet, so he wouldn't be owed a full payment for the project. However, since he's still in a contract with Disney — he didn't breach his contract since his tweets in question were from years prior to signing — the studio can't get rid of him cold turkey. According to THR, Gunn might end up receiving a payout of $7 million to $10 million, if not more. This settlement may also include the rights to his script, so that Marvel Studios could continue on with Guardians of the Galaxy Vol. 3 with his continued vision for the movies.
Some are holding out hope that the script gets used (or even that James Gunn get rehired), while others want him to stay gone. The whole cast of Guardians of the Galaxy is part of the former group, posting a signed, joint statement demanding that James Gunn be reinstated as director of the third film in the series on July 30. In his Instagram caption alongside the statement, Chris Pratt, who plays Star-Lord/Peter Quill, wrote, "Although I don't support James Gunn's inappropriate jokes from years ago, he is a good man."
Dave Bautista, who plays Drax, has been even more outspoken about his support for Gunn, going as far as to say he'll quit if Gunn's script isn't used. This is all due to what Bautista calls "a smear campaign by fascists." Based on these recent reports, it doesn't look like Gunn will be reinstated to his position behind the cameras, but if things go in Bautista's favor, fans may get to see Gunn's vision of Guardians of the Galaxy, Vol. 3 after all.