Brienne Shouldn't End Up With Tormund OR Jaime On 'GoT,' According To Gwendoline Christie Herself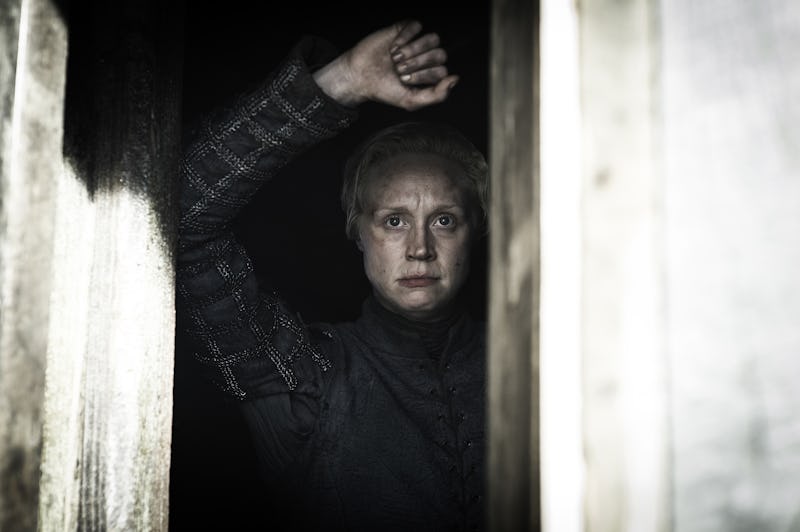 Helen Sloan/HBO
Following in Ross and Rachel's footsteps, Game of Thrones' Tormund and Brienne have become TV fans' favorite will-they-or-won't-they couple. But actor Gwendoline Christie is dashing Tormund and Brienne shippers' hopes that the two will ever get together in a new interview. Christie recently told the New York Times, "Tormund is quite a rough and ready man. He's a man who's bragged about having sexual intercourse with a bear, and so I question whether that is necessarily the right person for Brienne." And honestly, Christie makes a good point about why Tormund shouldn't be endgame for Brienne.
While Tormund has made his interest in Brienne clear, she's never reciprocated his feelings. "She seems fairly repelled by Tormund's strong overtures toward her," Christie told the New York Times. "She's more enthused by a more cerebral approach." That's something that fans may be ignoring when they ship these two characters — whether it's actually what Brienne wants.
It's something Christie's always been aware of when talking about being part of this dream pairing, repeatedly questioning if it's actually a good idea for her character. Back in July at Game of Thrones' Hall H panel at San Diego Comic-Con, Christie talked about how Tormund needs to respect Brienne if there's any potential of these two getting together, according to Polygon.com.
"Tormund certainly has his creepy smile, He also enjoys looking at Brienne while he eats, as we saw him go down on that chicken leg [last season]. Didn't do much for her, did it?" Christie said, per Polygon. "In order to win Brienne's heart, it's about a mutual respect. It's not about being overpowering or aggressive sexual advances. It has to be a mutual respect about skills."
Christie's statement makes a greater point that just because a man likes a woman, that doesn't give him the right to make her feel uncomfortable. Sure, Brienne can certainly protect herself from anyone or anything that tries to take her on, but if she's not into Tormund's advances, he should respect that and move on.
It's something fans might want to do as well. When Entertainment Weekly spoke with GoT creator David Benioff in June before Season 7 kicked off, he joked of the Tormund-Brienne pairing, "We need to kill one of them now. There can't be a happy ending or any romantic connection on the show. But we're not going to tell you which one." (While Tormund's fate hangs in the balance after The Wall came down in the Season 7 finale, most believe the red-haired wildling survived the collapse.)
But, Christie gave a more serious reason in the aforementioned Times interview about why Brienne's love life shouldn't be the focus and it has to do with her own worth. When people aren't wishing Brienne would make it work with Tormund, others are shipping her and Jaime Lannister. After all, the two do have a more cerebral connection.
"When Brienne and Jaime are together, something incredibly magnetic seems to occur," Christie told the New York Times, adding she's always been able to negotiate with him because they understand each other "in a way that doesn't really exist between many of the other male and female characters. In a way that's not about manipulation, but is positive."
But even shipping Jaime and Brienne sells her short. "Look at her choices: the man who brags about having sex with a bear, or the man who has sex with his sister!" Christie joked to the Times. "Maybe there's another option? I really want her to have someone more stable. I don't know. I'm a bit surprised by how much attention that the most unconventional female character on the show has garnered for her love life!"
It's why we should all stop setting Brienne with someone, and let her do her job. After all, the "most unconventional female character on the show" has shown us all that she is strong and interesting enough all on her own.