Hailey Baldwin Deleted An Instagram Photo Of Shawn Mendes & Fans Are Perplexed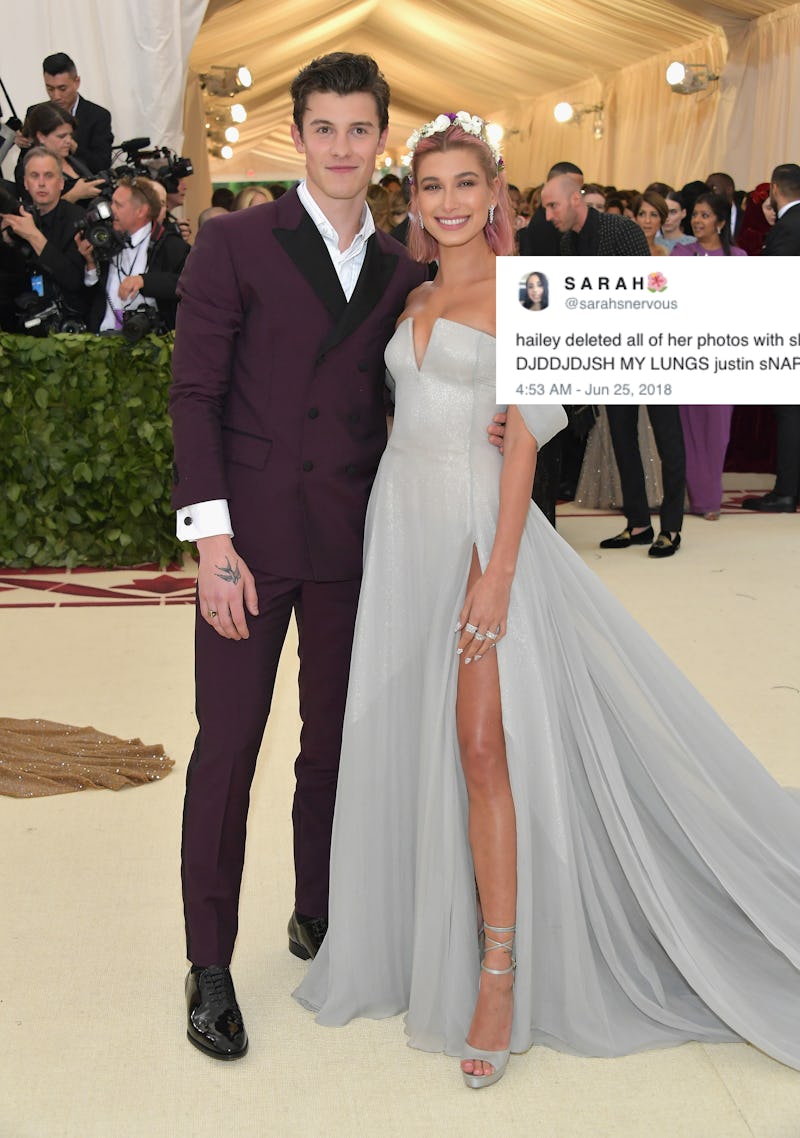 Neilson Barnard/Getty Images Entertainment/Getty Images; sarahsnervous/Twitter
After months of speculation about whether or not Shawn Mendes and Hailey Baldwin are dating, fans may finally have a confusing answer. Hailey Baldwin deleted a photo with Shawn Mendes from her Instagram, according to E! News, and fans are wondering what's behind the sudden social media purge. (Bustle reached out to Baldwin's rep for comment, but did not receive an immediate response.)
An Instagram link that reportedly led to Baldwin's post about the 2018 Met Gala, which she and Mendes attended together in May, is now giving the "page not found" error message. The reports that the two of them were dating started after they went to the Met Gala together, but they've maintained that they were just friends at the time. In May, Mendes told People that he and Baldwin were together at the event because they "were both asked to walk by Tommy Hilfiger." Mendes told People at the time,
"Obviously Hailey and I are friends, and it was just really cool for me to be able to walk with her because she's a vet and it was my first year, so it kind of took the pressure off a little bit... I was thrilled to be able to go with her."
Baldwin also shared some positive words about Mendes at the time, telling The Times of London in May that while they weren't dating, Mendes was "a very, very nice young gentleman."
And despite the reported photo deletion, it looks like Baldwin and Mendes probably aren't on bad terms now. E! News pointed out that the two of them are still following each other on Instagram. And at least one photo of the two of them together in April is still up on Mendes' Instagram account.
Still, fans are wondering why Baldwin would choose to delete the Met Gala post now, more than a month after the event. Plenty of people have tweeted about the reported deletion, asking for the tea about what happened.
Some fans think it's because Baldwin is rumored to be dating Justin Bieber, and they're speculating that he may have asked her to take the post down.
Not everyone buys the theory that Bieber is involved, though. Which is fair enough, considering it's not even clear if he and Baldwin are dating or not.
Other fans tweeted that Baldwin might have deleted the post because of negative comments. If that's true, it's pretty heartbreaking — and it's a good reminder that celebrities really do read what people say about them online.
For his part, Mendes has commented on the Baldwin-Bieber rumors, and it sounds like he's got nothing but support for his pal. In an interview with Canadian show ETALK, as reported by Us Weekly, Mendes said he didn't know if the dating rumors were true. He told ETALK,
"I love them both... They're both really awesome people. When I first started out, everybody was like, 'Oh, how do you feel about being compared to Justin [Bieber]?' I was like, 'What do you mean, how do I feel?' That's the best thing anyone could say to me. He's the man.'"
As previously reported, Bieber has praised Mendes in the past, too. So it seems unlikely that Bieber would ask Baldwin to delete the Met Gala post. And there's not really much reason to believe Baldwin and Mendes aren't friends anymore, based on all they've said about each other before this.
Fans might never know the full reason behind Baldwin's reported Instagram post deletion. But that won't stop people from speculating about it. Still, Baldwin doesn't owe anyone an explanation for her actions — it's up to her what she chooses to share or not share online.