Hailey Baldwin Apparently Has VERY Strong Feelings About This One Wedding Detail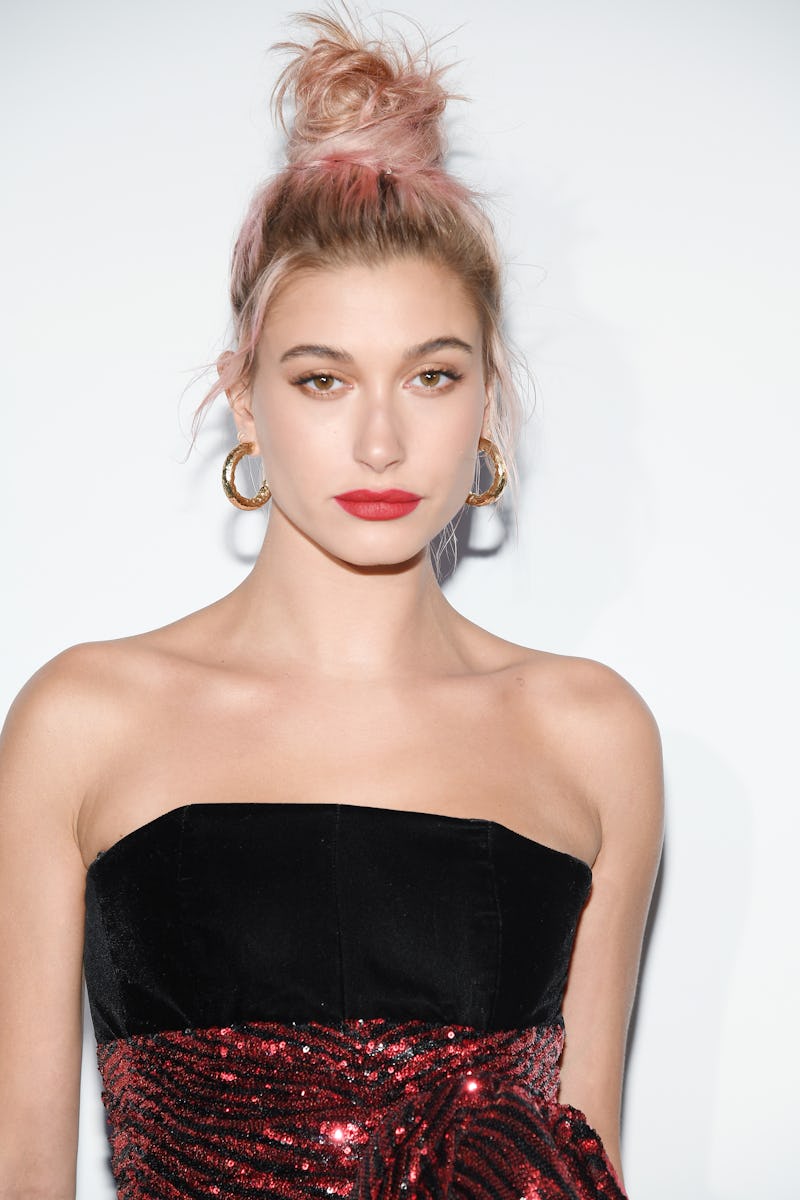 Pascal Le Segretain/Getty Images Entertainment/Getty Images
If your head is still spinning from Justin Bieber and Hailey Baldwin's engagement news, you're definitely not alone. And if you aren't convinced that this relationship is legit, a recent Instagram comment might do the trick. According to what she apparently said on the app Monday night, Baldwin doesn't want Bieber to grow his mustache back for their wedding, and not only is it hard to blame her for that, but the teasing makes their relationship seem even more adorable.
After Bieber confirmed their engagement on Instagram, his longtime friend Ryan Good couldn't help but bring up Bieber's facial hair. Although the comments are now buried under the literal thousands of people congratulating the happy couple, a screenshot one fan took (via E! News) shows that Good reportedly said, "Also. Grow the mustache back for the wedding," to which Baldwin replied, "Don't u [sic] dare give him that idea you lunatic."
Yes, it's Bieber's face and he should be the one who gets to decide what hair does and does not exist on it, but let's be real — many brides-to-be are going to have opinions about their partner's wedding day look, so Baldwin is hardly in the minority there.
And whether or not Bieber actually looks better with or without his mustache is totally up to personal preference, but in Baldwin's case, she seems to be hoping for a clean-shaven groom. Here's what he looks like with his mustache, for your reference:
If Baldwin did actually make that comment, it might be proof that her relationship with Bieber is stronger than you might think. Their engagement did seem to come out of left field, but Baldwin not being afraid of being honest and having strong opinions about her future husband is definitely a good sign for their marriage. After all, you can't stay married for 50 years without letting your spouse know your true feelings... even about something as small and inconsequential as his mustache.
Besides, a little teasing in healthy in a relationship. If she wants to mock Bieber's mustache, more power to her. It seems like this lady has strong opinions, so why not make herself heard? Unfortunately, Bieber didn't get in on the conversation, so we don't know what his thoughts on the subject are — and it's probably too early for him to have any idea of what he might look like on his wedding day.
Although the engagement news broke on Sunday, it wasn't until later on in the day on Monday that Bieber and Baldwin confirmed it. Bieber shared a heartfelt post on Instagram with a couple of photos of him and his new fiancée, along with a long caption about how much she means to him — including plenty of exclamation points to prove his enthusiasm.
"My heart is COMPLETELY and FULLY YOURS and I will ALWAYS put you first!" he wrote. "You are the love of my life Hailey Baldwin and I wouldn't want to spend it with anybody else. You make me so much better and we compliment eachother [sic] so well!! Can't wait for the best season of life yet!"
And as for Baldwin? She shared a much shorter (but still sweet) tweet about how lucky she is:
Whether or not Bieber will have a mustache when he walks down the aisle is yet to be determined, but either way, it should be fun to see where their engagement takes him and Baldwin next. If she's already thinking about facial hair on their big day, what other wedding plans does she have up her sleeve? Hopefully, she'll share a few soon.