Hailey Baldwin Is Tuning Out Any Negativity Surrounding Her Engagement With Justin Bieber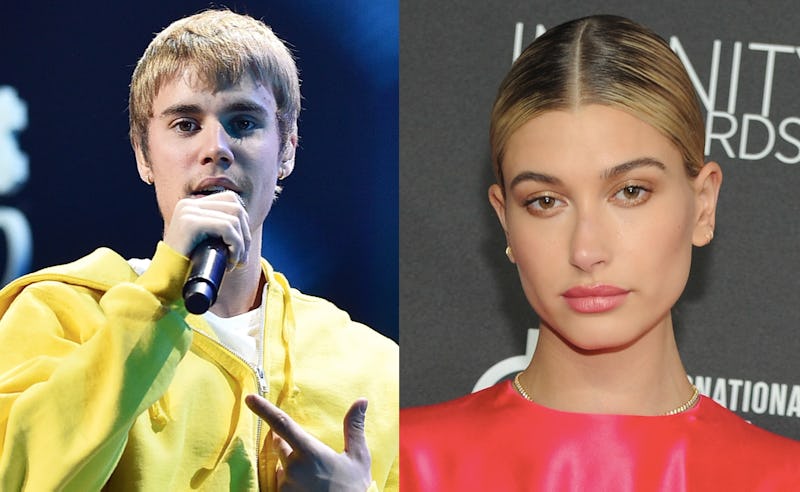 Mike Windle/Getty Images Entertainment/Getty Images; Craig Barritt/Getty Images Entertainment/Getty Images
Earlier this summer, Hailey Baldwin and Justin Bieber surprised the world when they revealed that they're engaged. Now, the bride-to-be is opening up about the big news, as Us Weekly reported. In a recent interview, Baldwin discussed her engagement to Bieber and revealed she's determined to focus on the positive during this exciting time in her life.
Per Us Weekly, the model spoke with Australian magazine Stellar in an interview published on Sept. 1, wherein she opened up about the major relationship step she recently took. To no one's surprise, Baldwin said that she was "beyond excited" to be engaged to the singer.
Since their engagement did capture so much attention, there's been an increased spotlight on Baldwin's personal life. In response to this attention, which unfortunately comes along with its fair share of negativity, Baldwin is keeping her head held high. "I don't think it's affected me really," she told Stellar, "I have learned to just try my best to ignore the negativity at this time so that I can enjoy this season of my life." In short, Baldwin isn't going to let any haters get in the way of this happy engagement period; she's simply focusing on the positive instead.
In case you somehow missed the news about Baldwin and Bieber's engagement, multiple sources, including TMZ, reported in July that the "Sorry" singer popped the question during the couple's vacation in the Bahamas. Prior to his proposal, the pair had been reportedly dating for about a month. While it seems like they did move really fast, they do have a history together. After meeting as youngsters in 2009, thanks to the model's dad Stephen Baldwin, they maintained their close connection. They even dated in late 2015/early 2016, as evidenced by Bieber's Instagram post, which made things official, but they separated shortly after.
Alas, they truly made their relationship official once again with their engagement, which they both confirmed on social media following the reports. Baldwin took to Twitter to share a brief message with her followers on the day after the news was released. "Not sure what I did in life to deserve such happiness but I am so utterly grateful to God for giving me such an incredible person to share my life with," she wrote, obviously referencing her engagement to Bieber.
Similarly, the "What Do You Mean?" singer posted a lengthy message on Instagram confirming the good news. Bieber wrote, in a public note to his fiancée, "Was gonna wait a while to say anything but word travels so fast, listen plain and simple Hailey I am soooo in love with everything about you!" He also shared in the message, "It's funny because now with you everything seems to make sense!"
Based on their respective messages, and Baldwin's recent comments to Stellar, it sounds as though the couple is nothing both so happy to start this new chapter of their lives together. And thankfully, they're choosing to focus on that happiness instead of anything the haters have to say.