Hailey Baldwin Just Posted Her First Photo With Justin Bieber Since Announcing Their Engagement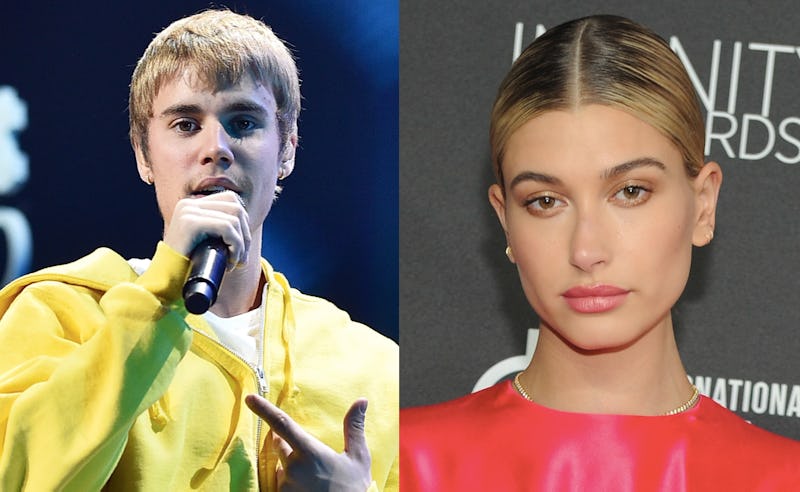 Mike Windle/Getty Images Entertainment/Getty Images; Craig Barritt/Getty Images Entertainment/Getty Images
On July 8, Beliebers 'round the world had all the feels when they learned Justin Bieber and Hailey Baldwin got engaged. It didn't take long for the two to confirm the news on social media. On July 13, Baldwin posted her first photo with Bieber since announcing their engagement, and it seems like they're living their best lives while embracing engaged life. It's not first mentions of each other on social media, though. Bieber posted a long Instagram post dedicated to Baldwin and Baldwin followed up with her own tweet just shortly after.
In the Instagram photo, the newly engaged couple is boarding a private plane in an undisclosed location. Their outfits suggest they're in a place with warm weather and are probably heading somewhere fabulous. It seems Baldwin disabled the ability for users to comment on the photo, which means comments would probably be raging with envy or utter contempt... or both. Someone else who will definitely see the photo is her fiancé, seeing as how Bieber finally followed Baldwin on Instagram the same day. (He also commented "Dats mine" yesterday on this photo Baldwin posted.)
A few days after the engagement was revealed, Bieber posted a few photos of the two being super affectionate with a long caption about his bride-to-be. "Hailey I am soooo in love with everything about you! So committed to spending my life getting to know every single part of you loving you patiently and kindLY," he wrote.
He continued:
I promise to lead our family with honor and integrity letting Jesus through his Holy Spirit guide us in everything we do and every decision we make. My heart is COMPLETELY and FULLY YOURS and I will ALWAYS put you first! You are the love of my life Hailey Baldwin and I wouldn't want to spend it with anybody else.
Shortly thereafter, Baldwin tweeted about Bieber, writing, "Not sure what I did in life to deserve such happiness but I am so utterly grateful to God for giving me such an incredible person to share my life with! No words could ever express my gratitude."
As reported by TMZ, Bieber proposed to Baldwin in the Bahamas at a resort. When he popped the question Baldwin was shocked, according to E! News. "The proposal was a very happy moment and Hailey was taken off guard," E!'s source said. "Her face was in shock but you could tell they are both so in love." TMZ also reported that the moment happened in front of a crowd and security asked onlookers to put their phones away. While the couple hasn't confirmed if the Bahamas holds any significant meaning to either of them, maybe they'll explain the special location to fans at some point. And maybe they'll let fans in on their current getaway.
Fans may also be wondering how open the two will be about their relationship moving forward, seeing as how their engagement came totally out of left field. Bieber and Baldwin first started dating rumors in fall 2014, when they started hanging out and posting photos together. After on-again, off-again stints (and Bieber's brief reunion with ex Selena Gomez), the two reportedly started seeing each other again in June 2018.
While fans may have mixed feelings about the whirlwind romance, Baldwin and Bieber's parents are definitely on board. In a since-deleted tweet, Baldwin's father Steve congratulated them on Twitter, writing, "Sweet smile on my face! me&wife (Kennya) always pray 4 God's will!! He is moving in the hearts of JB&HB, Let's all pray for His will to be done. Love you 2 so much!!! #Godstiming #bestisyettocome." Bieber's mother Pattie Mallette wrote, "Love Love Love Love Love Love Love," and his father Jeremy Bieber wrote on Instagram, "Proud is an understatement! Excited for the next chapter!"
Now let's get a closeup look at that ring, eh?