Hailey Baldwin Was A Total #Jelena Shipper Years Before Her Engagement To Justin Bieber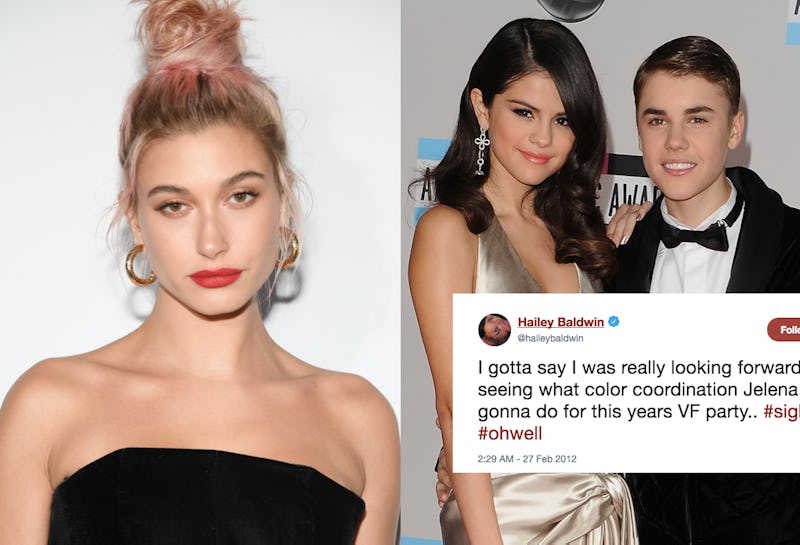 Pascal Le Segretain/Getty Images Entertainment/Getty Images; Jason Merritt/Getty Images Entertainment/Getty Images; Hailey Baldwin/Twitter
Hailey Baldwin is currently engaged to Justin Bieber, but once upon a time, she was surprisingly a big proponent of another celeb relationship: Bieber and Selena Gomez (aka Jelena). Yep, as Betches pointed out on Instagram, Baldwin apparently tweeted about Bieber and Gomez's relationship years before she would accept her fiancé's marriage proposal. And it's safe to say that by her multiple tweets on the subject that she was a major fan of the couple.
In what appears to be a since-deleted tweet from 2011 that was originally sourced via The Cut, Baldwin wrote about Jelena being all kinds of #goals: "I don't care what anyone says but Justin Bieber and Selena Gomez together is the definition of the teenage dream!" The model really was rooting for the young couple to make things work. She was also really into hyping up their "perfect relationship" on social media, and specifically, Gomez.
In another tweet, from 2012, Baldwin responded to a Twitter user (who has since deleted their own tweet) with some pretty strong support of the "Wolves" singer. "She [Gomez] is beyond flawless and he's ya know he's Bieber. They are the perfect relationship... forever alone," she joked. Well, Baldwin did get one thing right; the former Disney star is "beyond flawless." But when it comes to their "perfect relationship" and her being "forever alone," she was very much wrong. In fact, it's Baldwin and Bieber now who are pretty goals-worthy.
Still, those aren't the only instances of the Drop the Mic co-host tweeting up a storm about Jelena. In 2012, Baldwin tweeted out her disappointment over not seeing the famous twosome at a Vanity Fair party. "I gotta say I was really looking forward to seeing what color coordination Jelena was gonna do for this year's VF party.. #sigh #ohwell," she wrote.
Seriously, you almost can't tell the difference between the model and one of the couple's most diehard fans. She was seemingly the couple's biggest supporter at one time.
What these tweets really suggest, besides Baldwin's stanning capabilities, is that there likely isn't any bad blood between her and Gomez. Above all, it seems like Bieber's fiancé is a total fan of the "Bad Liar" singer, based on these statements. So, there's probably nothing to worry about when it comes to any animosity between the two women.
Additionally, Gomez is reportedly fully over her on-and-off ex-boyfriend. A source told Us Weekly exactly that in response to her ex's engagement news, claiming, "Selena doesn't care. She's over Justin and the last time they broke up allowed her to get over him fully." Shortly after the news about Baldwin and Bieber's engagement broke on July 8, the actor's friend and assistant, Theresa Mingus, posted a photo on Instagram of herself and Gomez. In the snap, which featured the two on a yacht, they were both all smiles as they were enjoying their outing. All around, it appears that everyone is happy and completely carefree about the whole engagement situation.
In case you weren't aware, Baldwin has been in Bieber's life for quite some time and, as these tweets would also indicate, she's been a major fan of him (and Gomez) for a similarly long period of time. Of course, she's much more than just a fan and friend now. According to E! News, the two rekindled their romantic relationship in early June (after reportedly splitting sometime in August 2016, per Marie Claire).
After their whirlwind romance, the young couple is now engaged, a fact confirmed by the groom-to-be himself on Instagram on July 9. While Baldwin joked about being forever alone in the face of Bieber and Gomez's relationship so many years ago, she's now the one who's in a picture-perfect relationship with the "Sorry" singer.