How 'Hamilton' Honored International Women's Day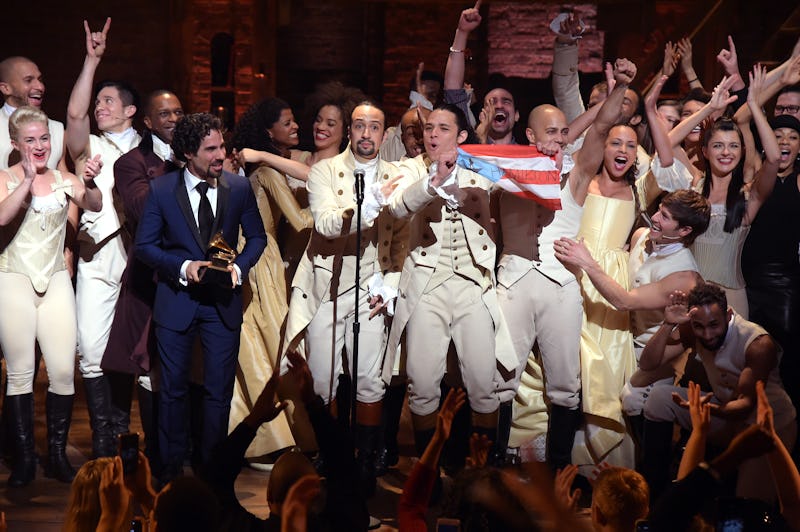 Theo Wargo/Getty Images Entertainment/Getty Images
You may have heard of the amazing ways people showed support for women's rights yesterday, but the cast of Hamilton honored International Women's Day by doing something truly awesome. Because you needed another reason to love Hamilton, right?
OK, honestly I've never seen it. I have tickets to see it... in 2018. I'm counting down the days. But they've just given me another reason to be obsessed with the show, the cast, and everything they do.
Because last night a group of performers decided to take their salary from the show and donated it to Dress For Success. If you're not familiar with Dress For Success, their website explains:
"Dress for Success is an international not-for-profit organization that empowers women to achieve economic independence by providing a network of support, professional attire and the development tools to help women thrive in work and in life. Since starting operations in 1997, Dress for Success has expanded to more than 145 cities in 23 countries and has helped more than 925,000 women work towards self-sufficiency."
Pretty powerful stuff — and a perfect way to honor International Women's Day. Oh, and there was an awesome note in the program.
Way to go, guys. And it's a perfect time to remember the words of Hamilton's Angelica Schuyler: "You want a revolution? I want a revelation. So listen to my declaration: 'We hold these truths to be self-evident that all men are created equal.' And when I meet Thomas Jefferson, I'm 'a compel him to include women in the sequel!" Preach.
It's important to pause and acknowledge that there are so many different ways to show support for International Women's Day and the women's strike. While some women took off work to show solidarity and the impact women have, the "A Day Without A Woman" strike did emphasize the fact that a lot of women would not be able to take the day off and encouraged people to support those women.
However you want to contribute to the cause, whatever you have to give, any way you want to fight for women's rights— it's all important. It's amazing to see how many people have stepped up to the plate.