H&M Is Selling A Dupe Of Kate Middleton's Wedding Dress & It's SO Reasonable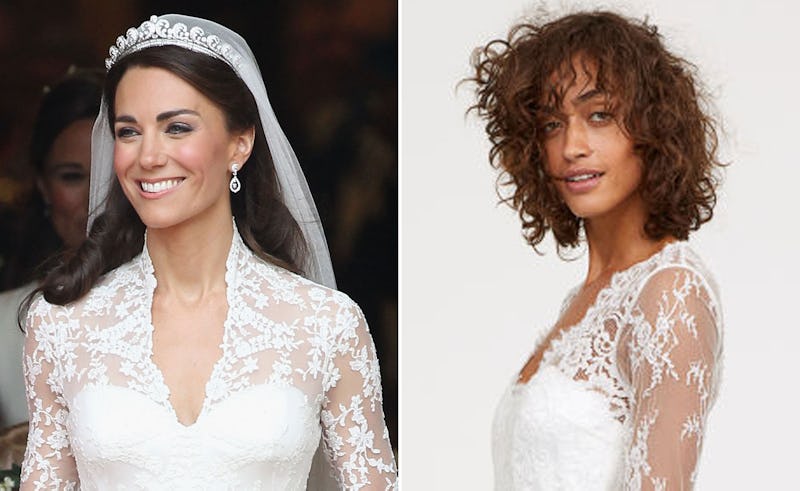 Chris Jackson/Getty Images Entertainment/Getty Images /H&M
IMHO, H&M is the champion of bringing high-end dupes to the high street at seriously affordable prices. In the past, it's duped Gucci and Mac, and now it's set its sights on an iconic Alexander McQueen piece. Yep, H&M has duped Kate Middleton's £250k wedding dress, but don't worry, it doesn't come with the same price tag. The high street retailer's dupe is just £150. Not bad, eh?
As the Daily Mail reports, H&M has just unveiled its new bridal collection, and of course it includes a take on one of the 21st century's most iconic wedding dresses — that Alexander McQueen gown Middleton wore when she married Prince William. The dress was showered with compliments from fashion critics around the world when she stepped out in the number back in April 2011.
The satin and lace gown exuded classic romance, with its sweetheart bodice and full ivory skirt. As for H&M's dupe? Although it is gorgeous, it doesn't quite captured all of the very fine details we saw on Middleton's OG number — like the painstaking amount of work it took to embroider each floral pattern onto Middleton's bodice — however, H&M has done a pretty good job nonetheless if I do say so myself. Check it out here:
Speaking to Femail, celebrity stylist Lucas Armitage said: "The style details between the two dresses are remarkably similar." She mused to them in particular about "the princess cut under the dress over-layered with vintage look lace and the fitted look around the waist plus the dramatic fall of the skirt."
Armitage also mentioned the relatively budget price, adding that: "Of course, at £150, the H&M version doesn't have the drama of the huge 270cm train Kate wore, and the quality and fabric will have been sourced to create a more affordable version of a luxury inspired gown."
But, as Armitage also pointed out, Middleton's own royal approval won't be the only draw. "For many brides, arms are an issue so having the full lace sleeve is universally flattering and a style many brides will gravitate towards to hide problem areas," she added.
The dress seemed to match all of Middleton's criteria. As Women's Wear Daily reported, Clarence House revealed that she "wished for her dress to combine tradition and modernity with the artistic vision that characterises Alexander McQueen's work." And the dress' maker, Sarah Burton, gushed that it was "the experience of a lifetime to work with Catherine Middleton to create her wedding dress," Harper's Bazaar reported in April 2011. She added in her statement that she was "delighted that the dress represents the best of British craftsmanship. Alexander McQueen's designs are all about bringing contrasts together to create startling and beautiful clothes and I hope that by marrying traditional fabrics and lacework, with a modern structure and design we have created a beautiful dress for Catherine on her wedding day."
Now with H&M's accurate — and more importantly budget-friendly — take on one of this generation's most iconic dresses out on the high street, it's time to feel like a royal yourself. Opt for this classic dress for your own big day, or you know— there's always that halloween costume idea.