'Black Panther' Designer Hannah Beachler's Oscars Speech Was Historic AND Heartwarming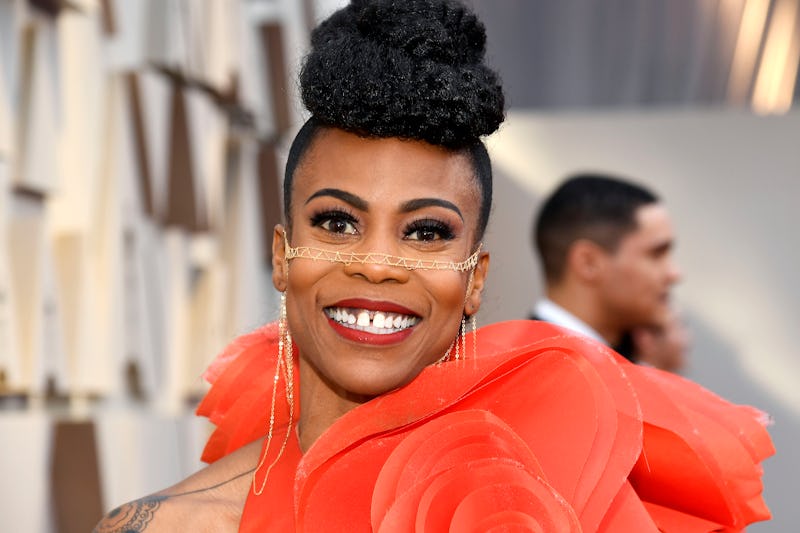 Kevork Djansezian/Getty Images Entertainment/Getty Images
Despite the rocky lead-up to Sunday night's awards show, there were several triumphs throughout the night. One of the earliest was Hannah Beachler's 2019 Oscars win for Black Panther, which made her the first-ever woman of color to win for the category of Best Production Design. She accepted the honor with a heartfelt speech that moved the Oscars crowd and the audience at home. Beachler finally received recognition for Black Panther, but has been amassing one of film's most impressive resumes over the past six years.
Beachler's win is iconic and historic, but her tearful speech stole the evening and gave a platform to the underrepresented people working in a relatively underrepresented portion of the entertainment industry. She also reminded the audience that even the most revered workers in Hollywood have their faults sometimes, as she briefly fumbled to bring her acceptance speech up on her phone. Once she pulled her speech up, however, the audience was rapt by her celebration of her family, co-workers, and those who helped her get to this point in her career, especially the director of the film that finally helped one of Hollywood's most quickly prolific artists receive national recognition.
Black Panther is Beacher's third collaboration with Black Panther director Ryan Coogler, who she has been working with since the very beginning of his career. Their first feature film together was Coogler's debut Fruitvale Station, and she also worked with him again on the 2015 film Creed. As if her resume of Coogler collaborations wasn't impressive enough, she was also credited with the production design on 2016 Best Picture winner Moonlight and one of 2016's biggest television events, Beyoncé's Lemonade film. When it came to her speech, however, she made sure everyone know that it was her collaborate Coogler that she shared a great deal of credit with.
"I stand here stronger than I was yesterday. I stand here with agency and self worth because of Ryan Coogler," Beachler said. "Who not only made me a better designer, a better storyteller, a better person. I stand here because of this man who offered me a different perspective of life. Who offered me a safe space. Who is patient, who gave me air, humanity and brotherhood. Thank you Ryan, I love you."
Bleacher concluded her speech by saying "I give this strength to all of those who come next to keep going and to never give up and when you think it's impossible just remember this piece of advice I got from a very wise woman: I did my best, and my best is good enough." Bleacher's acceptance speech was a well-earned celebration of her own work, but also of the power of collaboration and finding other people who will accept and elevate your own voice and creative instincts. Bleacher's Black Panther win may have been Bleacher's first, but considering how quickly she has risen in her field and the impressive body of work she's amassed in this decade alone, it's doubtful that it will be her last.