Hannah Simone Proves That There's No Need To Fear Change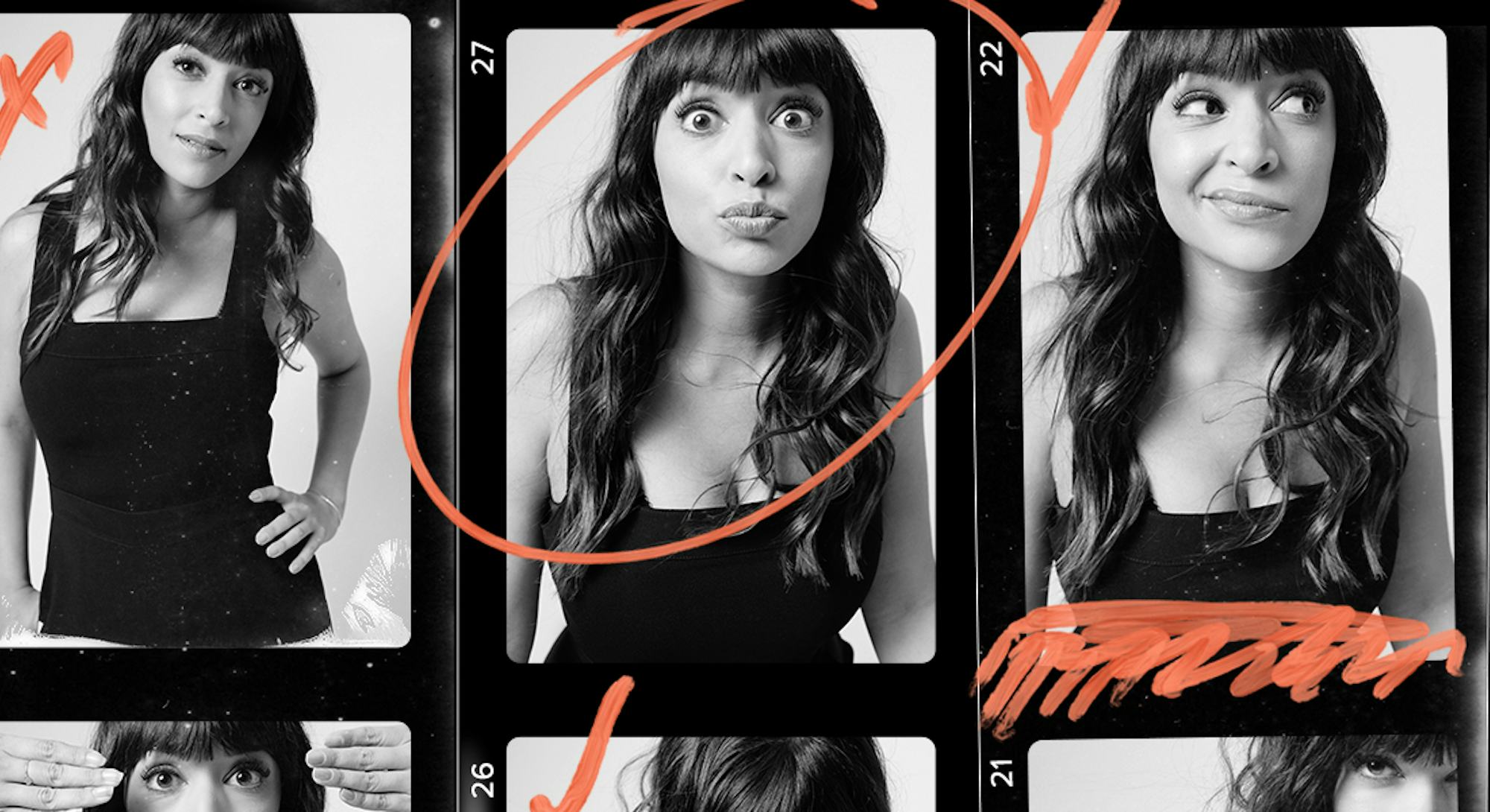 Photos: Ashley Batz/Bustle Design: Bry Crasch/Bustle
Though you may know her from New Girl, there's much more to Hannah Simone than Cece Parekh. After spending her childhood in many countries, she's spent her adult life exploring different careers from acting, modeling, and producing to her former role as a human rights and refugee officer at the United Nations. And after spending time with Simone at Bustle's New York headquarters on a March day that showed the first hint of Spring, it's easy to understand how she was able to succeed in such different worlds.
While leaving a job at the UN for acting seems like a shocking shift, it actually makes total sense for Simone, whose personal philosophy — that "someone told [her] a very long time ago" — practically cries out for change, in any form: "There is a certain relief in change, even if it's from bad to worse."
It's her fearless attitude about change that has allowed Simone to take on so many different roles, including her most recent as host of FOX's reality competition Kicking & Screaming. When she first signed on to host the series, she didn't even know exactly what she was getting herself into, but was eager for a new experience. As an avid fan of travel adventure series, Simone was drawn to the idea of hosting one, and though she asked producers, "how much jungle am I really in?" it wasn't until she arrived in Fiji to start production that she understood exactly what it would entail.
"I realized that everyday, I had to drive two hours deep into the jungle, and we had to shoot from sunrise to sunset," she says. "There is no escaping the bugs, they don't care if you're a host or a contestant." Despite the bugs, Simone is thankful she left her comfort zone behind for 12-hour days in the jungle. She considers Kicking & Screaming to be one of her most rewarding experiences, and found it to be "a perfect fit" because it embraces her personal outlook on change so wholeheartedly.
"There's just something that happens within us, I think, as human beings that makes you feel alive when you change things around you," she explains. "A lot of people, I think, have a fear of change, of changing jobs, of changing countries, of changing where they live, of getting out of relationships, but I just kind of see an opportunity to learn and grow and to be a better version of yourself ... that's why I've moved to so many countries, that's why I've been able to work in so many different professions, because it kind of excites me."
Photos: Ashley Batz/Bustle Design: Bry Crasch/Bustle
But you don't always need to be faced with a major, life-changing decision — such as immersing yourself in Fijian culture for a month — to leave your comfort zone. One of Simone's most vivid memories of pushing herself to try something new actually happened on a vacation to the Kingdom of Bhutan two years prior.
"They said, we have an opportunity for you to go whitewater rafting, which to me, sounded terrifying," she recalls. She had two rivers to choose from, the rough "father" river of Paro Chhu, and the calmer "mother" river, Wong Chu. "I was like, 'we're gonna go on the mama.'"
"I remember coming out the other end of it and I was like, 'This is the greatest thing I have ever done, why has nobody ever pushed me to do it?' So I made them put me back in the van, race me all the way back up the river," she says. "Then I did the father river and I came down and it was wonderful. So that was, for me, completely out of my comfort zone. You're afraid of the boat tipping, of falling in, of hitting rocks. It was pretty aggressive, but one of the best experiences of my life."
So, two years later, when the time came for her to pick something to do on a day off from shooting Kicking & Screaming, she embarked on an eight-hour whitewater rafting trip, and no one needed to push her to do it — or anything else she faced. "I just tried to soak up every minute of it and anything that scared me, I just tried to lean into it," she says of her time in Fiji.
Photos: Ashley Batz/Bustle Design: Bry Crasch/Bustle
Simone's ability to jump head first into new challenges is affecting more than just the actor herself. Her leap from the UN to Hollywood is one that she hopes can help others too. Human rights officers are tasked with a variety of responsibilities that aid in the implementation of human rights across the world, and according to Complex, Simone's specific role included educating Model UN participants on other cultures. Now, as an actor, she looks for ways to continue to educate people on the organization's mission.
"When I used to work in the UN, the hardest thing for us was to get the message out," she explains. "We could write the policy papers, we could speak at conferences, but there's a whole department of seeking people who have a platform and in our world, the reality is, artists often have a bigger platform with a more amplified voice."
Once she landed a role on New Girl, Simone found herself with a larger platform than ever before, and immediately looked for a way to use it. "The first year I got New Girl and I came to New York to do upfronts for FOX, I went to the UN building," she says. "I went and saw a friend of mine who worked there and I said, 'Use me. What's important? What is not getting the attention that everybody needs to know about?'"
We're still all citizens of this planet ... So we all should have an equal voice.
Unsurprisingly, education is extremely important to Simone, which is why she works with the Canadian organization WE, formerly known as Free The Children, to bring "the five pillars of development to establish the path for education in rural communities." Thanks to her own education (which includes Bachelor's degrees in both International Relations and Radio and Television Arts) and career, Simone may be uniquely qualified to speak out about such issues, but she believes that all people have the right to share their views — even if there has been recent backlash against celebrities becoming politically involved.
"We're still all citizens of this planet that get to care about things that are impacted by policy, impacted by choices that are made in our government," she says. "So we all should have an equal voice."
Photos: Ashley Batz/Bustle Design: Bry Crasch/Bustle
But it's impossible to talk about the relationship between Hollywood and politics without also acknowledging the industry's own issues of inequality. There is a distinct lack of female writers and directors, which, sadly, makes the fact that Simone has worked on multiple projects with women behind-the-scenes incredibly rare. In addition to New Girl (lead by showrunner Liz Meriwether), Simone starred in and produced Miss India America, a 2015 film with a predominantly female cast and crew.
"Representation matters," she says, agreeing that having women run these projects affected them. "I think it's actually really starting to happen in the industry, I just don't know if a lot of people are talking about it … we tend to spend a lot of time focusing on the obstacles and challenges with representation, which is important, but there's also incredible accomplishments that are being made and successes, and I feel like we need to make sure to shine the brightest light on them."
If increased representation and more awareness of such successes are changes that Simone wants to see, there's no reason to believe she won't do everything in her power to make them happen. This is a woman who spent a month in a new country simply because she wanted to try hosting a kind of series she had never before; a person who was terrified of whitewater rafting, did it anyway, and then dove back into an even rougher river; and someone who left a job at the UN to turn her hobby into a full-fledged career. If Simone wants something, she will go after it, and no amount of fear can hold her back.