A Nonprofit Is Sending Period Products To Hurricane Michael Survivors — Here's How To Help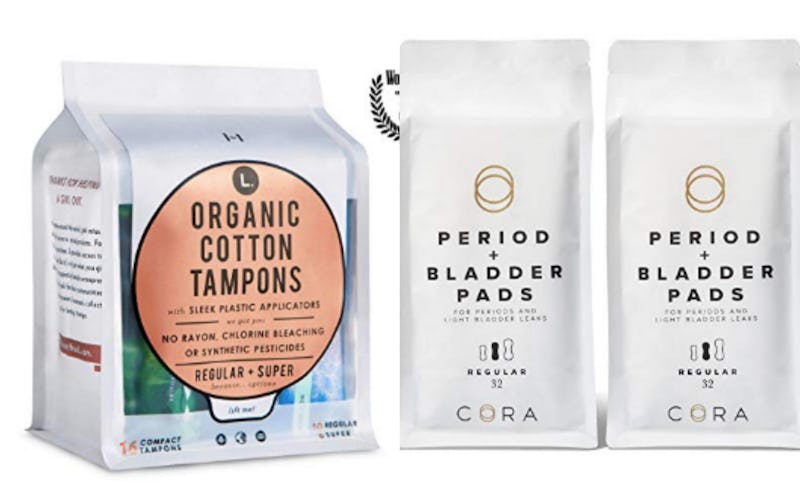 Amazon
In the wake of Hurricane Michael, hundreds of thousands of people have been left without power or access to emergency aid, making now a crucial time to help those impacted by the lingering effects of the storm. There are many ways to support survivors of Hurricane Michael, from donating to rebuilding efforts to supporting healthcare responders to giving blood. One way to help those in need—a way we often don't include in immediate conversations about disaster relief—is by donating period products to those who don't have access to them.
#HappyPeriod, a nonprofit organization working to get menstrual products to people who need them, has created an Amazon Wish List for Hurricane Michael survivors to make sure people affected by the storm are getting the menstrual products they need. The wish list includes a range of period products like pads, tampons, and reusable menstrual cups as well as hygienic wipes and washes. "As we learned last year from Hurricane Harvey," #HappyPeriod founder Chelsea VonChaz told with Bustle via email, "periods don't stop when a disaster happens."
VonChaz says that because period stigma still persists we don't often include menstrual products on the immediate list of needs for hurricane survivors. "Using our platform," VonChaz writes, "we want to initiate the public to consider menstrual products when making donations to relief efforts and organizations during this natural disaster."
The #HappyPeriod Amazon Wish List is ready to receive donations to support Hurricane Michael relief efforts.
Experts initially reported that Hurricane Harvey might break a dangerous record in Florida as the Category 4 storm moved to the panhandle. As the Washington Post reported, since record keeping began in 1851, a storm of that intensity had never hit the Florida Panhandle. Florida Governor Rick Scott urged residents to evacuate as the storm approached. "Hurricane Michael is the worst storm that the Florida Panhandle has ever seen," Gov. Rick Scott said last week Wednesday. Gov. Scott added government officials would be "turning 100 percent of our focus to search and rescue, and recovery."
New reports on the devastation of Hurricane Michael show the death toll in Florida rising to 19 on Tuesday night. In total, the storm has killed 29 people across its path in the southern United States, according to CNN. Reports on Tuesday also revealed there are still 158,000 people without power with 140,000 of those people in Florida.
Government relief efforts have continued in the aftermath of Hurricane Michael with FEMA reporting 16,000 federal employees, including over 8,000 military personnel, have been deployed to help with helping with the efforts.
Menstrual products unfortunately aren't universally seen as a necessity. In fact, some states still categorize tampons as a luxury item, making them taxed a different rate. As NPR reports, ChapStick, dandruff shampoo, and Viagra are among the thousands of products personal care items exempt from sales tax. Menstrual products, however, are missing from that list on the majority of states in the U.S. as they are not deemed a "necessity." A handful of states, including Florida, Illinois, and New York, have already moved to get rid of the "tampon tax" and make menstrual products more affordable and easier to access.
In both our laws and our cultural conversation, period stigma continues to exists. The way we talk about periods impacts more than just avoiding taboo conversation. It creates a culture that doesn't see menstrual products as a necessity and leads to legislation like the "tampon tax." It hurts disaster relief efforts by not giving survivors all the hygiene products they need. Thanks to organizations like #HappyPeriod, we're one step closer to making sure all people receive the menstrual products they need.