The First Images Of Young Tonks & Fang From The "Harry Potter" Mobile Game Will Make Your DAY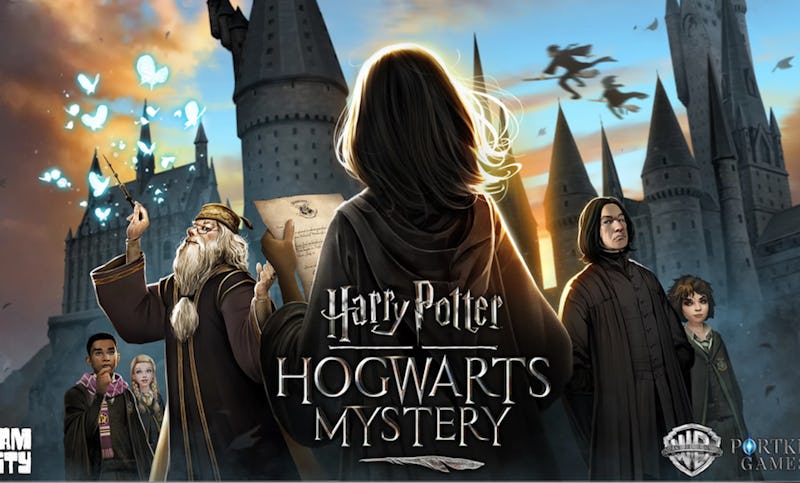 Courtesy of Jam City
If you had any concrete plans this summer, go ahead and cancel them now. The highly-anticipated augmented reality game "Harry Potter: Hogwarts Mystery" is set to hit a mobile phone near you in spring 2018, and if the Summer of "Pokemon Go" was any indication of how '90s babies will handle apps bleeding with nostalgia, it looks like we are going to spend about 800 percent of our waking lives with our eyes glued to this game. We've already gotten two trailers to get us jazzed for it, but Bustle is proud to show an exclusive look at Young Tonks and Puppy Fang from "Harry Potter: Hogwarts Mystery" that will have you hitting refresh on your email every five seconds for updates on the game's official release.
This exclusive look comes by way of Jam City, the developers working with the Portkey Games label of Warner Bros. Interactive Entertainment to develop the app. We've known for some time now that the app will feature known and beloved characters — just the other week we were #blessed with a glimpse at a whole slew of them — but this is the first time we've gotten to see Tonks (aka the World's Coolest Hufflepuff) and Fang (aka the World's Worst But Still Most Beloved Guard Dog).
Without any further ado, here, my friends, is our favorite Metamorphmagus, complete with her punk baby Tonks hair.
And here is Puppy Fang, who is so precious that some of the cells in my heart just exploded from looking at him.
Once the "WOWOWOW" factor wears off from seeing the baby versions of these characters, you'll realize that it does, in fact, confirm a speculated theory about the plot of this game — that it will take place before any of the book canon from Harry Potter. We already got a hint about the timeline when the second trailer came out, and revealed what appeared to be Bill Weasley serving as a pseudo-guide to the user's main character; as any true fan knows, Bill (and as any true fan who wants to live knows, Bill is my boyfriend and everyone needs to step off).
We also know that we'll be seeing a lot of the familiar Hogwarts staff members, which also fits in line with this timeline — excluding that rather unfortunate Defense Against The Dark Arts turnover, most of the professors are mainstays.
So far Jam City has revealed that users will be able to attend Hogwarts and participate in all kinds of activities, like dueling clubs, classes, and adventures around the grounds. Users will also be sorted into a House, and have access to the common room — images of which were also shared in the second trailer, below:
But what, exactly, is the ~mystery~ you'll be set to the task of? That remains tightly under wraps — but considering that this timeline builds up to some of the most bonkers and dangerous stuff to ever happen at Hogwarts, it's going to be juicy. (And even if it's not — my literal dream world is hanging out with Nymphadora Tonks and Bill Weasley and I wouldn't have it any other way.)
No word yet on the exact release date for this game, but you can keep tabs on it by signing up for the email newsletter on their website. In the meantime, we can deal with our impatience by watching the trailer over and over again and deleting all of our nonsense Muggle apps to make way for this one. Who needs a weather app?? Hogwarts is almost here and real life is canceled, y'all.