SO Many Details Just Dropped About The 'Harry Potter' Mobile Game & You Need To See The Pics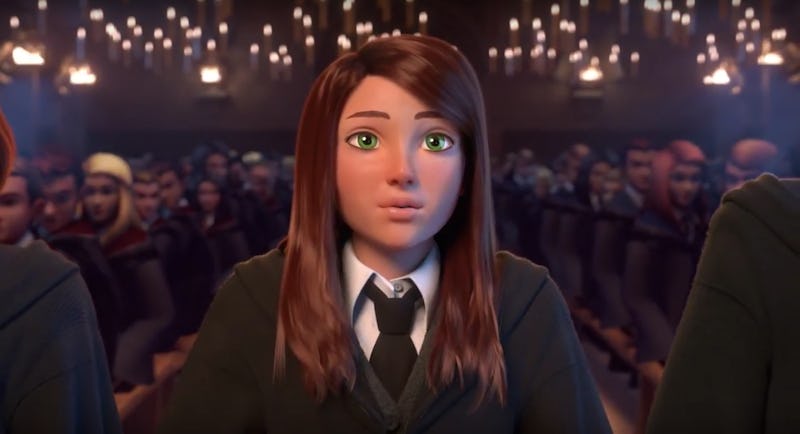 Jam City/YouTube
It's an excellent time to be a Muggle/No-Maj, my friends, because the much-anticipated augmented reality game "Harry Potter: Hogwarts Mystery" just dropped a second trailer with a ton of new details about what fans can expect. Remember when your little '90s kid brain broke when you saw the first trailer for Harry Potter and the Sorcerer's Stone on your television? Get ready for that level of emotion, except maybe to a much scarier degree now that you're an adult and are about to be armed with the entirety of the Potter universe's magic at your mere mortal fingertips.
The game, which was announced in November, is a collaboration between the Portkey Games label of Warner Bros. Interactive Entertainment and game developers Jam City. In the initial press release on Pottermore, fans were told that the game would involve an interactive experience where users got to attend Hogwarts themselves and participate in lessons, organized activities, and other trademarks of the magical world; in January, the first trailer for the game dropped, giving us some insight to just how expansive this world was going to look. In case you missed it, here's the footage from the first trailer (be still my Hufflepuff heart):
Today, not only did Jam City release a second trailer with a much more intimate look at what users are going to experience with the new mobile game, but they also opened up the game to pre-registration on Google Play. (Fans have also been able to sign up for details on their website here.)
Without any further ado, here's the second trailer that will make you lose your Muggle mind:
Let's take a moment to collectively wig out and then break down all the deets that new trailer just gave us, shall we?
The Animation For The Avatars Is Hella
Anybody else get some aggressively strong Ginny Weasley vibes from the one that they used in the trailer?
All Your Faves (And, Uh, Snape) Are Still Here!
While we knew from previous press releases that we'd see "familiar faces" at Hogwarts, this trailer confirms it — we'll be seeing Dumbledore, Hagrid, McGonagall, Flitwick, Snape, and Sprout, among other known Hogwarts icons.
You'll Get To Sit Under The Sorting Hat
I am more nervous for this than I have been in any other moment of reckoning in my adult life, it's casual.
... And Get Access To Your House's Common Room
I chose Hufflepuff because BADGERS GOTTA REPRESENT, YO. The trailer shows sneak peeks of all four of the common rooms, though, in case that sways the answers you give the all-knowing Sorting Hat.
You'll Get To Interact With Other Hogwarts Students
As the pettiest Hufflepuff this side of Ernie Macmillan, I personally am here for judging other students' fashion choices.
And My Boyfriend Bill Weasley Appears To Be Here As Well??
First of all, DIBS. (Back off, Fleur.) Second of all, if this really is Bill Weasley, it gives us all a major hint about where in the official Harry Potter timeline this takes place — if you're a peer of Bill's in the game, that must mean that at the very least the start of the game takes place before Harry, Ron, and Hermione hit the scene, since their time in school never overlapped.
You'll Be Able To Learn New Spells & Duel Other Students
My inner Hermione is tingling.
Shenanigans Are DEFINITELY Going To Go Down
Save me, Bill Weasley!!
But this too gives some insight to what the ~mystery~ that the game alludes to might be. It looks like there are plenty of opportunities for mayhem, too ... with or without my boyfriend.
Anyway, now that I've started a fight with all of Bill Weasley stan Twitter, we can all unite in being ridiculously hyped for this game. As of right now the only information we have on the release date is that we can expect it in Spring 2018, so keep an eye on your email after you register — in the words of Mad-Eye Moody, "CONSTANT VIGILANCE!"