See Harry Styles Cover Kanye West's "Ultralight Beam"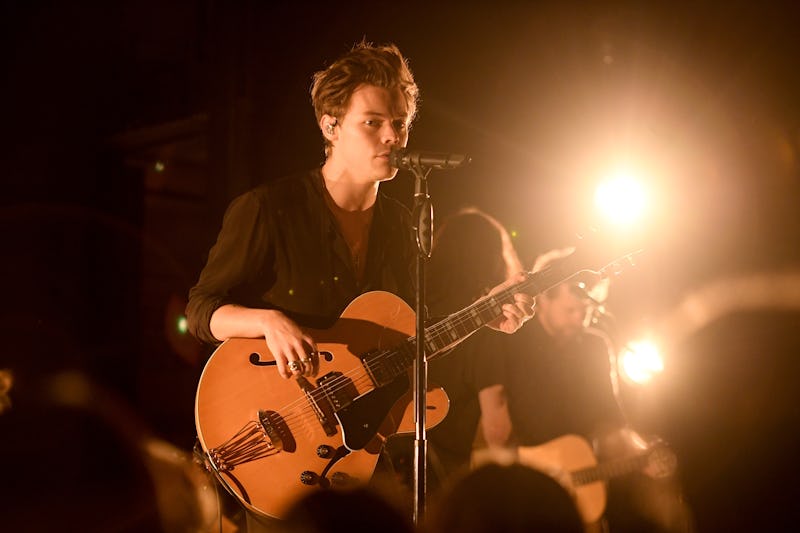 Dimitrios Kambouris/Getty Images Entertainment/Getty Images
Harry Styles knows just what to do to make our hearts melt. If it wasn't enough that the former One Direction member gave major props to teenage girls in a recent interview with Rolling Stone and revealed that his first single, "Sign of the Times," is sort of about Brexit and the Black Lives Matter movement, his first solo concert performance is so, so good. Seriously, Styles' cover of Kanye West's "Ultralight Beam" is going to make you fall in love with him all over again, and it shows how unique the newly solo singer's style is turning out to be.
Styles released his debut self-titled album on Friday, and naturally, he is currently making his rounds to promote it. He staged a surprise concert at Garage Club in London on Saturday night where he performed 10 songs from the LP, and he also performed a cover of West's "Ultralight Beam" that will give you chills when you hear it.
"Ultralight Beam" is a unique choice for Styles, but it's not at all surprising, seeing that the songs on his album prove that he is experimenting with a style that's often very different from the pop music that made him a superstar. In a video shared via Twitter on Saturday, Styles is seen on stage performing his own, soulful rendition of "Ultralight Beam," which West originally recorded with Chance the Rapper, Kelly Price, Kirk Franklin, and The-Dream. The original track has all the elements of a gospel song, but Styles stripped it into a version that sounds like it's more inspired by classic rock.
Styles announced early Saturday morning that tickets were on sale for the surprise gig and, naturally, they sold out pretty quickly. Luckily for those of us who missed out on the event, lots of the highlights and details from the show were quickly posted online. A photo of the singer's set list from Twitter shows that he also performed One Direction's "Stockholm Syndrome", so clearly, it was an eclectic and interesting mix of tunes.
Styles is busy reinventing himself as an artist, and if his album hasn't already proved that, his performance on Saturday night definitely does.