It's Possible To Be The Bachelor Twice, So Get To Guessing Who's Next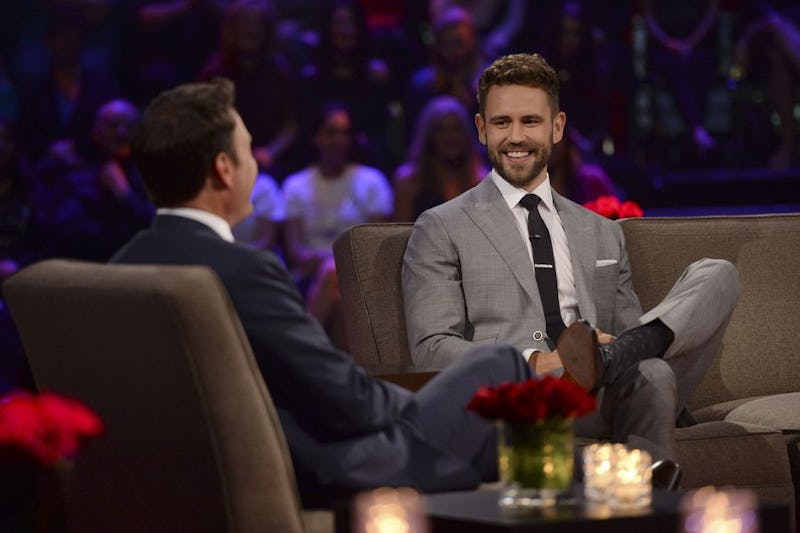 ABC/Michael Yada
The Bachelor franchise has been going strong for what feels like forever, so it's easy for even the most loyal Bachelor historians to have questions about seasons that happened years ago. Now that Ben Higgins and Nick Viall are single again, fans have questioned whether either of them would take another shot at being the Bachelor. Well, it might sound crazy to see another Nick or Ben season, but there is a precedent for someone being the Bachelor twice.
So far, the only man who has handed out roses on two different seasons of The Bachelor is Brad Womack. He had the lead role in both Season 11 and Season 15. The first time around he picked no one at the end of his "journey," and that's a large part of he reason he returned for round two. He did end up getting engaged to Emily Maynard at the end of Season 15, but that did not last long, and she ended up being The Bachelorette the next year.
Brad is the only person who has been the lead on The Bachelor twice (there has never been a woman who was the Bachelorette twice), but there have been plenty of other people who have made multiple appearances in the franchise.
Notably, Nick, became the Bachelor after being the runner-up during two Bachelorette seasons and appearing on Bachelor in Paradise.
Becca Tilley was the runner-up during Chris Soules' season and got eliminated right before hometown dates during Ben Higgins' season. Amber James was on both Soules and Higgins' season, as well as Bachelor in Paradise.
And then there are all the people who have been on Bachelor in Paradise — some of them more than once, like Jared Haibon, who was on BiP twice after his initial appearance on Kaitlyn Bristowe's season of The Bachelorette.
With shows like Bachelor in Paradise and the upcoming Bachelor Winter Games, the fans should expect to see their favorites from the franchise in more than one season, but will anyone go in for a repeat try in that lead role? So far, Nick has said that he's "definitely done" with Bachelor show, while Ben didn't completely rule out doing another show in the future, said he is "not ready to be the next Bachelor." Only time will tell if anyone else gives is a second go — anything is possible in the Bachelor world.