Cheating Rumours Have Thrown A *Serious* Spanner In The Works For Samira & Frankie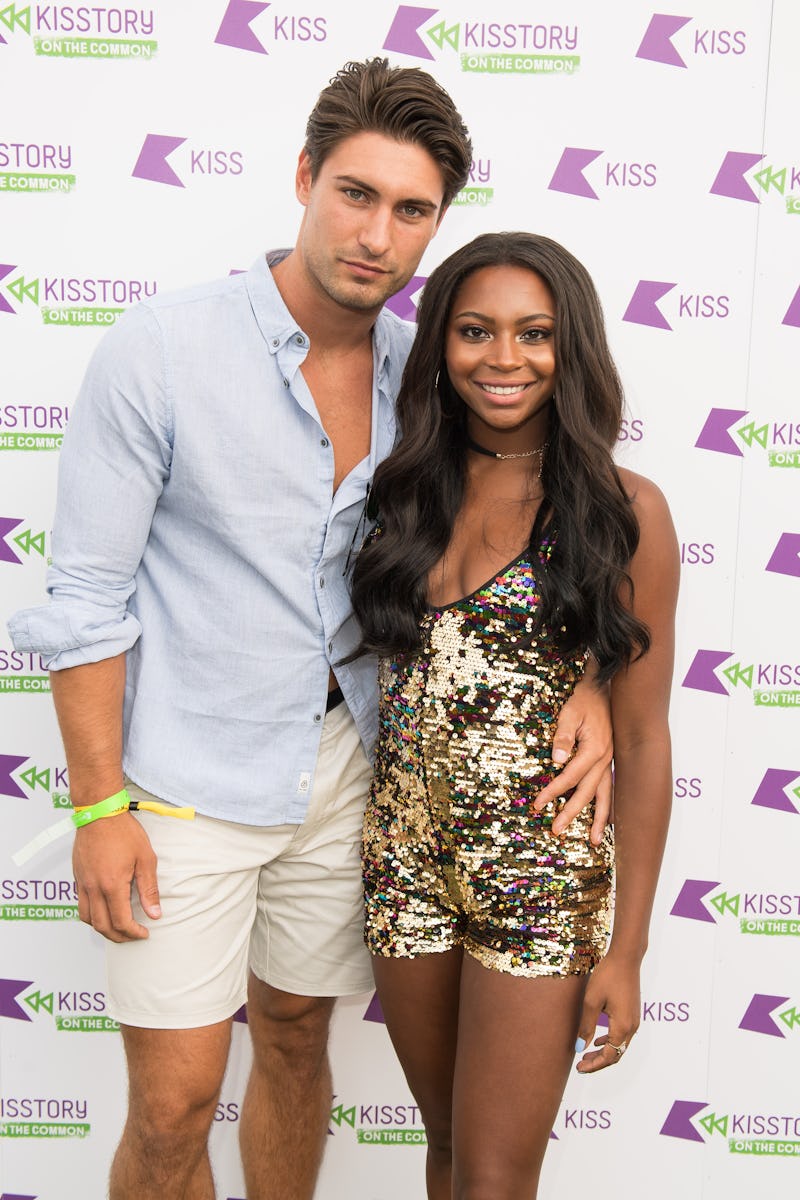 Jeff Spicer/Getty Images Entertainment/Getty Images
If you cast your mind back to Love Island: The Reunion, you might remember how some of the tensions between the 2018 gang resurfaced; from Megan Barton-Hanson speaking candidly about her frenemy Georgia Steel to Samira Mighty being asked point blank about a string of Frankie Foster cheating rumours — all while he was seated right next to her. (Talk about awkward.) Well, a new video of him locking lips with another woman at a nightclub in Kent released by the Daily Mail has added more fuel to the fire and has me wondering not for the first time, have Samira & Frankie split up?
It's not good news for the Love Island stars, as following a video released by the Daily Mail which reportedly showed Frankie kissing a blonde woman on the dance floor, Samira has confirmed to the publication that they've parted ways. The clip was filmed at Gallery Nightclub in Maidstone, where Frankie made an appearance on Saturday alongside his fellow Islanders Charlie Brake, Alexandra Cane, and Idris Virgo. In it, he appears to kiss the mystery woman first on the mouth, then on her neck as she pulls away. Following its release, a representative for Samira told The Daily Mail: "Samira will be taking some time out from her relationship with Frankie to focus on herself and future work opportunities. They have spoken in depth about the recent events and Samira feels a break for now is the best thing for both of them so they can see what the future holds."
An eyewitness told The Daily Mail that they also overhead Frankie tell the woman that his and Samira's romance was "just for the cameras," which would be a devastating blow for the hopeless romantic in me. Frankie's representatives didn't return request for comment on the report, but I'll update you if I hear anything more.
A source told The Daily Mail of Frankie's behaviour in the nightclub, "He was very flirty with a lot of girls throughout the night. He was back and forth between VIP and the dance floor and when he saw the girl he just sort of grabbed her and started chatting to her. She asked him, 'Aren't you with Samira?' He said, 'No, it's fake. It's all for the cameras.' Then he kissed her and, very weirdly, started licking her face. It was very strange. We were like, 'What the hell is he doing?'"
Yikes. I don't care who you are — Chris Pine, John Boyega, or Tom Hardy — if you come at me and try to lick my face, I'll be off. The source also claimed to the newspaper that Frankie slid into the DMs of one of their friends and "asked her to go back to a hotel with him." When she said no, the source claims he blocked her — a mature adult response to rejection, if true.
Two days ago, the Love Island couple seemed utterly loved-up on Instagram as Samira shared a cute picture on her personal account. The day before that, Frankie also posted a photo of the pair partying it up at a Gorgon City gig. He left no doubt as to their relationship status then, captioning it, "My girlfriends cooler than yours".
Frankie and Samira's relationship started on ITV2 series Love Island earlier this year, which saw Dani Dyer and Jack Fincham nab the prize. After numerous episodes of being platonically paired up with fellow Islander Dr. Alex George, West End actress Samira Mighty finally found her villa romance when fitness instructor Frankie arrived. After he was booted off, Samira dramatically left the show to be with him and he publicly asked her to be his girlfriend on an episode of Love Island: Aftersun.
This isn't the first time that the pair has been hit with rumours of Frankie's alleged infidelity — something he has denied — as earlier this year it was claimed that he had taken a blonde woman identified only as Stephanie back to his hotel room after a night out. Stephanie told The Sun that "never once did he mention this Samira girl" when they met at a London nightclub and that they eventually had sex. Frankie denied they had done anything more than sleep in the same room.
Speaking on Dan Wootton's TalkRadio show, Frankie explained, "The biggest mistake for me, and this is what me and Samira have spoken about and I had to apologise about, is that I was in the same room as those two. I was asleep, three beds, I went on the far left, they went on the far right at a hotel we stayed in." He never wound up elaborating on who this mysterious third person was, but I highly doubt it was Samira. Still, at least there's still winners Jack and Dani to root for.