Al Pacino's Next Acting Role Is Literally Perfect For Him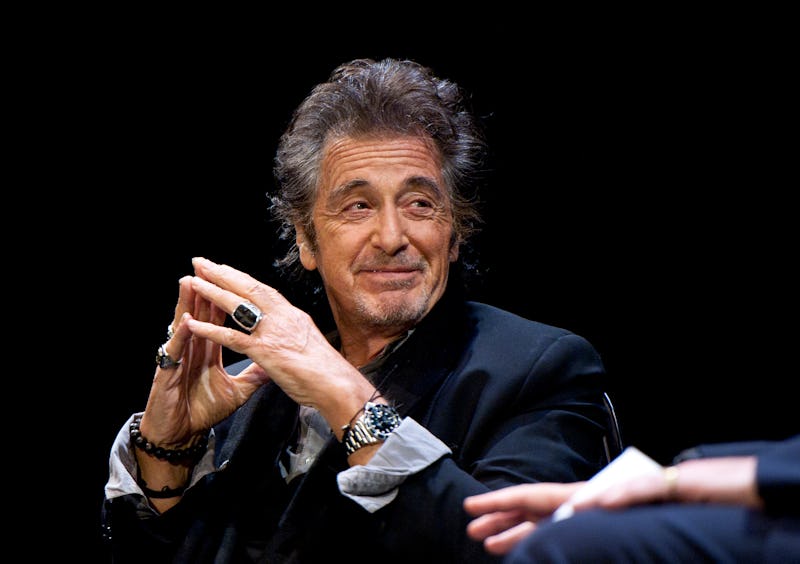 Eamonn M. McCormack/Getty Images Entertainment/Getty Images
Talk about spot-on casting: The Hollywood Reporter announced Monday that Al Pacino will play football coach Joe Paterno in an HBO movie about the 2012 Jerry Sandusky sexual assault scandal. If you went to Penn State or are even remotely familiar with the life and times of Paterno (as I, a Penn State alumni, am), then you'll know that Pacino's casting of Paterno is quite perfect. If you didn't go to Penn State, but are even mildly interested in either Pacino or Paterno, then you'll most likely be interested to see how this film comes together. From the sound of these early THR reports, this proposed HBO film will manage to capitalize on the true crime mania we're currently enjoying on film, TV, and in podcasts as well as re-examining the sensitive issues brought up by the Sandusky case around complicity in a tight-knit community.
Let's talk first about how great it is that Pacino will portray Paterno, the winningest coach in college football history. Those are some big shoes to fill, but for Pacino, a venerated actor, this will be an intriguing challenge in Method acting he will most likely embrace. Right off the bat, just looking at and thinking about these two men means you can see why Pacino is inspired casting. If you've ever heard Paterno in an interview, then you'll know that both he and Pacino have gravelly, authoritative voices that instantly demand your attention. In the football world and furthermore, in the Penn State community, Paterno's legacy as a leader and motivator of multiple generations has contributed to what makes him a legendary figure.
That Pacino is a perfect match to play Paterno is undoubtable; that the subject matter around bringing Paterno to life will cause a renewed stir of curiosity is similarly undoubtable. America's love of true crime comes in many forms (see: Netflix's The Keepers or the recent hit podcast Missing Richard Simmons), so HBO's proposed film about the Sandusky trial will absolutely hit a cultural sweet spot.
Make no mistake: there's plenty of material to be mined for the HBO drama. The firestorm that ensued following the 2011 arrest of Sandusky nearly tore the Penn State community in half and caused a flurry of controversy in all areas of public conversation. Resurrecting these events and examining the tense subject matter through the lens of famed director Barry Levinson and the prowess of Pacino will be mighty fascinating. Buckle up; things are about to get interesting.