Helen Mirren Wants To Play Donald Trump & It's The Movie We All Need Right Now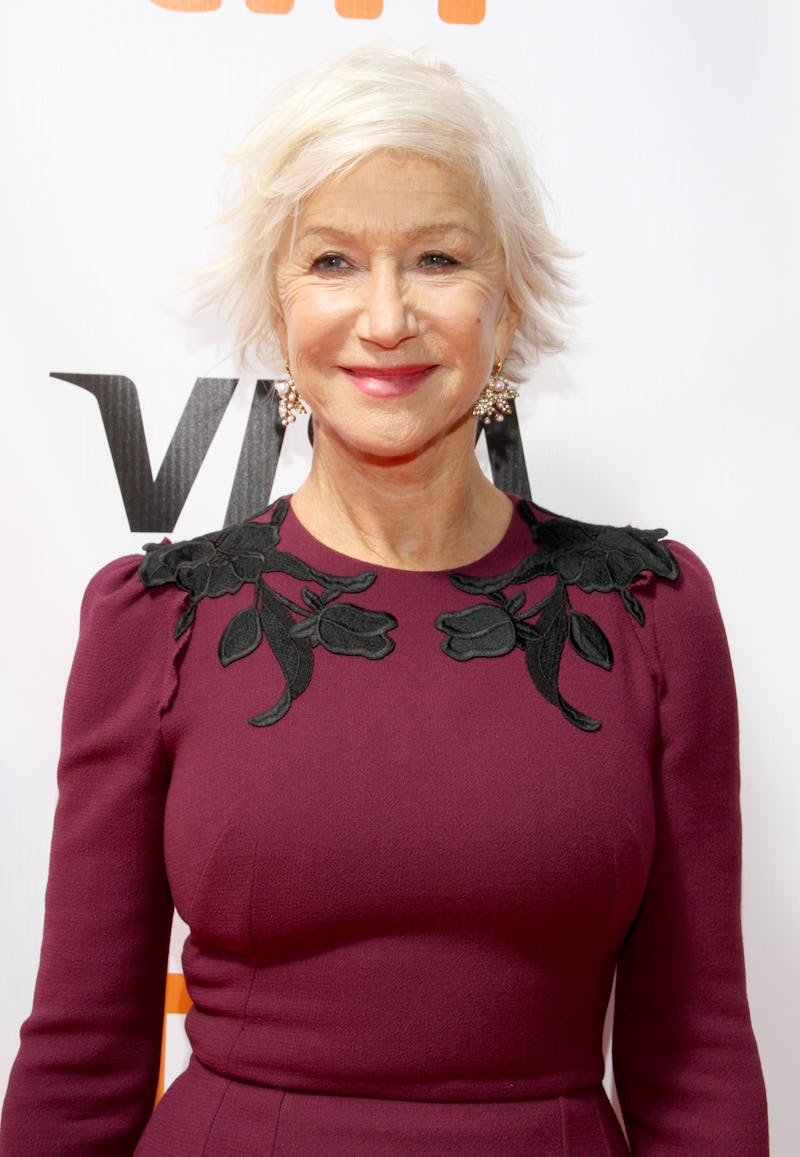 Jeremy Chan/Getty Images Entertainment/Getty Images
If you need a bit of cheering up today, then you may be happy to find out that the one and only Helen Mirren wants to play Donald Trump. According to Entertainment Weekly, Mirren divulged this fantastic idea in her Hollywood Masters interview. (Hollywood Masters is currently in its eighth season at Loyola Marymount University School of Film and Television, and Season 1 is streaming on Netflix.) In the interview, Mirren likens Trump to a Shakespearean character, and The Queen actor is no stranger to Shakespeare. Over the years, Dame Mirren has taken on the roles of Ophelia, Hermia, and Rosalind, among others. Add in her history of playing real-life figures like Queen Elizabeth II and Ayn Rand, and the idea of Mirren playing Trump not only sounds plausible, it's exciting. In fact, Mirren as Trump may be the movie that the world needs right now.
The current President is certainly a character. He has the kind of personality that's ripe for exploration, as Mirren points out. When asked if she thought it would be difficult to delve into Trump's psyche, Mirren revealed she already has a game plan in place. According to EW, the actor said,
"You look at the upbringing. You look at the schooling, the father, the mother. I don't know much about Mr. Trump's background, but if I was to play him, I would definitely start there… That's what you have to start with, the child, and the child is very much in Trump."
Mirren even jokingly said on American Masters, "I've almost got the hair." Are you hearing this, Hollywood? Mirren is ready for the Trump biopic, and it's the gift moviegoers deserve.
Trump is a divisive figure, and his time in the White House has been eventful so far, to say the least. There's no doubt that one day there will be a Trump movie — most presidents get one sooner or later — and he couldn't ask for a more gifted actor to bring him to life on the big screen. Would anyone actually turn down the opportunity to have Mirren play them in their life story? The woman is a legend in her field.
Plus, she promised in her interview that she would "be so funny as Trump," and the world needs an excuse to head out to the theater for a good laugh. With the news cycle full of disturbing and heartbreaking stories, everyone could do with a bit of spirit-lifting right about now, and if the idea of Mirren donning a wig to play Trump doesn't make you giggle, nothing will. If Mirren is seriously offering to take on the challenging role of Trump, then there's no reason for Hollywood not to say yes, especially since she seems to be genuinely fascinated by Trump as a character.
According to Mirren's interview, she sees Trump as a character who could have sprung forth from the mind of The Bard himself. She explained on American Masters,
"What an extraordinary character. I mean, that's a character isn't it, the real thing? I would say real life is so much more interesting than anything you can make up. But you know, a fantastic sort of slightly Shakespearean character. He may have a Shakespearean fall, I don't know, but he is an extraordinary character."
Whatever you may think of Trump, it's hard to disagree with Mirren. He is a character, and one who is destined to be played by an actor on the big screen one of these days. Now that Mirren has tossed her hat in the ring, sooner would be far better than later. She may be an unconventional choice to play the current President, but she's also the right one.
Until Mirren can snag her dream role and give the world what could be a classic film for the ages, you can catch her in The Leisure Seeker and 2018's Winchester: The House That Ghosts Built. It's not the same as seeing the great Mirren play the current POTUS, but until Hollywood makes this magical movie happen, any Mirren movie is a good movie.