Hello Kitty Wines Just Added 2 New Varieties In The Cutest Bottles Yet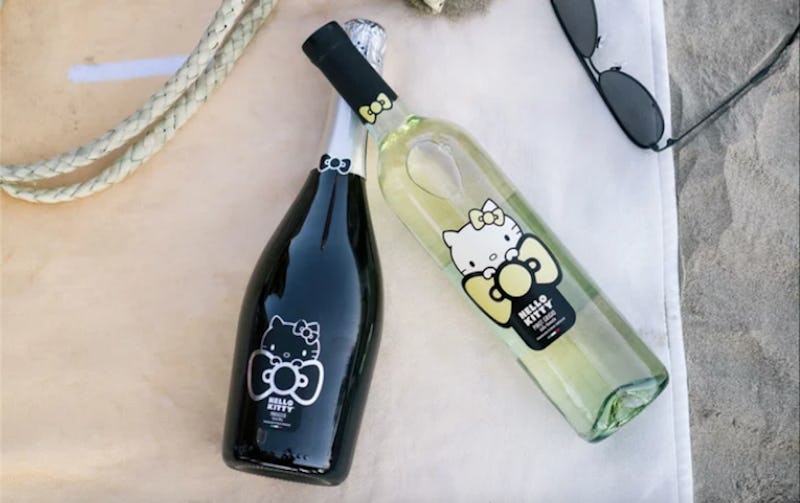 Sanrio
Haters will say it's kid stuff, but Hello Kitty is an ageless icon. The fashionable feline has been a staple in the style world since her debut in 1976. Her mouthless, white visage has appeared on everything from sneakers to skincare tools to a jet. Hello Kitty should not be reduced to merely a child's cartoon; Hello Kitty is a lifestyle. Now, adults who appreciate all things kitty can emulate this love during happy hour with two new varieties added to Hello Kitty Wines.
Hello Kitty Prosecco and Hello Kitty Pinot Grigio have just been added to the existing lineup of Hello Kitty wines, per Food & Wine. If you somehow missed the memo, Hello Kitty Wine has actually been available for purchase for awhile now. Food & Wine reports Sanrio, the Japanese company that created (and still represents) Hello Kitty, partnered with the Italian winery Torti to craft the wines back in 2007. But unless you've been spending a lot of time overseas, you likely haven't seen Hello Kitty Wine out in the open. Mainstream availability in the US only began in 2016. You can find them on shelves at Japanese specialty stores around the country, or select other non-specialty retailers on the West Coast.
The existing collection of Hello Kitty wines got a update last fall. Currently it contains a Sweet Pink sparkling blend, a Sparkling Rosé, a Pinot Nero Vinified in White, a regular Pinot Noir, and a special edition Sparkling Rosé. Multiple pink options are necessary when it comes to Hello Kitty, obviously.
Perhaps the best part of the wines isn't the actual wine at all, but the bottles it comes in. Each displays a minimalist design that features Hello Kitty's face and paws. The Sweet Pink sparkling blend comes in a bottle with a heart molded in. On some labels Hello Kitty is white, and on some she is black, but on every single one she is sporting her characteristic hair bow and looks downright adorable (per usual).
It is unlikely that any quadruped will every make the impact Hello Kitty has, so it stands to reason she would break into the lucrative world of adult beverages. Business Insider reports millennials consumed more than forty percent of all wine drunk in 2015 — a total of 159.6 cases.
Of course, this is far from the only way a ~grownass~ Hello Kitty fan can celebrate the beloved icon. You can also board a Hello Kitty train, or a Hello Kitty plane, or even rock an entire Hello Kitty-themed bedroom, thanks to a pink and silver minimalist line that debuted earlier this year from PBteen.
Really, there doesn't seem to be a situation that Hello Kitty doesn't have your back for, whether it's home, travel, or drinking out of an Instagrammable bottle. So the next time you're fretting over what to bring to a housewarming party, turn to the cute creature you've had on accessories since childhood. Just like you, Hello Kitty's endeavors have matured.