Here's How Sexism Can Affect Your Mental Health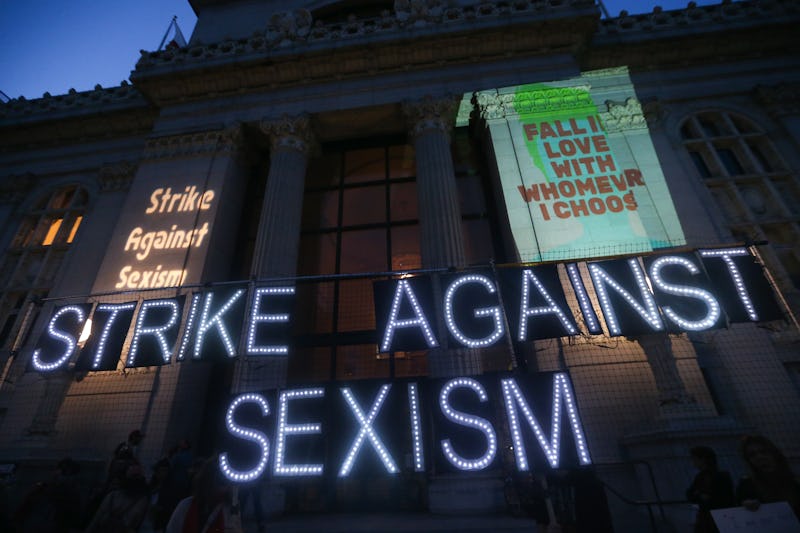 Elijah Nouvelage/Getty Images News/Getty Images
You will probably not be shocked to hear that being a woman in the world can be hard on your your mental health. The ways in which sexism can inflect our lives — from overt repression to microaggressions to "benevolent sexism" (which emphasizes gender difference that enforces traditional roles in ways that appear empowering, but aren't) — are pretty extensive. Do the pressures of sexist ideologies about women's inferiority, circumscribed gender roles, and dudes who think they have the "right" of dudes to catcall cause us very real psychological harm? The answer is yes.
Adult women from every nation have likely been exposed to sexism at some point in their lives, whether directly or indirectly — and, increasingly, we have evidence that long-term exposure to the notion that women are unequal to men, with all the constrictions of rights, freedoms and expression that entails, places enormous weight on women's basic ability to remain mentally healthy. The World Health Organization explains:
"Depression, anxiety, somatic symptoms and high rates of comorbidity are significantly related to interconnected and co-occurrent risk factors such as gender based roles, stressors and negative life experiences and events. Gender specific risk factors for common mental disorders that disproportionately affect women include gender based violence, socioeconomic disadvantage, low income and income inequality, low or subordinate social status and rank and unremitting responsibility for the care of others."
So if you're wondering if being a woman is making you lose it, the answer might be yes — but not because you're "over-emotional," "irrational" or "mentally weaker" than men. Being disempowered, burdened with emotional labor, silenced, mansplained to, and economically disadvantaged can really take it out of people.