Melania & Barron Officially Moved In To The White House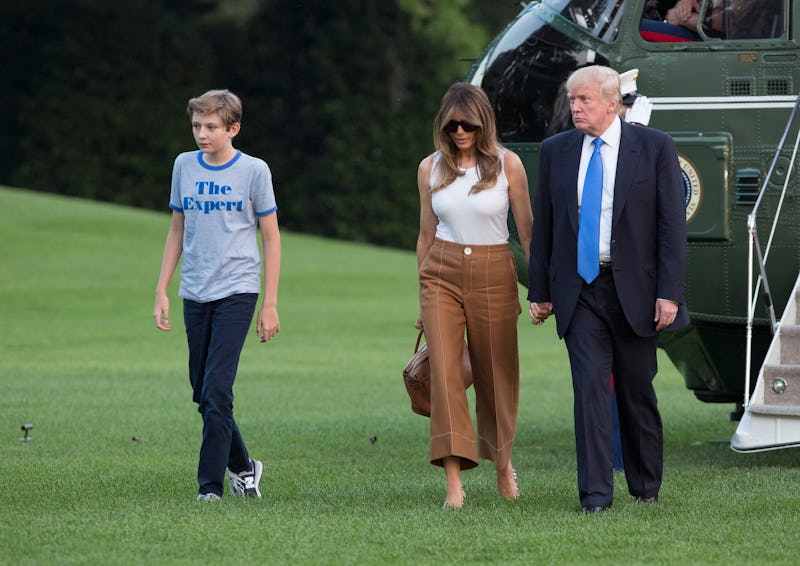 Pool/Getty Images News/Getty Images
Instead of a U-Haul van, the First Lady showed up at the White House Sunday night in Marine One — carrying a Hermès purse on a helicopter feels much classier than lugging cardboard boxes up flights of stairs like the rest of us. But let's face it, you wouldn't expect anything different. The manner of moving may be a little different, but the takeaway is the same: Melania Trump now officially lives in the White House, as does her son Barron.
Melania's press secretary Stephanie Grisham confirmed the move to the media on Twitter, and the first lady herself uploaded a photo to the social network to mark the moment: "Looking forward to the memories we'll make in our new home!" she tweeted, with the hashtag #MovingDay.
Barron showed up looking like a typical preteen in a t-shirt, ready to start life in not just the White House but also a new school. Melania had opted to continue living in the Trumps' Manhattan penthouse while Barron finished up the school year.
Perhaps more relaxed in wardrobe, Barron is going the serious route for school next fall. The 11-year-old has the summer to get situated before school starts at St. Andrews Episcopal School, a private school with a price tag of about $40,000 in tuition. When news broke in May, Melania explained their reasons for choosing the school. "It is known for its diverse community and commitment to academic excellence," she said in a statement, also noting the school's focus on "exceptional teaching, learning, and service."
After four and a half months of living solo in the big city, Melania and Barron had a transition to the White House at the Trump National Golf Club in Bedminster, New Jersey, with President Trump. It is thought he will increasingly spend his weekends there, rather than Mar-a-Lago, as the weather in the Northeast improves throughout the summer months.
From the resort, President Trump, Melania, and Barron all traveled together, as did Melania's parents, Viktor Knavs and Amalija Knavs. According to USA Today, her parents have been living in Trump Tower these last four and a half months. They are not expected to move into the White House, though, like Michelle Obama's mom did.
The following months will be interesting as only now will Melania fully be able to embrace the role of First Lady. She has been limited by the distance and criticized for not taking as active a role as past first ladies have. Now you can expect her fashion-forward take on the role to be more apparent, much as it was on Trump's first foreign trip. Melania showed her stylish side on the road, and that will likely continue in the White House.
Whether her classy presence will change the president's Twitter habits, though, remains to be seen.