Here's The Real Reason Katy Perry Got That Pixie Cut, According To The Artist Herself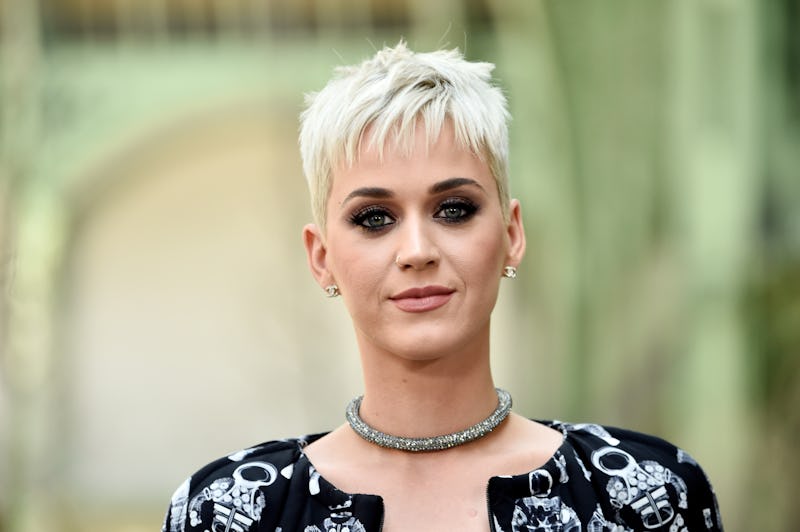 Pascal Le Segretain/Getty Images Entertainment/Getty Images
It doesn't matter how famous you are — if you change your hair dramatically, everyone wants to know why — and the same is certainly true for celebrities. As it turns ou, the reason behind Katy Perry's pixie cut is actually pretty interesting, and goes well beyond an image update.
Perry debuted an eye-catching, sideswept look in March that took her normally long, dark, wavy locks and turned them into an asymmetrical wave of glacial blond. Almost immediately, the internet lit up, with some folks claiming Perry was trying to copy Miley Cyrus' look from 2014. Then, on April 20, for National Look-Alike Day, Perry jokingly Instagram-ed her much shorter platinum pixie cut, which, yes, did make her look just like Guy Fieri.
Justin Anderson, Perry's colorist, told Bustle in March that Perry's look was not inspired by Cyrus, but that Perry "just wanted a big change," and that her inspiration "was actually Michelle Williams...[Miley] was never brought up, it was actually Michelle Williams and Scarlett Johansson."
Despite Andersos words, fan's were still waiting to hear the hard truth from Perry herself about what's really up with her edgy new style.
In her recent cover interview for W, Perry said her reasoning was simple: Having short hair makes her feel free. "Everything is more fun with short hair!" she said. "I can just get up and go. I feel so liberated with this hair now."
And it isn't just her hair — she feels "360-degrees liberated...whether it's politically, mentally, spiritually, sexually. I feel liberated from all the things that don't serve me," she explained. "I'm surrendering and embracing my 30s. You couldn't give me anything to go back to my 20s."
Perry seemed to undergo some soul-searching during the four years between the releases of Prism, in 2013, and her latest album Witness, which went live June 9, 2017. Her return to the limelight included what some fans saw as a long-overdue addressing of her multiple accusations of cultural appropriation, and which left some folks feeling like her apologetic words and continued actions didn't quite match up.
But Perry says she's in a better place, and that "to get to this place, I had to do some much-needed work on my heart, soul, mind, and body. Since doing that, a lot of beautiful things started to bloom again."
As for the effect her newfound liberation will have on her art, well, fans will just have to wait and see.