Here's What 'GoT's Melisandre Looks Like Out Of Costume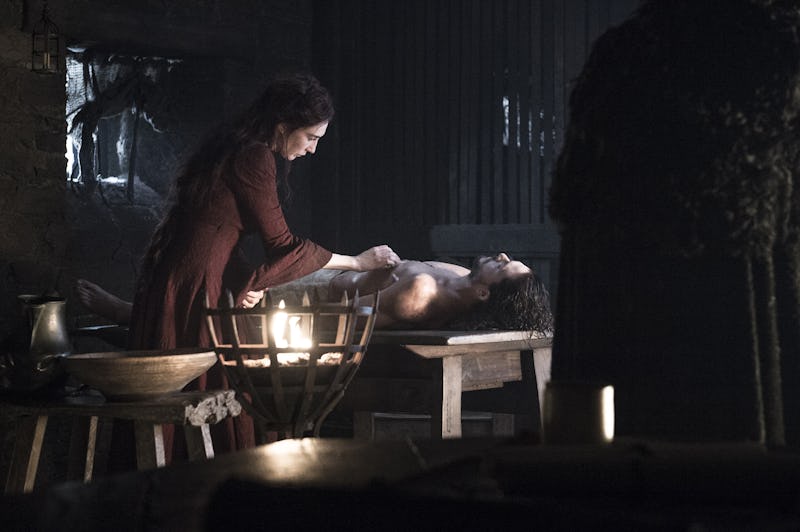 Helen Sloan/Courtesy of HBO
Within the show's universe, we saw Melisandre out of costume in Season 6 Episode 1, when the Red Woman disrobed, took off her ruby necklace, and transformed into an old crone. But, in this instance, what Melisandre looks like out of costume doesn't refer to her appearance on the show, but the Dutch actor behind the character in her non-Westeros life. It's easy to think, from browsing Carice van Houten's Instagram account, that she must favor wearing clothes extra, extra, extra small and skin-tight. But when you take a more in-depth look through the images, it appears that all the adorable pictures of clothes appear to be for her baby son.
All the same, van Houten still looks radically different from her onscreen persona. For a start, she's a brunette rather than scarlet-haired. And in her recent summer 2017 photos, her make up is much more light and feminine than the dramatic looks Melisandre favors (think pink lipstick and a little mascara in some pictures, or not much more than blush). In some Instagram photos, the actor is almost unrecognizable as her character, wearing glasses and what appears to be a low-key hoodie.
And, rather delightfully, van Houten's a fan of candid Instagram selfies, whether she's just woke up like this, flawless, or is lying in bed with flu in her favorite sick day outfit (a goofy yellow cartoon sweatshirt).
Peculiarly, the 40-year-old actor does bear a strong resemblance to an onscreen femme fatale in one photo — just not the one she plays. Given her preppy checks, good tailoring, and her long brown hair, she looks like a dead ringer for none other than Spencer's elder sister Melissa on Pretty Little Liars.
But she believes her look to be a little quirkier than that. In a May 4 post, she writes "This is what I feel most comfortable in. Pink hat, favorite glasses, red lip stick, favorite coat. If it wasn't for hygiene, I would look like this everyday."
And while the Leiderdorp native looks great whether she's dressed down or experimenting with hats, she's also a sight to behold when she's out and about, whether on the red carpet or appearing on a talk show. As her hat addiction might have already implied, she's not afraid to push the fashion envelope and try out braver looks than many of Hollywood's bold and beautiful. So a feminine flowery dress will be paired with a t-bar heels and socks, as on her Late Night with Seth Meyers appearance. Or look to an earlier Seth Meyers appearance for a masterclass in layering with her wearing a leather top underneath a strapless gown.
Melisandre's very specific brand of haughty mystery is the most obvious reason why she's so compelling to watch. But the actor who plays her is just as intriguing for the exact opposite reason: she seems so relatable. With her goofy selfies and her bold fashion experiments, she's like any one of your non-famous friends. And what could be more refreshing than that?