Sophie From 'The Holiday' Is A Punk AF Adult Now & It's Gonna Blow Your Mind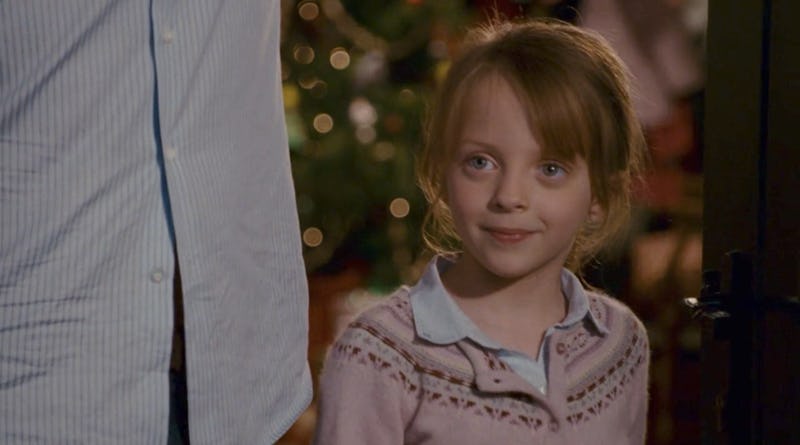 Columbia Pictures
If you've already watched the most heartwarming Yuletide movie, you'll be familiar with two plucky British girls, Olivia and her older sister Sophie, who are hot widower Graham's children. And if you've been wondering what Sophie from The Holiday looks like now, the answer is: pretty different. This makes all the sense in the world. The rom-com came out several lifetimes ago in 2006 and children tend to grow fast. According to an article in The Sun, actor Miffy Englefield is 18 years old and she no longer looks like an adorable moppet from the 1950s (because really, Graham's taste in kids' clothes was a little stuffy).
She's now a punk, complete with constantly evolving hair, black lipstick, and a don't-give-AF attitude. According to Englefield herself via Twitter, she was formerly based in Andover, a town in Hampshire, England, who relocated in October to "2 mins from the sea." On top of that, Englefield is a badass musician who writes her own songs. Plus, this year, she's invested in a flowery tattoo on her upper arm and another flower tattoo on what looks like her leg, body art which according to Englefield's tweets are the work of tattoo artist Rebecca Vincent, presumably from Parliament Tattoo.
But don't be intimidated — the actor isn't all about rock n' roll, she's got a softer side too. For starters, Englefield loves showing off her adorable baby sister on Instagram. She's charmingly self-deprecating, describing herself on her Instagram profile as "Short, loud and mostly ridiculous." She's exactly what you hoped goody-goody Sophie might evolve into — a slightly less sensible young person, but one who's still down to earth and funny.
And if you're wondering whether Englefield ever took on any roles after Sophie, the answer is a resounding yes. According to IMDb, she appeared on the drama series The Whistleblowers in 2007, which showed two lawyers setting up a private practice after witnessing police kidnapping a suspect. Between 2008 and 2010, she played the daughter of staff nurse Jessica Harrison, Amelia, on the British medical drama Casualty. Sure, that only entailed acting in 12 episodes, but that's pretty impressive for a thespian who was only 9 years old when she started on the series. Finally, she played the unnamed lead female role on the short Beautiful Enough back in 2011, a film which boasts Fleabag star Phoebe Waller-Bridge as one of the voice actors.
Presumably the actor eventually decided that her true love was music, not acting, since her Twitter profile describes her as being "kinda big on making music" and one gleeful tweet from June 2017 describes The Holiday star as "BEING BOOKED FOR BARE SOLO GIGS ATM I MIGHT BE FRONTING A BAND GOOOO ON LIFE HANDING ME SICK CARDS" (for the non-Brits out there, "bare" means lots).
But life's just a series of ups and downs. Sadly, Englefield reported via Facebook in July that she had "had some serious issues with illness and my voice, so haven't been able to work on anything or even gig as much as I'd like to," and that she was hoping that cups of tea and vocal rest would solve the issue. Here's hoping that the time out she's taken has been helpful and that she gets well soon.
Still, if the respite hasn't done the trick — like the musician's long silence on her Facebook page suggests — here's hoping she take some tips from her beloved character's lifestyle to optimize her chances of a speedy recovery. Swap out the tea for hot chocolate with precisely five marshmallows (no more, no less). Chill out in a tent made of blankets, decorated with adorable handcut stars, like her character once did. Or best of all, force her dad to pull off the opus of Jude Law's performance in the movie as he transformed himself into Mr. Napkin Head to cheer her up.