State Department Restricts Travel To North Korea Amid Safety Concerns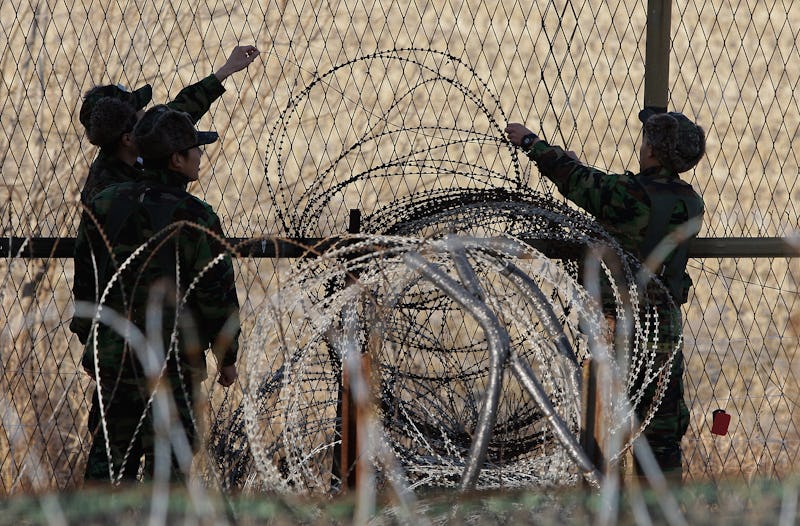 Chung Sung-Jun/Getty Images News/Getty Images
Americans overcome with wanderlust may have to cross North Korea off their travel bucket lists for the foreseeable future. The State Department announced Friday it planned to ban U.S. citizens from traveling to North Korea amid growing tensions between the two nations. The ban is believed to be the Trump administration's apparent effort to retaliate against the communist country following an increase in the detention of U.S. citizens and the death of Otto Warmbier, a young tourist detained by North Korean authorities for more than a year before being released to the United States in a coma.
"The safety and security of U.S. citizens overseas is one of our highest priorities," State Department spokeswoman Heather Nauert said in a statement released Friday, according to The Washington Post. "Due to mounting concerns over the serious risk of arrest and long-term detention under North Korea's system of law enforcement, [Secretary of State Rex Tillerson] has authorized a Geographical Travel Restriction on all U.S. citizen nationals' use of a passport to travel in, through, or to North Korea."
News of the forthcoming ban comes as travel to North Korea has become increasingly risky for U.S. citizens. Since 1996, North Korea has detained at least 16 Americans on various charges, including illegally entering the country and committing so-called "hostile acts" against it. Three U.S. citizens are still believed to be detained in North Korea.
Supporters of the travel restriction are hoping it keeps North Korea from financially benefiting from tourists' dollars. "After the horrific treatment of Otto Warmbier, only the latest American detained by the regime, limiting U.S. travel is unfortunately sensible and necessary," Rep. Adam Schiff, the congressman who introduced the bipartisan North Korea Travel Control Act earlier this year, said in a statement announcing his support of the State Department's move. Schiff's bill would also ban U.S. citizens from traveling to North Korea as tourists.
According to the Associated Press, the ban is expected to come into effect sometime in late August following the completion of a 30-day period set to commence upon the restriction's publication in the Federal Register before the end of July. However, there may still be a way for U.S. citizens absolutely hell-bent on traveling to North Korea to do so legally.
Although travel to North Korea will be prohibited for most U.S. citizens, the State Department will reportedly grant "special validation passports" on a case-by-case basis to those seeking to travel to the communist country for "limited humanitarian or other purposes," a statement from the State Department said. The State Department did not elaborate on what might qualify as an "other purpose."
While the State Department often issues travel warnings regarding travel to select regions or countries, North Korea would be the only country U.S. citizens are currently officially prohibited from traveling to should the Geographical Travel Restriction be implemented.