We Finally Know Why So Many 'Bachelor' Stars Have The Same Type Of Jobs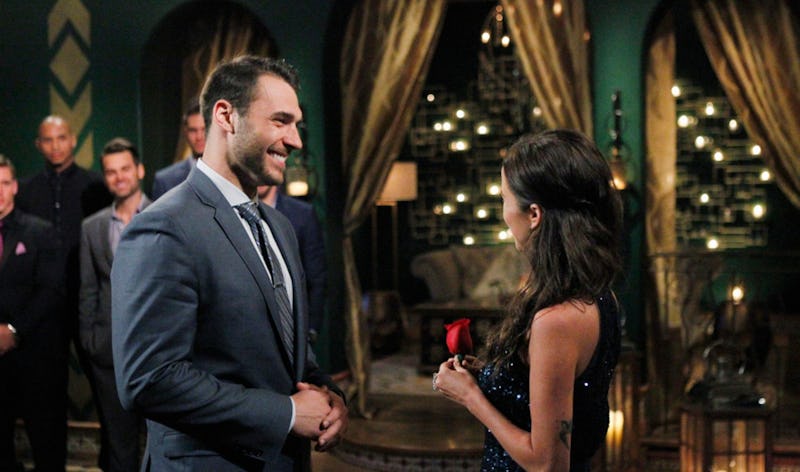 ABC/Rick Rowell
A lot of people may say their favorite part of The Bachelor/Bachelorette is the drama and relationships, but for me, the best part is all the wacky Bachelor Nation contestant job descriptions in the premiere episode. I mean, there was someone with the job description "Whaboom" last year, guys. It doesn't get much better than that. That being said, have you ever noticed there's an influx of contestants in the Bachelor/ette franchise that all have the same job? So many Bachelor Nation stars are personal trainers, hairstylists, real estate agents. So, I talked to one star from every one of those groups to figure out why that's the way things are.
In the last couple years on the Bachelor/Bachelorette, there have been at least 11 personal trainers/fitness instructors, nine real estate agents and six hairstylists. This doesn't even include people who are given fun job descriptions who may actually do these as a job but got labeled as something else. Think back to the chicken enthusiast or the aspiring dolphin trainer. Since there are so many of them, I decided to track down one from each profession and talk to them all about why they think their field is so popular among contestants and their experience on the show. Turns out, it may just come down to job flexibility in these sectors.
Michelle Money, Hairstylist
Everyone remembers Michelle Money. She was on Brad Womack's second season of The Bachelor, Season 2 of Bachelor Pad and of course, Season 1 of Bachelor in Paradise. Before her first stint on reality TV, Michelle was working full-time at a hair salon and doing a bit of acting and modeling on the side.
"You really are your own boss," she says of leaving for the show, "You make your own schedule and you kind of can do your own thing. When you take time off, you really don't have to report to a boss, but you do have to find someone else for your clients, so that's what makes it a little difficult." She adds that leaving was really casual, "It was just, 'I'm going to be gone and I'll be back. I might be back in 10 weeks or I might be back in one week."
Michelle ended up being on the show for six weeks, but when she got back she didn't jump back into her full-time job. "It was a really hard transition coming home," she says. "I realized that they were editing me to be this villain and it really messed with me emotionally. I actually didn't go back to doing hair until after Bachelor Pad because it really messed with me."
However, her stint on the franchise became good for business and by Bachelor in Paradise she was a fan favorite. She tells us that she started getting more clients and was able to raise her prices because people knew who she was.
She agrees that hairstylists are able to leave their jobs and come back to them after the show. But, she adds that another benefit for contestants with this job is that "hairstylists are really good at communicating … I think that makes someone a really good candidate to be on the show. And on top of that they know how to present themselves, right? You're on trend with the latest looks and hairstyles and you're a little bit more fashion forward so, you know, aesthetically that always adds up to a good character for the show."
Ben Zorn, Personal Trainer
Ben Zorn was one of the many personal trainers from Kaitlyn Bristowe's season in 2015. Before going on the show, Ben tells me he was a full-time trainer at a high-end gym in San Jose. He had a direct boss who he reported to and who had a surprising answer when he told him he would be going on The Bachelorette.
"He was actually super supportive of me and he's like, 'Dude, you don't want to look back five years from now and be like, 'Oh, I didn't do that.' So he was one of the people who was like, 'You know what, we'll cover for you. We'll make sure your clients are taken care of and that's something you should do,'" Ben remembers. "He was a big impact of me actually committing and doing it because I do have that luxury as a personal trainer where I have a little bit more of a flexible schedule."
He says that he wouldn't have gone on the show if he had to quit his job. And, after Kaitlyn sent him home, he was back at work the following week. Even though his life was a little bit crazy after everything, Ben says going back to work felt completely natural and normal.
Eventually, Ben left the company and started his own health and fitness business with his brother. Their company is called Zorn Fitness and while his brother handles their clients nutrition plans, he develops personal work outs for each person.
Ben says of this change, "I just got tired of working for someone else and I knew that I could do this on my own and train my clients and I would have more freedom to do and train who I wanted to."
When I ask him why he thinks there are so many personal trainers on the ABC reality show, he tells me there are two reasons: flexibility in work and because "most personal trainers should have a good body," which is something the pretty-uniform casting seemingly prioritizes.
Lauren Himle, Real Estate Agent
You may remember Lauren Himle from Ben Higgins' season of The Bachelor and then from her brief appearance on Bachelor in Paradise Season 3. Lauren has quite a different story than the other two, but it's because of The Bachelor that she's now a real estate agent. When we first met Lauren, she was a kindergarten teacher from Michigan.
"It's so hard to be a teacher right now," she says. "You can't support yourself. I mean, I was working three jobs … It was right as I was thinking about maybe doing something in sales that I got nominated to go on The Bachelor so I was kind of like, 'OK, well here's a good push to get out of teaching and try something different.'"
At first she was just going to apply for a leave of absence, but when she was denied, she made the decision to say good-bye to teaching and going on The Bachelor. "I was like crying in the office," she remembers. "I just felt so guilty because I've never quit anything in my life, but I just knew it wasn't for me at the moment so I kind of had to just make that really tough decision."
Lauren went home in the sixth week, but didn't go back to work for about a month while she figured out what she wanted to do with her life. That's when she decided to try out real estate. Between leaving the show and Bachelor in Paradise she worked in the real estate office and studied to get her license. Right before she headed to Mexico she passed the test and had a new career waiting for her when she got back.
"[The show] was more publicity, which is good for real estate. It was more interviews with news stations here that I can tell, 'I'm in real estate,'" she says. "So for [my boss] it was no brainer. He knew I wasn't going to act like an idiot because he knows me, so he was like, 'Sure! It's a month? OK, go have fun and don't make a fool of yourself and when you get back then you'll get started.'"
Lauren says she thinks real estate agents get picked more often by the show because of their job security and their ability to take time off, but also because they're easy to talk to. She says, "Its a very personality-driven field, so of course people who are easy to talk to are going to be picked for The Bachelor because they'll talk in interviews. You can expect a real estate agent to show up and not be shy."
So, when your friends wonder how Becca's Bachelorette season could possibly have another realtor and fitness instructor (and likely many more hiding behind jobs like "colognoisseur" and "former pro football player"), you'll know the real answer: straight from contestants in those fields themselves.