Here's Why Women Barely Ever Get The Last Laugh In Comedy Movies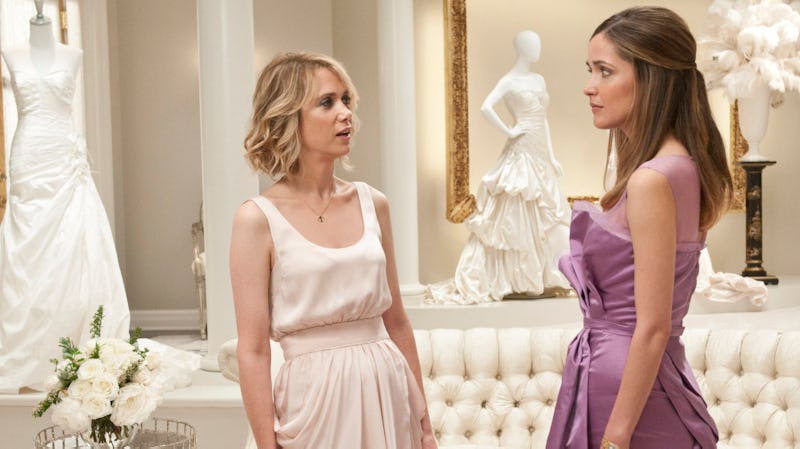 Universal Pictures
How often do women get the last laugh? No, that's not the beginning of a joke, but an actual question worth asking after you watch any big screen comedy. When looking at the most popular comedies of the last 10 years, very few include scenes in which women get to tell the last joke or have the final funny line — at least not in the funny films that aren't named Bridesmaids. Instead, a male actor usually gets to deliver the punchline. As for why this is, the answer is unfortunately very simple — not to mention very depressing and it has to do with the lack of women behind the scenes. That may be frustrating to hear, but there's still hope that things could eventually improve.
See, the fact that women rarely get the last laugh is surprising, if you just look at the offerings. Of the top 10 highest-grossing box office comedies from the last decade several have female protagonists. The Finding Nemo sequel Finding Dory was the No. 1 comedy of 2016; Inside Out topped the list the year before; and Frozen was the top grossing comedy of 2013. While all those films starring women is undoubtedly a good thing, taking a closer look at the scripts of these high-grossing movies shows that even the ones that have female characters don't always give these women the final joke.
Looking at the top-grossing comedy from each of the last 10 years, based on Box Office Mojo's data, male actors get to have the last funny line in a scene nearly twice the amount of times women do. Out of 748 scenes from the the highest-grossing comedies from 2016 to 2006 — Finding Dory, Inside Out, The Lego Movie, Frozen, Brave, The Hangover Part II, Toy Story 3, The Hangover, Kung Fu Panda, Shrek The Third, and Night At The Museum — women got the last laugh 52 times while men got it 112 times.
Finding Dory, written by Andrew Stanton and Victoria Strouse, racked up the most laughs by a female character with eight scenes out of the movie's 60 ending with a woman getting the last funny line, often Dory herself. But, even the movie's namesake couldn't compete with the male characters in her movie, who got 15 last laughs.
More disappointing, though, is the fact that there were four movies over the course of the last decade that had zero scenes in which a woman got the last funny line: 2011's The Hangover Part II, 2009's The Hangover, 2008's Kung Fu Panda, and 2006's Night At The Museum. All of these films were written solely by men and star male actors.
When these top-grossing films do include funny women, often they aren't in charge of their humor, especially in the animated films, which eight of the last 10 years have been the top-grossing comedy. Those female cartoon characters get to be sweet and silly companions to joke-telling male characters, like Anna (Kristen Bell) is in Frozen with Kristoff (Jonathan Groff) and Olaf (Josh Gad).
This same dynamic plays out in Zootopia, the fourth highest grossing comedy of 2016, which has the bright and bushy tailed Officer Judy Hopps (Ginnifer Goodwin) playing the straight (wo)man to sarcastic Nick Wilde (Jason Bateman), who gets all the one-liners.
And the same can also be said about Moana, the sixth highest grossing comedy of 2016, whose namesake plays second fiddle to Maui (Dwayne "The Rock" Johnson) in the comedy department. We adore these female characters for their naiveté, cuteness, and overall manic pixie dream girl-ness, but we actually laugh with the guys that surround them.
Part of the reason this dynamic plays out in these animated movies could be the same reason why it plays out in most comedies that top the box office: the majority of these films are written by men. Between 2011 and 2016, only 12 women wrote or co-wrote a film that fell in the top 10 highest-grossing comedies. That's out of 50 films, meaning less than a quarter were written by women. Sadly, this isn't much of a surprise, since a 2016 study from the Center for the Study of Women in Television & Film found that only 15 percent of the 250 top grossing films of that year were written by women. And as we can see, that lack of representation behind the scenes plays out on-screen, too.
Out of the 50 top grossing comedies from the last five years, 17 were female-led. More telling is that out of those 17 movies, nine were written or co-written by women, which shows that having more women behind the scenes truly does make a difference in how and, perhaps more specifically, how much ladies are represented on-screen.
The Kristen Wiig and Annie Mumolo penned Bridesmaids, which was the No. 2 highest grossing comedy of 2011, right behind The Hangover Part II, had 47 scenes, 17 of which ended with a woman getting the last laugh. It helps that many of these scenes featured a majority of female characters.
These are positive statistics, but it's clear that more help in the writing department is needed, since not one woman of color wrote a movie that appeared in the top 10 highest grossing comedies released between 2011 and 2016. (Girls Trip, co-written by Tracy Oliver, is currently the sixth highest grossing comedy of this year.)
Meanwhile, in comedies written, directed, and starring men, like 2011's The Hangover Part II, 2012's Ted, and 2015's Daddy's Home, female characters are hard to find. Check out The Hangover Part II's IMDb and you'll see that the first woman to be credited in the cast is Jamie Chung, who plays Stu's (Ed Helms) fiancé and spends most of the movie offscreen. It should be no surprise then that not one single woman gets the last laugh in the movie's 37 scenes.
Women don't have a lot of lines in these films, and there's little to no character development, never mind humor. Worse, women are often the butt of the jokes men make. In Seth MacFarlane's Ted, male characters riff on female names and wonder why Boston women are "a paler, uglier sort than women from the elsewheres of life."
The women in these movies are girlfriends, wives, and love interests that are relegated to the background while the men get to be funny. And even in the times when women do get to make jokes, the humor sometimes gets re-attributed to men, as Emma Stone has reported. In 2016, the actor told Rolling Stone that her jokes had been stolen in the past. "I hesitate to make it about being a woman," Stone said, "but there have been times when I've improvised, they've laughed at my joke and then given it to my male costar. Given my joke away."
Do male writers really think that audiences only want to see men making jokes, and women nodding along accordingly? If so, they're sorely mistaken. Audiences respond to funny women; just take Stone, who, despite the alleged joke-stealing by men, appeared in two of the top grossing comedies of the last five years: 2011's Crazy, Stupid, Love (number 10) and 2016's La La Land (number 8), which won her an Oscar for Best Actress. In each movie, she shares the screen with Ryan Gosling, but she gets to be the funny one; she gets to have the last laugh.
One of the most memorable scenes in Crazy, Stupid, Love is when Stone's character Anna stands in front of a shirtless Jacob (Gosling) angrily screaming, "F*ck, seriously? It's like you're Photoshopped."
Besides it being a very quotable line, what stands out about this scene is that Stone is the one taking control. And she's not the only female star who has been able to get the last laugh by playing complex characters that don't stick to gender stereotypes: Kristen Wiig, Rose Byrne, Sandra Bullock, and Melissa McCarthy have all appeared in more than one successful comedy that fits this bill.
In fact, in the last five years, McCarthy has been in six of the 50 top-grossing comedies, including The Heat, Spy, Ghostbusters, and of course, Bridesmaids, which earned her an Oscar nomination for her portrayal of Megan, the foul-mouthed and gastrointestinally challenged bridesmaid. McCarthy screaming "It's coming out of me like lava" while she sits on the sink is surely a scene you'll never forget.
To break that down a little further, so you can understand just how prolific McCarthy has been over the last decade, those four films include a total of 167 scenes, McCarthy gets the last laugh 32 times. In the buddy copy comedy The Heat, which co-stars Bullock and was written by Katie Dippold, McCarthy earns 13 last laughs out of the movie's 41 scenes. Yeah, that's pretty impressive. Even more impressive is that in all four of those films, women get more last laughs than men.
What you'll notice about McCarthy and these others actors is that they typically don't play wives, girlfriends, and girl-next-doors. They play weird, uncensored, complex characters, of the kind that don't usually make it to screen — perhaps because of the lack of women behind the scenes. McCarthy's scene-stealing in Bridesmaids, for instance, is due in part to the two women who wrote it, Annie Mumolo and Wiig, who knew that women can be as brash, rude, and gross as men and dared to show that on-screen.
More hilarious, complicated female characters need to exist, and for that to happen, more women need to be in the writers' room. There's strength in numbers, and having an increasing number of ladies writing jokes can have a huge impact on on-screen representation. Female audiences deserve to see women getting the chance to be funny; just think of the joy we all felt watching McCarthy go toe-to-toe with Byrne, whose wig is a punchline all its own, in Spy, or McCarthy, Wiig, Kate McKinnon, and Leslie Jones playing unique, absurdly funny ladies in Ghostbusters.
And the fact these movies were written by and star women doesn't mean that funny men simply disappear from the picture. Ghostbusters, written by Paul Feig and Katie Dippold, lets Chris Hemsworth be funny as the beefcake receptionist Kevin, while Bridesmaids sees Jon Hamm get his own laughs by playing a terrible hook-up. Women may get more final laughs in Bridesmaids than men, but male actors still managed to earn nine laughs out of the film's 46 scenes.
Pitch Perfect 2, which was written by Kay Cannon, doesn't relegate Adam Devine's Bumper Allen to merely being Fat Amy's (Rebel Wilson) love interest. He's a funny character in his own right who's also a hilarious counterpart for Wilson, the movie's joke machine.
Female writers are willing and able to spread the jokes around. It's about time comedy films shared the wealth and started giving funny women a chance to do what they do best. There's some hope that things are getting better since four out of the last five years the top-grossing comedy was written or co-written by a woman. And while it may seem silly, it really does matter who is getting to make the folks in the audience giggle.
We need more female writers bringing movies to the screen, because when there are more women involved in the project, the more likely women will get the last laugh — not just on-screen, but off, too.