High Heel Brows Are The Newest Brow Trend On Instagram & This Needs To End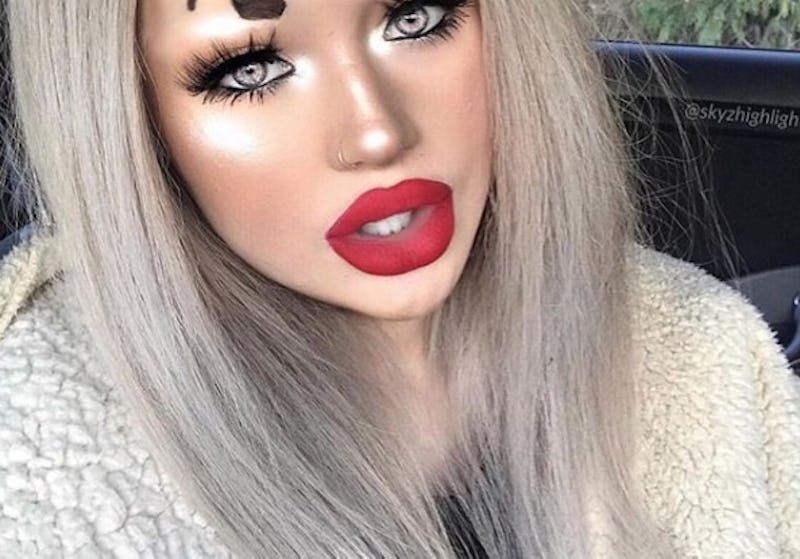 @skyzeditz/ Instagram
Eyebrow trends have been taking over Instagram non-stop these past couple of years, and not everyone has been loving it. From squiggle brows to barbwire arches to feather brows, a lot of different looks have been tried and posted, and it has left Instagram divided. On the one hand, it lets people be creative and allows them to explore their makeup in a way that's without boundaries. On the other hand, after a solid year of unbelievable looks, it's starting to feel a little gimmicky. Which is why this newest reiteration has Instagram up in arms — introducing the high heel brow trend.
A sassy take on an arched eyebrow, this look transforms one of your brows into a four-inch stiletto, letting the arch of the shoe be the arch of your brow.
The image was originally posted by @SkyzEditz, an Instagram account dedicated to editing celebrities' and Instagram influencers' photos. It was the account that brought the world the fishtail brow, Photoshopping fish fins onto arches, much to the horror and fascination of followers. Which means that the heel arch isn't made with a whole lot of liquid eyeliner or eyeshadow — it's digitally edited.
The influencer he used was Megan Feather, a self-taught makeup artist with over 400 thousand Instagram followers. And she loved it so much that she re-posted it on her own account. "HIGH HEEL EYRBROWS. (sic) Yes or no???," she captioned the re-gram.
She hit the nail on the head with her feelings, where she pointed out that people loved to experiment with these outlandish looks because they were creative and tongue-in-cheek. No one actually wants to step outside with an emoji-shaped high heel for an eyebrow. They're just being funny — or trying to make you groan.
SkyzEditz also did the high heel brow on Isabella Chavez, who is also an Instagram-famous makeup artist. The account took a photo where she's sporting a smokey eye and long lashes, and turned one of her perfectly-faded brows into a stiletto.
People, of course, had a lot to say about the new look, and a lot of it was hilarious. Some people tagged their friends, saying they wanted to recreate the look for a Saturday night party. Some were surprised that they actually genuinely liked the look.
"I actually like this wacky brow look," a commenter wrote.
But some people were not as enthusiastic, adding "Omg what has this world come to?" You could just about hear them throw their hands up in defeat. But there will always be a crowd of us that are here for it.