Hilary Duff's Baby Has The Cutest Case Of The Hiccups In This New Video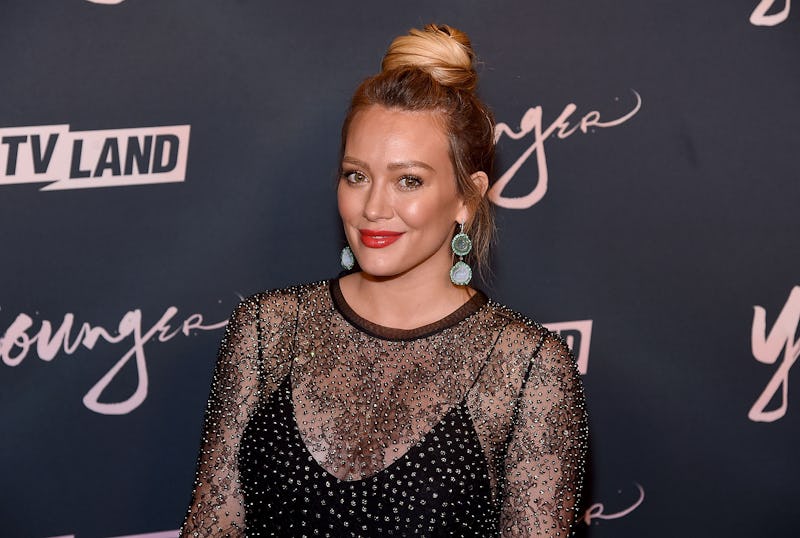 Jamie McCarthy/Getty Images Entertainment/Getty Images
If you need some cute celebrity baby content to get you through your Friday, don't worry, because the artist formerly known as "Lizzie McGuire" has you covered. Hilary Duff posted an Instagram video of her week-old baby Banks Violet Bair hiccuping and sneezing, and it's peak pure content. She and boyfriend Matthew Koma welcomed Banks into the world last Thursday, and they can't help sharing her with fans.
The video is a close-up of tiny Banks with the tiniest case of the hiccups. Naturally when you're only a week old, every single bodily function is new and confusing, and little Banks looks quite perplexed. To top it all off she's overcome by a little heart-melting sneeze. She looks exhausted, because that really is a lot to handle in your first week on earth. You can hear Duff "ooh"-ing and "ahh"-ing, and a sweet "Bless you, babe" from Koma, because even infants deserve politeness.
Duff and boyfriend Koma announced the birth of Banks Violet Blair on Instagram on Monday. Along with a beautiful family photo of the couple holding their sweet bundle of joy, who's sleeping in a little bundle of cozy grey blankets, Duff wrote in the caption:
"Banks Violet Bair, this little bit has fully stolen our hearts! She joined our world at home on Thursday afternoon and is absolute magic."
The post has more than 1.7 million likes and more than 19,000 comments, because Duff has been beloved for almost two decades. She came into millennials' homes and hearts as Lizzie McGuire in 2001. And it's wild and wonderful to see the girl who had to wear the "ugly" unicorn sweater on picture day all grown up with two babies, son Luca Cruz Comrie, 6, and brand-new baby girl Banks Violet Bair. (By the way, that "ugly" unicorn sweater from the "Picture Day" episode would be a total hit in 2018).
Koma also posted the same photo of the happy new trio on his Instagram with an equally sweet caption:
"Banks Violet Bair /// 10.25.18 /// We welcome a beautiful daughter, little sister, and best friend for life. Could not possibly be more grateful for our growing family and for the [orange emoji] who makes it all possible. Cloud ten."
Even though some celebrities are all about baby privacy, which is totally their prerogative, Duff is giving the people what they want with adorable baby content. The hiccuping video is a good sign of all the cute content to come, as are Duff's Instagram Stories, which are already Banks-heavy. The only thing missing so far is pictures of Banks with her older brother Luca, but those are sure to come soon enough.
While there have been rumors that Duff and Koma are engaged, that's not true, but they do seem in it for the long run with their brand-new family. And while Duff's hiccuping video is extremely adorable, Koma's got his own brand of great baby content. He posted a photo on Thursday of himself holding Banks with the caption:
"She said she didn't want a serious boyfriend lol."
Oops! Congratulations to the happy new family, and let's hope baby Banks got over those hiccups.