Hilary Duff's New Ring Made People Think She's Engaged, Including Her Own Sister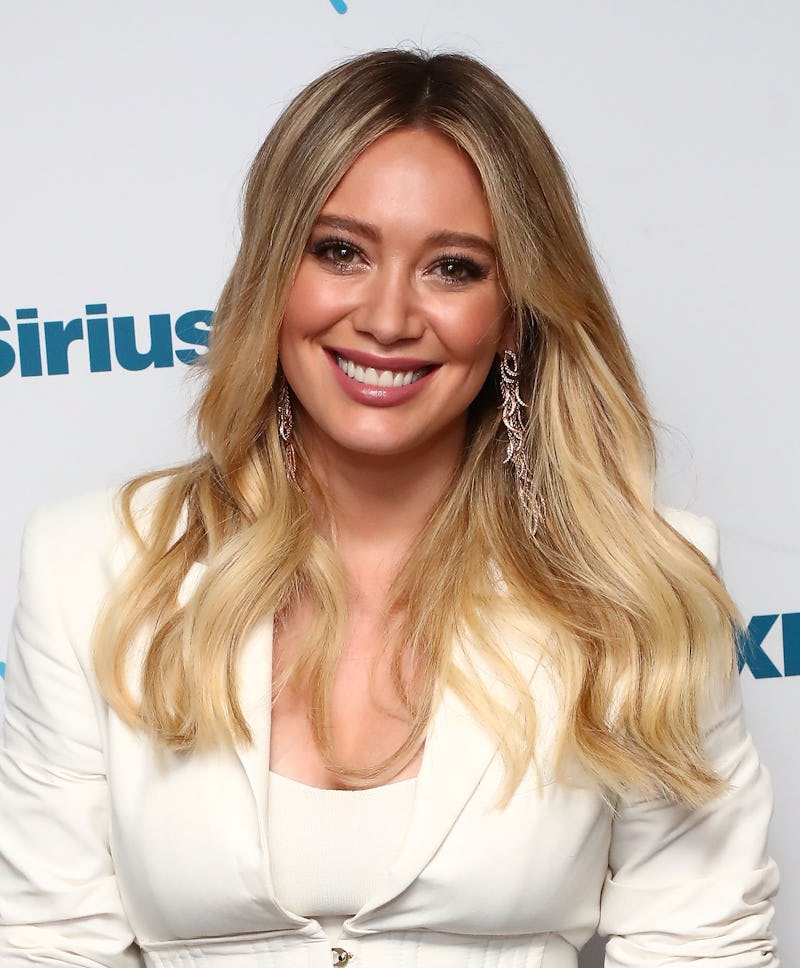 Astrid Stawiarz/Getty Images Entertainment/Getty Images
Celebrities are sometimes known for posting cryptic Instagrams. For example, some people are wondering if Hilary Duff is engaged after she shared an Instagram of herself on Tuesday wearing a new ring. The Younger star also has the ring on her left ring finger, aka the finger you wear an engagement ring. (Bustle reached out to Hilary's reps, who declined to comment on her personal life.)
Next to her selfie showing off the vintage gold ring, Duff wrote,
"This vintagey looking sparkly number from @foxandbond has me smiling today."
Why is she so happy? Is she engaged? Does she just really like the piece of jewelry? You aren't the only one confused, because Hilary's sister, Haylie Duff, was also baffled by the photo. Haylie commented on her younger sister's Instagram,
"Ummm I thought this was something else."
Better yet, Hilary's Younger co-star Debi Mazar also expressed confusion over the ring. She wrote, "@haylieduff hahah! Me too."
See, you aren't the only one. Hilary and Haylie are super close, if the former Disney channel star was engaged, her sister/BFF would most likely already know and probably wouldn't be finding out on Instagram. Based on Haylie's comment, it just seems like Hilary's photo is one big misunderstanding.
Whatever the case, there's no doubt Hilary's glowing in the photo, which might simply have to do with the fact that Hilary is pregnant with her second child, a girl, and is head over heels in love with her baby's father, Matthew Koma. Hilary already calls herself mom to her 6-year-old Luca from her first marriage to Mike Comrie.
The couple announced they were expecting their second child in June. Based on both of their announcements, they're overjoyed at the impending arrival of their daugther.
Next to a photo of Koma kissing Hilary's cheek, the former Lizzie McGuire actor revealed, "Guess what guys! @matthewkoma and I made a little princess of our own and we couldn't be more excited!!!!!!"
Koma, who is a musician, posted the same photo on Instagram and captioned it, "We made a baby girl! She will be as beautiful and sweet as her mother... @hilaryduff another incredible chapter begins."
Hilary and Koma have known each other for quite awhile. According to Entertainment Tonight, they were first romantically linked in January 2017. They made their red carpet debut at the 2017 SAG Awards held that same January. Then, in March 2017, E! News reported the two had broken up. In October 2017, E! News reported Hilary and Koma were back together. She also confirmed their reunion on CBS' The Talk.
And now they appear to be as happy as ever and even expanding their family in the process. Whether or not the two will ever decide to take their relationship to the next level, well, it doesn't really matter, because they certainly seem to be extremely happy exactly where they're at right now.
That said, if Koma does ever pop the question to Hilary, let's hope Haylie doesn't learn about the news on Instagram. But let's face it, Hilary would never do that to her sister.