Hillary Clinton Attended John McCain's Funeral To Honor Her Friend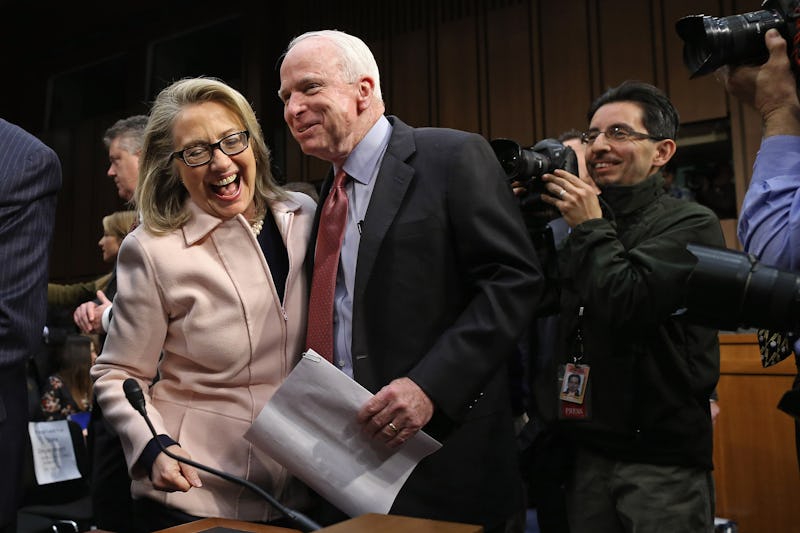 Mark Wilson/Getty Images News/Getty Images
On Saturday morning, former presidential candidate Hillary Clinton arrived at Sen. John McCain's funeral in Washington, D.C. The service was held at the Washington National Cathedral, and featured tributes from McCain's daughter Meghan as well as readings by Sen. Lindsey O. Graham and former Sen. Kelly Ayotte.
On Friday, McCain's casket lied in state at the Capitol Rotunda.
When McCain's family announced his death on Aug. 25, like many others, Clinton shared a remembrance of McCain on Twitter. She wrote: ".@SenJohnMcCain lived a life of service to his country, from his heroism in the Navy to 35 years in Congress. He was a tough politician, a trusted colleague, and there will simply never be another like him. My thoughts and prayers are with Cindy and his entire family."
Clinton and McCain's friendship has endured for years. When both were running for their respective party's presidential nominations in 2008, former President Bill Clinton said the two would run "the most civilized election" in the country's history, according to CNN.
"She and John McCain are very close. They always laugh that if they wound up being the nominees of their party, it would be the most civilized election in American history," Bill Clinton told CNN in Spartanburg, South Carolina, in January 2008. "They're afraid they'd put the voters to sleep because they like and respect each other."
Their friendship was forged during Clinton's time in the Senate and during her service as secretary of state in President Barack Obama's administration.
Clinton said she was "a little surprised" when McCain invited her on these trips. "He liked to try out different colleagues to see whether they were good traveling companions," Clinton told CNN's Dana Bash shortly after McCain's death. "During those long, long flights, we had a lot of time to talk. We talked about the unfairness that sometimes infects our politics.
Clinton told Bash that she knew McCain "would defend you" from mudslinging. "If you were his friend, he would stand up for you, he would defend you," she said. "He didn't like the personal attacks that went along with politics that became increasingly common."
Clinton told NBC's Meet The Press that McCain's example of bipartisanship should be lauded. "He knew the Senate couldn't work if we didn't work together," Clinton said.
During the 2008 presidential campaign, rumors circulated that McCain and Clinton had a drinking contest. The BBC later confirmed that the two did have a drinking contest during a congressional delegation visit to Estonia in August 2004. Clinton's then-campaign manager Terry McAuliffe had told the British news service that Clinton won. The restaurant's chef and owner Dimitri Demjanov agreed, telling BBC that "Hillary won" the four-shot contest.
During the 2016 campaign, Clinton herself would call it a draw.
Clinton also remembered McCain's defense of her longtime aide Huma Abedin on the Senate floor in 2012 after some members of Congress suggested Abedin was a member of the Muslim Brotherhood. "Put simply, Huma represents what is best about America: the daughter of immigrants, who has risen to the highest levels of our government on the basis of her substantial personal merit and her abiding commitment to the American ideals that she embodies so fully," McCain said of Abedin.
Clinton said his defense meant a great deal to her.
"I will never forget that because that's who he is," Clinton told CNN.