Hillary Clinton Wants To Help Reunite Immigrant Families — Here's How She'll Do It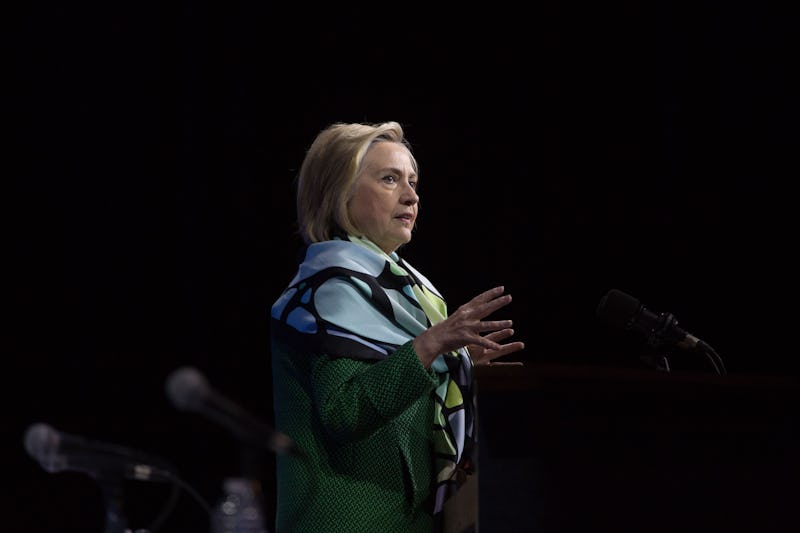 Kevin Hagen/Getty Images News/Getty Images
During a festival in New York City's Central Park on Saturday, Hillary Clinton said she will help reunite immigrants separated from their families if they can't afford transportation, the Associated Press reported. Although she also discussed heavier topics like President Trump and Russia, the news that she would take on service work typical of her political career clearly inspired the crowd.
"I'm going to be tweeting about this in the days to come, but if any of you work for an airline please direct message me because these families will need vouchers and discounted tickets to be reunited over these thousands of miles," Clinton said to a cheering crowd in an interview with Laurene Powell Jobs, who founded the Emerson Collective, the nonprofit that organized the event, according to the AP. The subject of their interview was "politics of the moment," according to CBS News.
After weeks of public backlash, President Trump signed an executive order in June to stop the separation of immigrant families at the U.S.-Mexico border — a practice the administration started thanks to Attorney General Jeff Sessions' "zero-tolerance" policy on undocumented immigration, according to TIME. Sessions requested that all people who crossed the border illegally — regardless of whether they were seeking asylum — be subject to criminal prosecution.
The policy resulted in children, many of them toddlers and babies, being separated from their parents and sent to "tender-age" facilities, the AP reported in June. Two days before the president signed the executive order ending family separations, ProPublica released audio of children crying after they were separated from their parents and placed in detention centers. In the background, a border patrol agent jokes, "Well, we have an orchestra here. What's missing is a conductor."
Although the separation policy has ended, the government still hasn't reunited thousands of children with their families. In a court conference on Friday, the Department of Justice told reporters that the government had reunited 450 children ages 5 to 17 according to The Texas Tribune. That leaves about 2,000 children still separated from their families; the government deadline to reunite them is July 26.
The government was also ordered by a court to reunite all children under the ages of 5 with their parents by July 10, but it had successfully reunited only 57 of 103, the Tribune reported. Some of the children's parents had already been deported, some could not be reunited "due to safety concerns" about the parents, and, in one case, the government "lost track of" a child's parent, according to The Tribune.
That's where the former Secretary of State hopes to step in. In late June, Clinton raised $750,000 in just one day — and a total of $1.5 million — after asking her Twitter followers to donate to a list of 10 organizations helping undocumented immigrants, according to Marie Claire. The money raised for those organizations appears to be separate from the funds Clinton will use to help fund transportation for families, though that's not yet clear.
In a June speech at the Women's Forum of New York, Clinton said of the country's border policies, according to footage of the speech:
This is a moral and humanitarian crisis. Everyone of us who has ever been a parent or grandparent, an aunt or a big sister, anyone of us who has ever held a child in their arms, every human being with a sense of compassion and decency should be outraged.
Clinton has stood firm in her belief that immigrants should have a path to citizenship. She said during the interview on Saturday, according to the video of the speech:
Change is always hard. ... [But] we have decades and decades of proof that absorbing immigrants ... has been to our advantage. For those who want to turn the clock back, they are not walking around with their eyes open.
Clinton, though she did not win the race for president, seems to be sticking to her promise to remain a public servant and advocate in any way she can.