Watch The Latest Thing Hillary Clinton Said About Running For President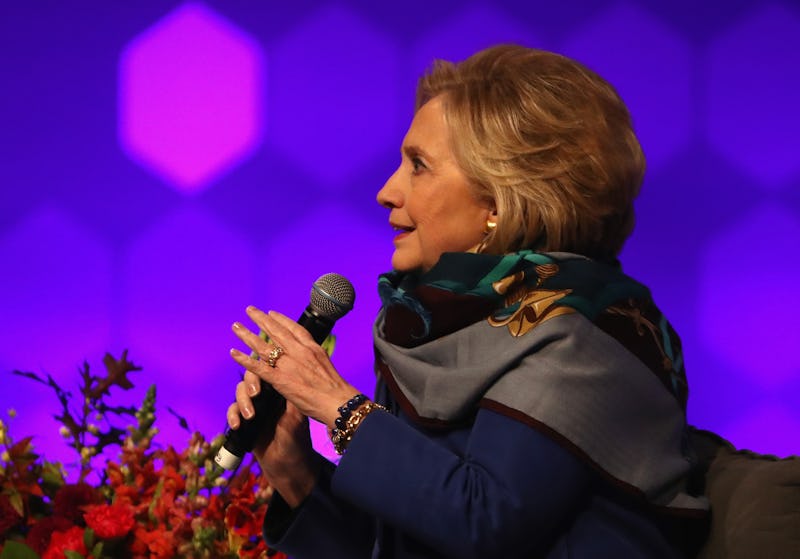 Robert Cianflone/Getty Images News/Getty Images
Even though the midterm elections aren't yet over, speculation over who will run for president on the Democratic ticket in 2020 has already begun — and it includes a name most Americans are already familiar with. Hillary Clinton said "she'd like to be president" — but only after saying she does not want to run.
Clinton was asked directly if she will run for president in New York on Friday. The former secretary of state and 2016 presidential nominee for the Democrats was at a Q&A with Recode's Kara Swisher, who asked the big 2020 question. "Do you want to run again?" Swisher asked.
"No, no," Clinton said firmly before continuing. "Well, I'd like to be president. Look, I think that hopefully when we have a Democrat in the Oval Office in January of 2021, there's going to be so much work to be done."
Clinton then noted that she'd be a well-qualified candidate for the job. "The work would be work that I feel very well prepared for having been in the Senate for eight years, having been a diplomat in the State Department, and it's just going to be a lot of heaving lifting," Clinton said.
Swisher asked Clinton if she's planning to do any of the heavy lifting she said is necessary. "I'm not going to even think about it" until the midterms are over, Clinton said.
This was just one of the many topics that the two tackled in their back-and-forth. Clinton detailed what she saw will be the biggest challenge for the next Democrat.
"I mean we have confused everybody in the world, including ourselves. We have confused our friends and our enemies. They have no idea what the United States stands for, what we're likely to do, what we think is important," Clinton said Friday.
As for other potential contenders, Clinton chose not to comment. "I'm not going to handicap the race before anybody actually gets into it," Clinton told Swisher. "I think we'd have a number of excellent candidates who would be really formidable on the campaign trail, but let's wait and see who it is. I mean we may have as many as 15, 20 candidates and that's a big group to try to sort itself out. I'm just going wait and watch it happen."
What Clinton repeatedly underlined was the importance of winning Democrat control of the Senate or House. She said it could have implications for who will run in the future. "This administration, if they continue to control all branches of government and they have been stocking the courts with ideologues, you will find that it will be much more difficult to run," Clinton told Swisher. "People who have never had to face the fire, once they get out there and they start being the target of the vitriol and hatred that comes against anybody who criticizes Trump, that's going to cause a number of people to do a bit of soul-searching."
Clinton has largely limited her midterm work to supporting candidates for the House and Senate through her PAC Onward Together. "With the chaos of the Trump administration, it's easy to see what is motivating so many incredible women to step off the sidelines and run for public office," Clinton wrote in an email sent Monday morning asking for donations to support three women running for the House in the final week in the campaign.
Clinton and her husband, former President Bill Clinton, are also going on a speaking tour late this year and in early 2019. They are likely coming to a city near you.