Hillary Clinton Has Giving Tuesday Donation Suggestions & They All Troll Trump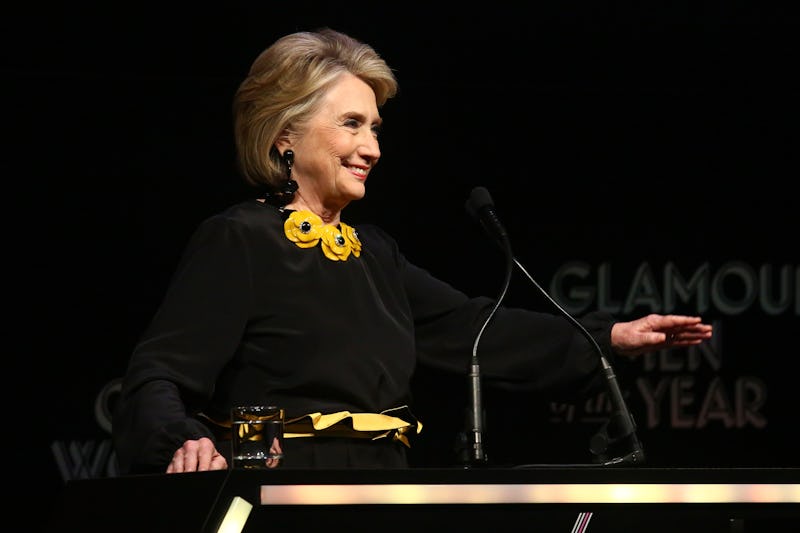 Astrid Stawiarz/Getty Images Entertainment/Getty Images
Hillary Clinton has been trolling the Trump administration regularly on Twitter — and Giving Tuesday proved no different. The former secretary of state and 2016 Democratic presidential candidate shared her suggestions for where to donate, and they were all organizations working to reunite families affected by Trump's immigration policies. Hillary Clinton's Giving Tuesday tweets want you to consider that "200 children are still waiting to be reunited with loved ones."
"This #GivingTuesday, consider giving to support organizations that have spent the last few months working tirelessly to reunite families the administration has separated at the border," Clinton wrote her followers. Clinton then followed up with a chain of Twitter posts that included three such organizations she supports.
She wrote about RAICES, which is based in Texas and has a Families Together Fund for legal representation and case management. Also on the list was the National Immigrant Justice Center, which provides legal aid to asylum seekers and advocates for better immigration policy in Washington. The third organization mentioned was Kids in Need of Defense, which represents undocumented minors in immigration court.
"Many of this summer's family separation stories have ended happily thanks to an outpouring of support," Clinton wrote, ending the list. "But as the headlines have receded, the work has continued. Today is a great day to help."
The family separation storylines have not been in the media as much in recent weeks. The migrant caravan and children in it, however, have been a major focus in the national news after border agents used tear gas near young children on Sunday — a move that was condemned by doctors, given that kids are more vulnerable to the chemicals.
"Immigrant children are still children, and they deserve our compassion and assistance," Dr. Colleen Kraft, the president of the American Academy of Pediatrics, said in a statement provided to Bustle. "We will continue to speak out against their inhumane treatment and advocate for their safety."
Trump defended the use of the gas in Mississippi on Monday night and seemed more worried about adult border guards than the children. "First of all, the tear gas is a very minor form of the tear gas itself. It's very safe," he said, according to CBS News. "The ones that were suffering to a certain extent were the people that were putting it out there.
Clinton's message, though, harkens back to the kids separated from their families under the policy that ended in June. A new report on the cost of that "zero tolerance" policy came out last week, just before the Thanksgiving holiday. In total the administration has spent some $80 million, and the costs are likely to continue rising since so many kids remain in government care.
The number is somewhere north of 140 kids, according to the report released last week. The New York Times reported that about 117 of the kids have had their parents deported already. That makes the logistics of reunification even more of a challenge. And of those, the parents of at least 90 have told the government that they prefer their children stay in the U.S. rather than return home and face potential danger, The Times also reported.
These donations that Clinton suggest would help reunite families, and they could help kids who are now in the country alone win asylum.