Hillary Clinton's New Book Will Tackle Misogyny In 2016 Election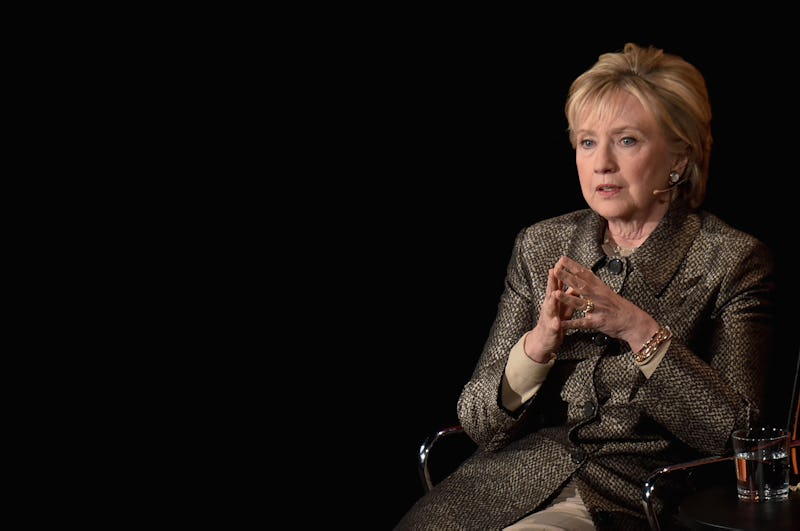 Michael Loccisano/Getty Images Entertainment/Getty Images
In a Thursday interview with Nicholas Kristof of The New York Times, Hillary Clinton revealed that her new book explores misogyny's role in the 2016 election. Speaking with Kristof at The Women in the World summit, the former Secretary of State addressed her November loss, saying: "As you might guess, I've thought about it more than once. I don't know that there is one answer. It is fair to say that certainly misogyny played a role."
She's not wrong. Although much of the media focus on Donald Trump's outrageous comments centered on his statements against black and Hispanic citizens, The Washington Post reports that sexism was a bigger indicator than racism of Trump support.
In addition to misogyny, Clinton told Kristof she plans to touch on F.B.I. Director James Comey's Oct. 28 letter to House leaders regarding emails found on Anthony Weiner's seized laptop, sent to and from her private server. Although Comey's letter made it clear that the F.B.I. was merely performing due diligence in investigating the Weiner emails, many political analysts, including FiveThirtyEight's Nate Silver, believe the timing and content of the F.B.I. director's correspondence cost Clinton the election.
When asked who she believes was responsible for her loss, Clinton quipped, "How much time do we have?"
Clinton said she does not plan to run for office again, but wants to remain involved in politics: "I'm really focused on just doing some things that I think I can help make a difference with, like supporting young people and getting more women into politics. And I very much want to help Democrats take back the Congress."
Hillary Clinton's upcoming essay collection will hit store shelves this fall.