Here's How Hinge's New Feature Works To Get You On A Date ASAP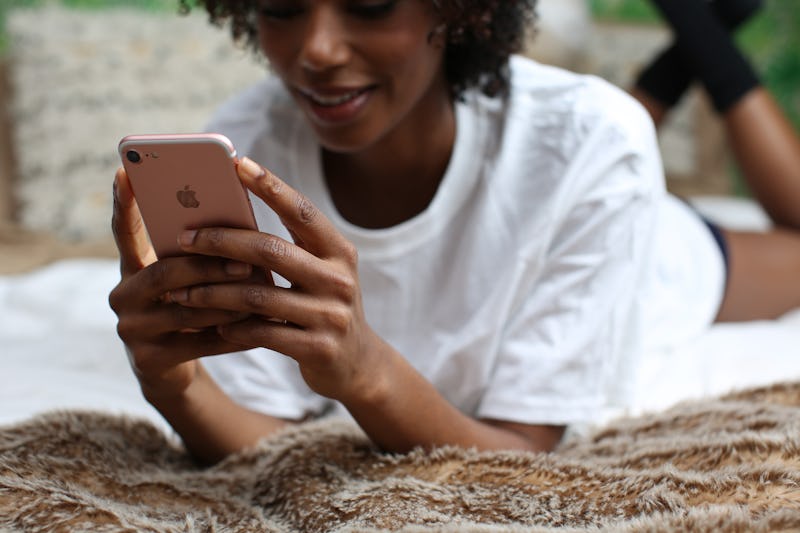 Ashley Batz/Bustle
Even when you work within the confines of a dating app, there are still an overwhelming number of fish in the sea. You swipe and swipe and swipe through an apparently limitless supply of faces until they all blur together and each candidate seems essentially the same as the next. Sometimes a particular picture suggests that this person might share your sense of humor, or your eye catches on some snippet of a bio that suggests a sensibility similar to yours: A fondness for vintage Nickelodeon, maybe, or a preference for houseplants over children. But then you start chatting, and the person becomes just another Andrew on your long feed of aimless chats. With the introduction of its new "Most Compatible" feature, relationship app Hinge would like to change all that.
Hinge, of course, does not work the same way Tinder and Bumble do: It's the app that matches you with friends of friends, so theoretically at least, the strangers you meet for drinks come pre-vetted. It has also demonstrated an interest in getting users off its platform: In late May, the app announced its search for an anti-retention specialist to help users lock in lasting love. Or at least, multiple dates.
Hinge's model also looks different. Instead of swiping, users comment on or like specific points in other users' purposefully crafted profiles. And starting for iOS users on July 11, the app will furnish members one "Most Compatible" suggestion per day: Every 24 hours, a person it has algorithmically determined to be your best possible match. (Android users will have to wait until July 17.)
"The Most Compatible feature takes into account all the different likes members are sending and receiving — whether it's in response to a witty prompt or a funny video," Hinge Director of Communication, Jean-Marie McGrath, tells Bustle. "Using these likes, we're able to hone in on our members' specific tastes and preferences, allowing us to pair them up with other members who are also likely to like them."
Comparable to the recently introduced "Tinder Picks," a Tinder perk that recommends four potential matches to the app's Gold members, "Most Compatible" differentiates itself in that every Hinge user will automatically enjoy curated matches when the feature launches. (Although there's no fee associated specifically with "Most Compatible," a Hinge membership does cost $7 per month.) Hinge has determined that members are eight times more likely to go out with a "Most Compatible" match than with a regular old match. I don't know about you, but those strike me as pretty compelling odds.
Through what sorcery can Hinge determine which users hold high date potential for another, you may be asking yourself right this very moment. It's all thanks to the Gale Shapley algorithm, the very same method used to match medical school students and residency programs. It's a complicated algorithm but the basic gist of it — also known as the Stable Marriage Problem — is that available users link to those people who best satisfy the check boxes in their preference hierarchy. According to McGrath, Hinge is the first dating app to harness the algorithm this way.
"Essentially, we use advanced machine learning capabilities to understand our members' preferences over time — based on the types of 'likes' they send and receive," McGrath says. The ideal end result: "A world where everyone is happy with their match."
Wondering how to amp up your profile so as to showcase your most attractive assets? If the name of the game is compatibility, the best thing you can do is probably to present your authentic, unvarnished personality. But, McGrath says, there do exist a few elements that tend to yield more user interaction.
"We've found that prompts that encourage confessions, self-deprecation or show off a spontaneous side tend to lead to richer conversations," she says. "In other words, Hinge members gravitate toward prompts that encourage vulnerability and dive a bit deeper into someone's greatest fears or aspirations."
No better time than the present to get uncomfortably real about your clown phobia, eh?