Hinge's New Feature Asks You Questions About Your Date So You Can Get Better Recommendations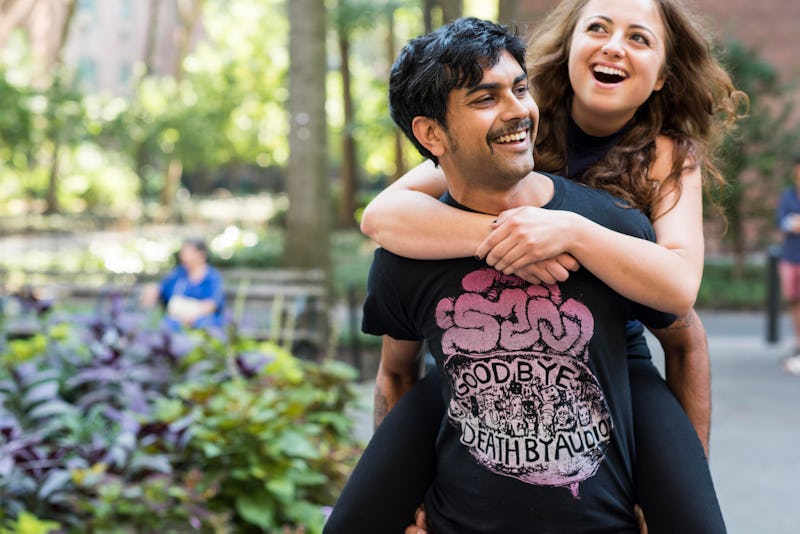 BDG Media, Inc.
In a society where online dating has become one of the most common ways to meet people, dating apps are constantly looking for new innovations to make their platform stand out and, ideally, offer something that other apps don't.
Recently, dating app Hinge rolled out a first-of-its-kind feature. "We Met" allows two members who were matched to confirm that they went on a date and then answer a few questions and share how that date went. With this information in its pocket, Hinge can assess how to find even better first dates for members using this feedback.
According to Hinge, which has seen nearly 400 percent increase in its active member base in the last year, 90 percent of Hinge members said that their first date was great, and 72 percent expressed desire to go on a second date in "We Met"'s beta testing.
"The 'We Met' feature allows members to privately share feedback about their first date experiences so that they can continue to meet with their most compatible matches," Jean-Marie McGrath, director of communications at Hinge, tells Bustle. By understanding how members' first dates are going, McGrath says the app will then be able to make better match recommendations for members.
Although it's supposed to be fun, there's no denying that dating can feel like a full-time job sometimes. And, of course, who hasn't had a bad first date that has had you second-guessing dating all together? With "We Met", Hinge, which McGrath says is specifically designed to get members on good dates, wants to change that.
"As a dating app, it's important that we know how our members' actual dates are going," says McGrath. "The insights we receive from 'We Met' will improve Hinge's algorithm and help us determine if there's specific information we should add to profiles so members have a better sense of who someone is before meeting up on a date."
While the feedback from "We Met" is meant to help Hinge learn your type so it can give you better potential matches, the information won't be shared with your date (or anyone else), which means you don't have to worry about evaluating a date you just weren't feeling.
"'We Met' feedback is 100 percent private," McGrath says. "That means that even if you don't have the best time on your date, the person you went out with won't be able to see your feedback." So while Hinge will get the scoop in order to make your dating experiences better, no one is going to have their feelings hurt or be disappointed in the process.
Although there are many factors that take datings apps out of the palm of your hand and into the real world, compatibility is definitely at the top of the list. Hopefully by taking members' dating experiences into account, Hinge can can help them find better connections — and get offline faster.