Hope Hicks Was Spotted On Air Force One & Twitter Has A Theory About What She Was Up To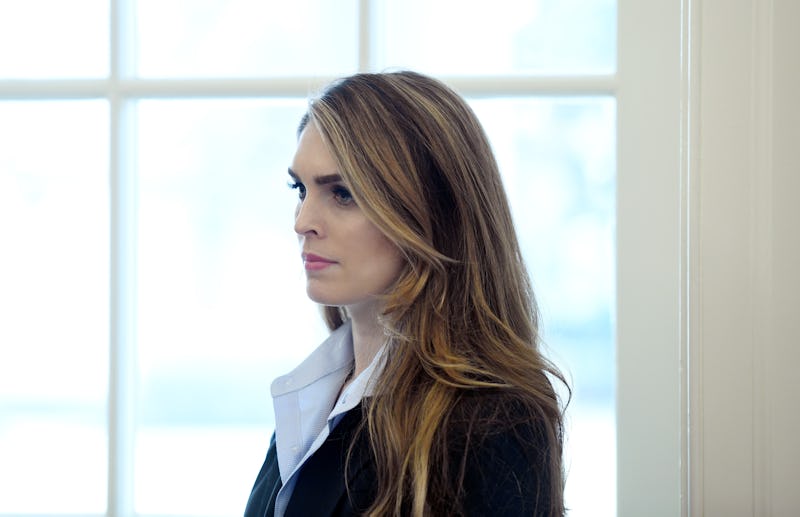 Pool/Getty Images News/Getty Images
The biggest personnel change of the year at the White House brought the end of Hope Hicks sightings — or did it? The former White House communications director Hope Hicks was seen boarding Air Force One in New Jersey on Saturday just before the plane took off for Ohio. Hicks was then seen at the president's campaign rally there, and the result was a lot of speculation about just what the key former aide to the president was doing on board.
The most repeated argument is one of the most dramatic: that the president wanted to talk to her to try and convince her not to testify against him in the Special Counsel investigation into Russia collusion and obstruction of justice. Twitter is abuzz with prominent Americans surmising just that. Bustle has reached out to the White House for comment.
The most prominent posts were written by Seth Abramson, an attorney and professor at the University of New Hampshire who does legal analysis for a number of networks including CNN and CBS. He wrote critically of their meeting:
*WITNESS TAMPERING IN 5 STEPS* 1. Trump knows Hicks is a witness in a federal case. 2. He's been told he mustn't speak to her. 3. His chief topic in public and private is the Russia probe. 4. Hicks is on a plane with Trump right now. 5. Trump is tampering with a federal witness.
The same general argument was made by Emily Nussbaum, the The New Yorker's TV critic. "As a Hope Hicks obsessive, it seems meaningful to me that Hicks was on Air Force One yesterday," Nussbaum said. "She was also one of the few people present when they drafted the lying letter — on Air Force One — claiming that it was an adoption meeting."
It was reported by The Washington Post on Saturday that Trump is concerned about his son Donald Trump Jr.'s role in the Russia meeting at Trump Tower during the 2016 presidential election campaign. Trump reportedly is worried his son broke the law, even if it was unintentional.
That argument was refuted by Trump on Sunday morning in a Tweet. "Fake News reporting, a complete fabrication, that I am concerned about the meeting my wonderful son, Donald, had in Trump Tower," the president wrote on Twitter.
He also acknowledged the meeting was to be about dirt on Hillary Clinton, not about adoption — as was implied in the initial statement that Trump Jr. put out. Hicks is a key person of interest in the saga because she was allegedly there when the president dictated the statement that his son put out.
There were other ideas shared on Twitter about what Hicks could be doing on board. Perhaps a secretary of defense position is opening up, or she went in wearing a wire, people joked. But none got the traction that the witness tampering theory did.
Abramson, in a follow-up tweet, said why that might be. "When you're under investigation and your lawyers say don't talk to this woman as it creates at best the appearance and at worst the fact of WITNESS TAMPERING, and you then get that federal witness aboard a plane with no witnesses, most will *presume* you're committing a crime," Abramson wrote.
What she was doing there may never be answered, but Twitter definitely has its version of events.