Hostess Just Launched Cereals That Taste Like Their Iconic Cakes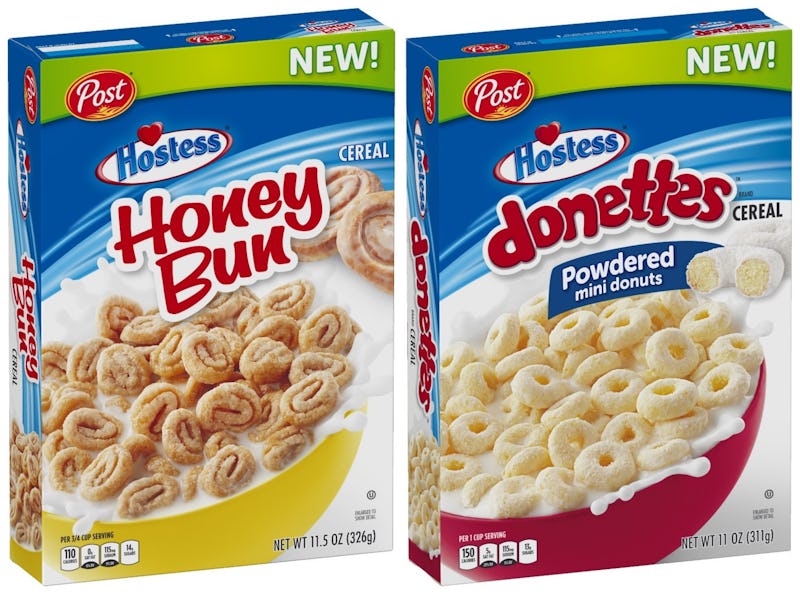 Courtesy of Post
Excellent news for the dessert fiends of the world: You can now get Hostess cakes in cereal form. Not every single variety of Hostess cake, of course; that'd be, uh, a lot of cereal. (Per the product listings on the company's website, Hostess makes 12 types of cakes, with a number of different flavors available for several of them.) At the moment, we're limited to two: Honey Buns and Donettes Powdered Mini Donuts. But just because all we have right now is Honey Buns and Donettes cereal doesn't mean we might not end up with, say, Ho Ho's cereal in the future — and besides, in the meantime, we have Honey Buns and Donettes cereal. That's worth celebrating all on its own.
Rumors that these two cereals would be making an appearance soon began circulating at the end of September. Wrote cereal-focused website Cerealously at the time, "Hostess Honey Bun Cereal and Hostess Donette Powdered Sugar Mini Donut Cereal both exist in a reputable space, but unfortunately without any photo ID just yet." Now, though, we have confirmation in spades: Hostess has partnered with Post to bring Honey Bun and Donettes Cereals to the masses, according to a fact sheet provided to Bustle. They'll be available at major retailers in January 2019.
Why Honey Buns and Donettes? Although Cerealously expressed some trepidation about the choice of pastries in September, noting that "choosing Honey Buns and Donettes over Hostess' cornerstone cakes — Twinkies and Cupcakes would be the logical creamy candidates — seems a bit strange," it actually makes quite a lot of sense; after all, they are technically breakfast pastries. True, they're also still, y'know, cake — but culturally, we tend to think of buns and doughnuts as breakfast foods, whereas Twinkies and cupcakes tend to occupy the dessert space. (That's not to say you can't eat Twinkies or cupcakes for breakfast if you feel like it, of course; you do you.) Ergo, we've ended up with a breakfast food (cereal) designed to ape another breakfast food (buns and doughnuts), rather than one made to look like dessert.
The big question when it comes to food that's inspired by other food is always whether the derivative tastes anything like the original. So: How do these two cereals match up with their namesakes? Fairly well, it seems. The Delish team got the chance to taste test both the Donettes and Honey Bun cereals, and their verdicts were largely positive. The Donettes cereal pieces are apparently "puffier than a Cheerio" and "crunchier than the original Donettes"; special praise, however, went to the powdered sugar coating. "The powdered sugar feel is there, and it lingers like when you're eating one of the donuts," said team member. Meanwhile, the Honey Bun cereal got points for its appearance; flavor-wise, it's "similar to, but 'sweeter than Cinnamon Toast Crunch."
Delish reports that both cereals will appear in a few select stores at the end of December; a wider release, meanwhile, is slated for January 2019. However, you may have some luck finding the Honey Bun variety sooner: According to the Impulsive Buy, it's already been spotted at Marc's, a grocery chain based in Ohio; additionally, it's already listed on the website for Hannaford's, a grocery chain that serves New England. (However, Hannaford's listing also describes it as "not currently available," so your mileage may vary.)
In any event, though, January is just a little over a month away, so even if you can't find it right this minute, you'll be able to get you hand on it soon enough. Yum!