Trump Could Potentially Face These Investigations Now That Democrats Control The House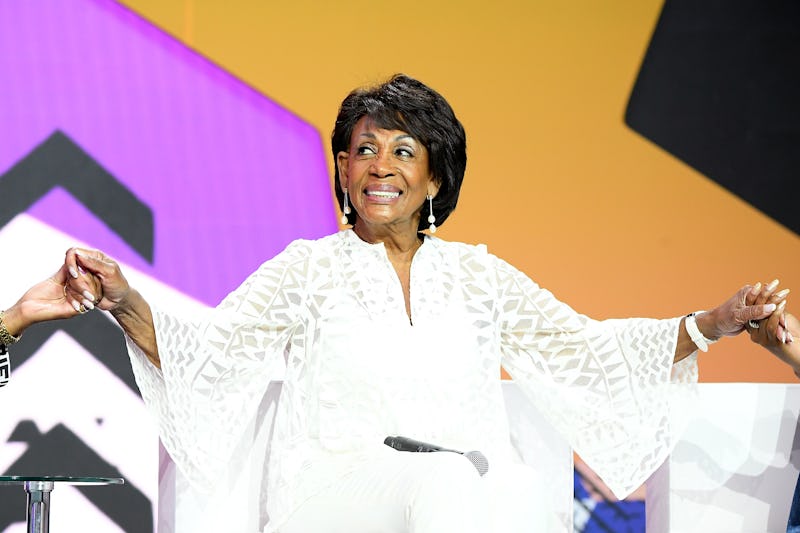 Paras Griffin/Getty Images Entertainment/Getty Images
Democrats have officially taken over one chamber of Congress, and while they won't be able to pass legislation without the Senate's support, they can exercise their power to oversee President Donald Trump's administration. If you're one of the many who's wondering anxiously what the next two years have in store, you're probably wondering what the House Democrats could investigate about Trump.
The answer is: pretty much everything. Article I of the U.S. Constitution gives Congress the power to issue subpoenas, which are orders compelling people to hand over documents or appear in court. Trump administration officials who are served subpoenas may resist complying with them (you could see some serious legal battles over the coming years), but many Democrats have indicated they intend to use their new power to look into the Trump administration's actions.
"If the Democrats think they are going to waste Taxpayer Money investigating us at the House level, then we will likewise be forced to consider investigating them for all of the leaks of Classified Information, and much else, at the Senate level. Two can play that game!" the president tweeted in the aftermath of the midterm elections. Bustle reached out to the White House for comment on various possible investigations.
Investigations don't necessarily result in meaningful changes, but they can notably slow down an administration. Thomas M. Davis III, former Republican chairman of the House Oversight Committee, told The Washington Post in August, "You spend half your time answering subpoenas, digging up documents and having your people appear before these committees. ... Frankly, your legacy is ruined at that point."
Here are a few things House Democrats may decide to look into next year.
What Do His Tax Returns Say?
Nancy Pelosi told The San Francisco Chronicle last month that Democrats would quickly request Trump's tax returns after taking the House, calling it "one of the first things we'd do" and "the easiest thing in the world."
A 1924 law gives certain congressional committees the power to force the president to release his tax returns. Trump so far has refused to do so, saying that he's under audit, even though the IRS has said nothing is stopping a president from releasing his returns in that scenario.
Has The Trump Family Profited From The Presidency?
The president's critics claim he's been profiting off the White House since he entered it, including using trips to Mar-a-Lago and his other properties as marketing opportunities. These establishments' profits have enormously spiked since he took office, according to The Economist. The president is also building properties in foreign countries that many argue pose conflicts of interest for him, per The New Republic.
One major area scrutinized recently is Trump's ties to Saudi Arabia. Reports show the Saudi government invested heavily in Trump properties and that their officials' visits to his hotels brought in significant revenue for the Trump Organization, according to Business Insider.
"Saudi Arabia, I get along with all of them," Trump said at a 2015 rally. "They buy apartments from me. They spend $40 million, $50 million. Am I supposed to dislike them? I like them very much."
The House Oversight Committee can now look into these deals and investigate whether Trump is improperly making money off the office of the presidency.
What's Up With Trump & Russia?
Starting in January, the House Intelligence Committee will probably be chaired by Rep. Adam Schiff of California, its highest-ranking Democrat. He already has plans to investigate whether the Trump campaign coordinated with Russia during the 2016 campaign, as well as whether Trump has conflicts of interest with Russia (Trump has repeatedly said there was "NO COLLUSION" in the election).
The committee previously launched an investigation into these topics while it was controlled by Republicans, but it wrapped the probe up earlier this year despite protests from Democratic members that it hadn't been thorough enough.
"There are serious and credible allegations the Russians may possess financial leverage over the president," Schiff wrote in a Washington Post op-ed in October, "including perhaps the laundering of Russian money through his businesses. It would be negligent to our national security not to find out."
Did Trump Mishandle Family Separations, Hurricane Maria, And Other Policy Decisions?
The president's handling of natural disasters like Hurricane Maria and creation of new crises like family separation at the border has been widely criticized. It's Congress' job to provide oversight on these things, too. They can launch investigations and hold hearings into how his administration acted in those cases and what its decision-making processes were like. They can publish reports with their findings, including recommendations for improving those processes in the future.
Republicans did just that after former President George W. Bush was condemned for his handling of Hurricane Katrina in 2005. Hurricane Maria could be treated in the same way, but that hasn't happened yet. Democrats sought documents from the Federal Emergency Management Agency (FEMA) and the Department of Homeland Security, but haven't received nearly all they've asked for, according to Vox. With their new subpoena power, they should be able to probe much further into exactly how the administration handled its emergency response in Puerto Rico.
One Democratic aide told the Washington Post that other policy-oversight goals will be to investigate Trump actions some say contradict civil rights and his administration's attempts to undermine the Dodd-Frank Wall Street Reform Act and the Affordable Care Act.
Plus A Million Other Things
There's really no end to the list of items Democrats could look into, and many are significant, even if you've never heard of them. With the right to oversight, the various committees in the House can choose a variety of topics to look into, whether directly related to President Trump personally (i.e. his finances), to his administration's policies (i.e., as Rep. Maxine Waters tweeted, about something like policies around for-profit colleges), or to his cabinet and their actions (remember Benghazi and Hillary Clinton's emails? That's the power of the House).
It's also, of course, possible things will happen in the next two years that can't be predicted that the House will want to look into for some reason or other. Given that Dems have already indicated a desire to investigate, there will surely be lots to keep an eye on.
What Does Issuing These Subpoenas Accomplish?
It's important to remember that subpoenas can't change policy. But they can help provide transparency around policy decisions that's crucial for a functioning democracy. They help create political pressure that could push the government to change some of its actions, and Democrats could also wield that power to encourage people to vote against Trump and other Republicans in 2020.
By many counts, Democrats are more than ready to start these investigations when the new session of Congress begins in January. They've been anticipating it for a long time, as Rep. Elijah Cummings (D-MD) told The Washington Post: "You dream every day what you would do if you were in the majority."