These Cities Are Hosting Unconventional And Awesome Celebrations For MLK Day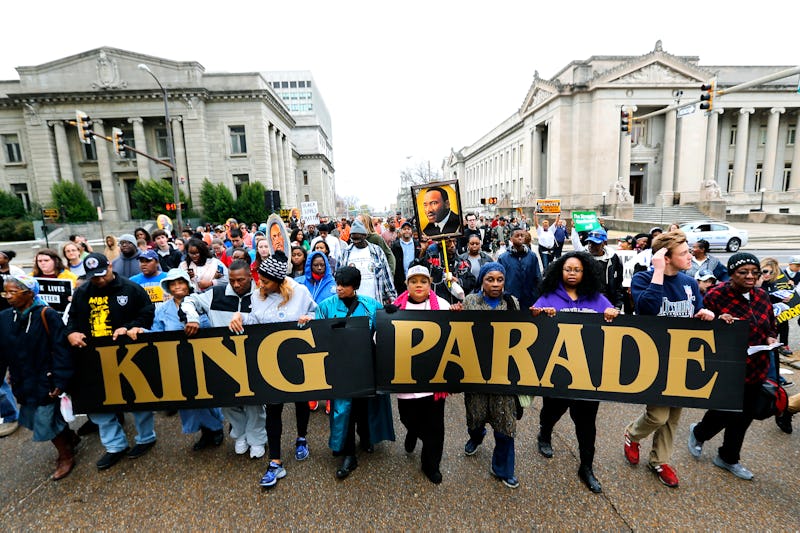 Mike Brown/Getty Images News/Getty Images
Cities all over the country will celebrate Martin Luther King Jr. day on Jan. 15 by holding massive parades, receptions, and days of service in his honor. Martin Luther King Jr. Day became an official holiday in 1983, 15 years after the civil rights leader's assassination, thanks to the work of his widow, Coretta Scott King. But some cities are taking their MLK Day celebrations a step further: these cities are celebrating MLK Day in some unconventional and awesome ways, from offering free museum admission, to free yoga.
Seven Chicago museums will be waiving their admission fees on Jan. 15 to celebrate the national holiday. All you have to do is show an ID that proves you're a resident of Illinois. Some museums will have their usual exhibits on display, but other spots in the city will have special exhibits and events that pay tribute to Martin Luther King Jr.'s life and legacy. The Art Institute of Chicago will be hosting young poets from the award-winning Rebirth Poetry Ensemble who will be performing original poems as a tribute to MLK. The Chicago History Museum will show a production that incorporates poetry, hip-hop, and history called "The MLK Project: The Fight for Civil Rights." The museum will host a musical performance by the Chicago Chamber Choir that reflects Dr. King's messages of peace and justice.
If you want to use your day off of work to reconnect with nature, all national parks are giving guests free entry for MLK Day, which is a national parks tradition. King often used nature as metaphors in his speeches and writings. You can listen to his words as you walk a trail. This year, there are only four free national park days, so don't miss your chance to enjoy the wonders of nature and celebrate on the cheap.
Like Chicago, a lot of museums in Cleveland, Ohio, are offering guests free entry. The Rock & Roll Hall of Fame has curated programs specifically for MLK Day including film screenings, performances, and a lesson on music of the Civil Rights Movement. Those attending can also donate hats, gloves, coats, and scarves to a local charity that helps children in need. Dayton, another city in Ohio, is offering free bus rides to all on MLK Day; this will really help folks who need to get around the city that day.
If you're near New Orleans, Louisiana, the Ogden Museum is hosting a free yoga class with a Martin Luther King, Jr.-inspired theme: "I have a dream… for our community, our city, our country, our planet." You can register here. The museum is also offering free admission to folks of all ages on Jan. 15.
A health-related MLK Day celebration is taking place in Greensboro, North Carolina, where the Renaissance Community Co-op and Cone Health are offering free flu shots, blood pressure screenings, and lunch on Jan. 15. Racial health disparities are a huge factor in the inequality King fought against, so this event is honoring his legacy in a really cool, practical way. White River State Park in Indianapolis, IN, is also providing free health screenings, and everyone who completes one will receive a free ticket to the Indianapolis Indians' season opener. In addition, all park attractions are free on MLK Day if you donate a can of food or money to Gleaners Food Bank of Indiana.
Martin Luther King, Jr. was a great leader who helped move our country forward. There are many, many ways to honor his life and legacy throughout the year. On MLK Day 2018, get out in the community and celebrate in your own special way.