Hugh Grant's Portrayal Of A Disgraced Politician Is "Uncanny," According To A Former Colleague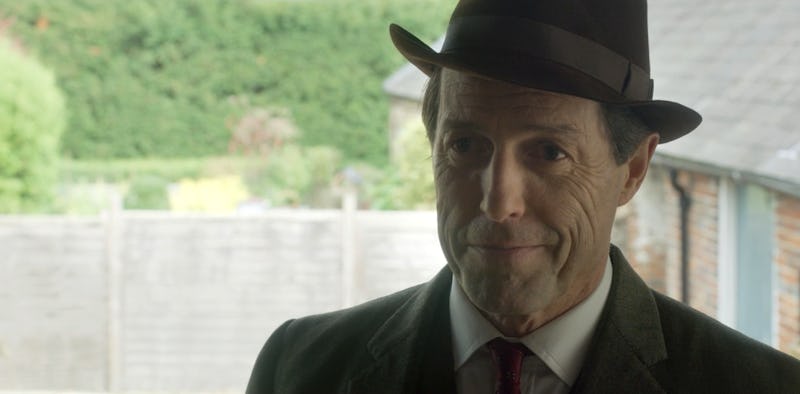 Amazon Prime
Back in the '60s and '70s, Jeremy Thorpe led the Liberal Party in Britain. But, as A Very English Scandal shows, he may have also plotted to murder his lover. Although the politician is deceased, some of his former colleagues have opened up about how how accurate Thorpe is in A Very English Scandal. Hugh Grant portrays the disgraced political in the three-part series, which already aired in the U.K. on BBC and came to the U.S. on June 29 on Amazon Prime. And Grant's first TV performance in years is being applauded for how he managed to capture Thorpe's persona.
Grant already memorably played a prime minister in Love Actually and in A Very English Scandal, his character is aspiring to become PM. However, Thorpe's political dreams came to an end in 1979. As The Guardian outlined, Thorpe was bisexual and had a relationship with Norman Scott (portrayed by Ben Whishaw) in the early 1960s when homosexuality was illegal in England. (It wasn't until 1967 that homosexuality was partially decriminalized, The Independent reported, which was the same year Thorpe became the leader of the Liberal Party.) Thorpe had kept his sexuality secret and was married twice to women. Scott suffered from mental illness and as Thorpe's political career kept advancing, he grew concerned that Scott could ruin him by exposing their relationship. Thorpe allegedly conspired to kill Scott by ordering a hit on him. The case went to trial in 1979 and Thorpe was found not guilty.
A Very English Scandal shows Thorpe orchestrating the hit, which goes against what the court ruled. And with a case as, well, scandalous as this one, there are bound to be people who argue with what's fact and fiction. But while what Thorpe and his alleged conspirers did can be debated, the one thing people have agreed on is how well Grant plays the charismatic politician. David Steel, who succeeded Thorpe as the leader of the Liberal Party, spoke to The Guardian about the accuracy of the miniseries. "They have obviously compressed a lot of the story," Steel said. "But the basic thrust of it is right. It's reasonably accurate in most respects. And Hugh Grant is genuinely remarkable." Steel said how Grant had met with him to get some insight into Thorpe and he called Grant's portrayal "uncanny."
A current member of the House of Lords who was a member of Parliament in the '80s and '90s has a less favorable view of the miniseries. Alex Carlile told the Shropshire Star, "I have watched it because I know about what happened and therefore I feel I must watch it. I think it's one of the poorest television historical dramas of the 20th century [sic] I have seen." But even with that unflattering review, Carlile still praised Grant. "He has the likeness and mannerisms as I remember Jeremy Thorpe, but otherwise the script lets down some very good actors," Carlile said.
The show was based on the nonfiction book of the same name by John Preston. And the Radio Times reported that writer Russell T. Davies (Doctor Who, the original Queer As Folk) said that they did extra work to ensure the miniseries was truthful. "We did kind of re-research everything," Davies said. "The book had done an awful lot of research and had been published without John Preston being sued. At the BBC you have to re-prove everything, and go through that, and have two sources of evidence for everything."
Yet, Davies did say that the series is not a documentary and that he had to imagine "what those people said. And why they said it." He added, "That's an act of imagination, there's no proof in that, and that's what I'm actually good at. That's what I write about in my career, the madness of men."
Grant spoke to TODAY about how he prepared to play Thorpe. "In a way, it's easier than a normal role because there he is on YouTube. You can see footage of him. So I found I could play him. I knew the type. People like that used to come to dinner parties at my mum's house," Grant said. "Then you think, 'Well, I can't just do an imitation, that might be boring.' So you try to bind down and work out what are his demons and things."
Based on the assessments of people who knew him, Grant apparently did a phenomenal job of working out who Thorpe was. So even with the miniseries playing with the details of history, you can trust that Grant embodied this controversial figure in a truthful manner.