How The 'Lizzie McGuire' Creator Finally Got A Period Joke In Her New Teen Show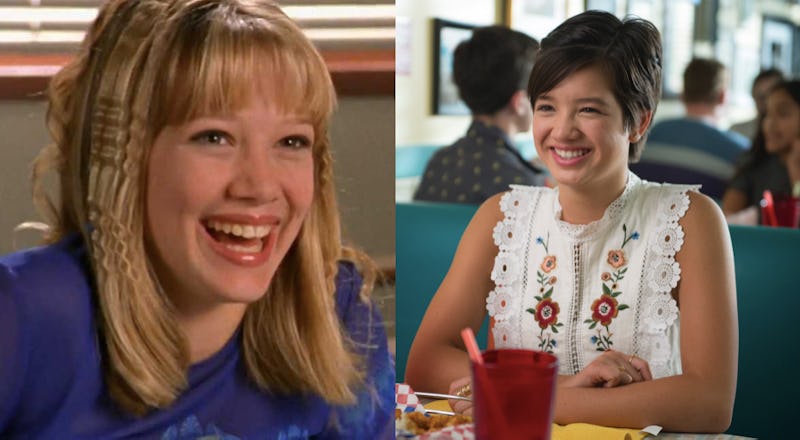 If you were a girl in the early 2000s, then odds are you watched Lizzie McGuire. The Disney Channel Original Series launched the career of Hilary Duff and also taught tweens about how to deal with not being invited to a popular girl's birthday party, or how to ask your mom to go bra shopping. One thing it did not do, however, was teach girls about getting their periods. And, while Lizzie McGuire creator Terri Minsky can't tell Bustle exactly why there were no period-centric episodes — she created the series but left soon after to work on another show she created, The Geena Davis Show — she can tell Bustle about how she got a period joke into the first episode of Andi Mack, her new Disney Channel series.
In 2017, 16 years after the premiere of Lizzie McGuire, Minsky launched Andi Mack. Like Lizzie, the show is about a 13-year-old girl navigating first crushes and boyfriends and everything else that comes with growing up. It's a sweet kids show in many regards, but also a complex one. In the pilot, Andi learns that her rebellious older sister isn't her older sister, but her biological mother. Then there's the show's Season 2 premiere, which featured the coming out story of one of its main teenage characters, a first for Disney. And yet, the series has yet to tackle the female period in any major storyline. It did, however, make a period joke in the very first episode: Andi is keeping a secret from her friends, and her BFF Cyrus assumes she got her first period. It's just one line, but it is impossible to miss.
"Once we got that first period joke through in the pilot, I was kind of surprised," Minsky says when we chat, explaining that there was zero pushback from the network about the line. "I thought that was going to be an 'absolutely not.' But they loved it."
Minsky can't say for certain whether or not the higher-ups at Disney would have been as welcoming of the joke back in 2001 when Lizzie McGuire premiered. However, she does note that she feels a shift when it comes to representing women on screen. "I do feel like there probably was a time when you would have brought this up and it would have been like, 'That's funny, but what boy is going to want to see that?,'" she says. "And I don't think that's a consideration anymore."
The more Minsky talks about portraying on screen periods, the more she seems to wish both that she could say she's already done it and that it'd be on the horizon for Andi Mack's upcoming third season. "I really wish now I could say yes and it's coming up and we're doing it and it's fantastic," she says. She hasn't yet found the right story, but that's not to say she hasn't thought about it. In fact, she's tried to write more substantial first period stories into Andi Mack before.
"The one that I pitched to my room was the stain, just because I just feel like you don't get out of middle school or high school ... without that day that you leaked," Minsky says. The only thing was, she didn't know where to go from there. "I just didn't have a story, I just had the stain, you know?" She recounts another idea involving a camping trip and a bear, which, in the end, got too slapstick to even consider. It's one thing to resolve to write a period story; it's another to write a good period story.
"I didn't want it to be a stupid joke," Minsky says. "I want it to be something that somebody would have to deal with if it had, in fact, been that embarrassing leak."
Although it hasn't yet worked out, Minsky isn't giving up the hope. "I'm constantly trying to think of ... if I can help even one kid, but I do really try to be conscience of what I wish I had known," she says. And, yes, that includes what she wishes she had known before she got her own first period. Whether it's by recreating the horror of "the leak" or learning how to use a tampon, these are experiences that many young women face, and seeing those events depicted on television can make it all a bit less painful.
So while Minsky can't promise that Andi Mack will feature a period storyline anytime in the near future, she ends her interview absolutely convinced that there will be a series soon that does: "If there is no show right now [that tackles] when they get their period and what that does to them, there definitely will be."
Period storylines that are more than just a throwaway joke or gag are rare in media, and they are exceptionally rare on television for young women. (Have you ever seen Betty ask Veronica for a tampon on Riverdale? Nope.) But speaking with Minsky, it's difficult not to think that television can and will one day help de-stigmatize menstruation — hopefully sooner, rather than later.